Dr. Élika Ortega | E-Literature and the Global Digital Humanities

February 6, 2017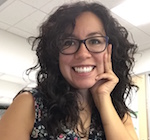 The English Department is proud to sponsor Dr. Élika Ortega's visit to campus on March 2nd and 3rd 2017. Dr. Ortega is an expert in the Digital Humanities and a Professor in the Department of Cultures, Societies and Global Studies at Northeastern University.
Dr. Ortega will be with us for two events:
First, on Thursday, March 2nd at 6:30p in Xavier 212 (The Nordquist Lecture Room), Dr. Ortega will deliver a presentation titled "An Ecology of Knowledges and the Global Digital Humanities." This event is open to the public and will address the history and foundational concepts of the Digital Humanities.
Second, on Friday, March 3rd at 2p in Admin 219, Dr. Ortega will offer a workshop titled "From Page to Screen: Approaches to Electronic Literature." The workshop will introduce students and faculty to electronic literature with a focus on two aspects of this literary mode: first, how writers and artists producing e-lit understand and produce their work; second, how critics examine e-literature and how it might be different from scholarship on more traditional forms of literature.
Space is limited for this workshop. If you are interested in attending, please contact Scott Rogers (rogerssm@plu.edu) to RSVP.
If you have any questions about these events, please contact Scott Rogers (rogerssm@plu.edu) or Adela Ramos (ramosam@plu.edu).