Dr. Jess R. Fenn (SUNY Geneseo) Visits PLU
March 14, 2016
A Report on the Public Lecture "Writing By Ear: Margery Kempe's Aural Literacy" by Dr. Jess R. Fenn (SUNY Geneseo)
By Grace DeMun (PLU Senior English Major)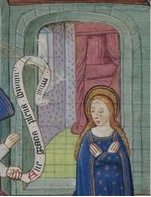 Dr. Jess R. Fenn, a scholar from SUNY Geneseo, stood in front of the audience on Friday, March 6th, and proceeded to enthrall me with her discussion of medieval artwork, Margery Kempe, and the ways in which aural literacy (not "oral," as she made clear) were vital to the culture of the 14th and 15th centuries. Much in the way that Fenn stood in front of us and spoke from her writings, reading aloud during this time period was an expected (and highly enjoyed) activity for both lower and upper classes. "Written text lifted off the page and into the air, the audience listening with ears wide open," Fenn stated, looking out across at us from her podium. "Even read aloud, the texts would last, repeatable and recyclable." Fenn further went on to explain the idea of "shared sayings," and the ways in which biblical stories and phrases that originated in written form began to take the shape of spoken word by lay people, endowing them with tremendous power.
One such lay person that Fenn spoke of was Margery Kempe, a woman who couldn't read or write, but who was able to dictate her narrative to a scribe. Kempe's work, The Book of Margery Kempe, is often considered to be the first autobiography written in English; however, Fenn points out that much of her writing reflects preacher's sermons and is modeled after a hagiography (a biography of a saint), thus suggesting much more about the time period in which Kempe lived than perhaps her actual life. But, her writing is exceptionally valuable, according to Fenn, and reflects the idea of "sermon exemplum," which are formulaic stories (written into sermons) that serve to both frighten and absorb the listeners' attention. Kempe uses these kinds of exemplar in her writings, thus joining the rhetorical community which allows listeners to become the speakers and which "words are going through the listener's ears and into their hearts." As Fenn states, the kind of aural literacy that Kempe upheld represented the idea that literary texts will live on through aural traditions, as well as a hope that these texts will continue on in a living cycle.
Being a lover of both reading and listening to text, I couldn't help but deeply connect with Fenn's discussion. It was lovely to hear words described as "corporeal bodies" in relation to Chaucer's work, "House of Fame," with rumors having become personified figures that flock like birds around him. It immediately brought to mind the ways in which the spoken word affects the lives of all hearing people in both positive and negative ways.
I can't help but reiterate that old saying, sticks and stones may break my bones, but words will never hurt me—though I have long since understood the power of words, I can't help but better recognize the true power that words have when it comes to speaking out with passion against the authority that says you cannot. Though I don't identify as religious, after learning more about her from Fenn, I feel a strong sense of respect for Kempe; as a woman who was neither formally educated nor considered as significant within her society, her passion is what drove her to use her aural literacy in a way that inspired her to write. I can only hope that my own passion will drive me down a path as influential and as meaningful to me as Kempe's was for her.