PLU Poetry Week: Princess Reese '14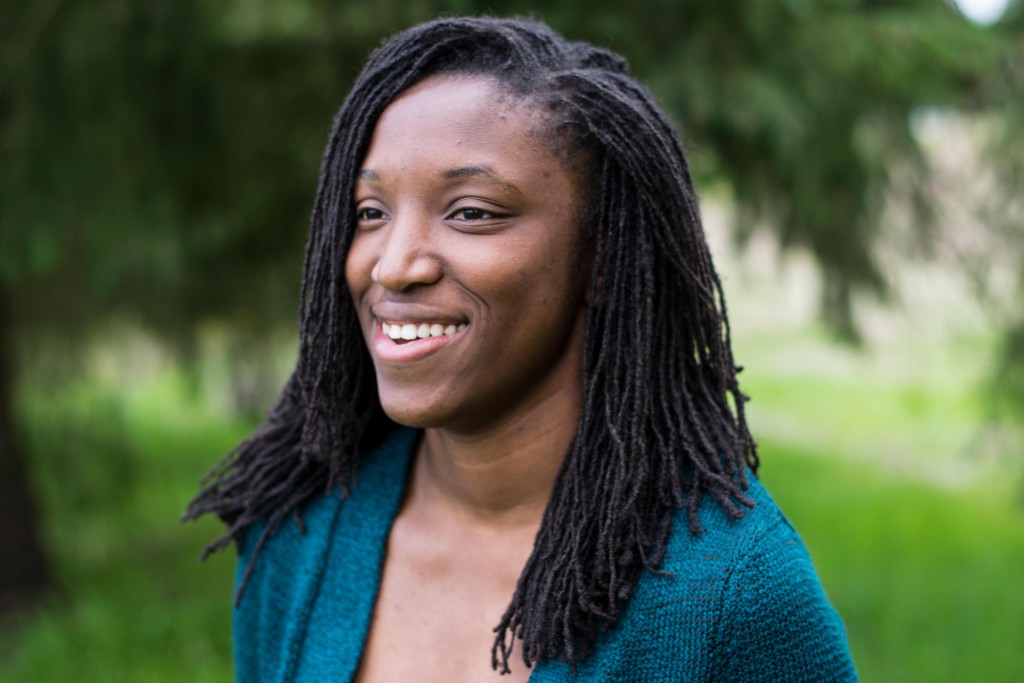 Update Required
To play the media you will need to either update your browser to a recent version or update your
Flash plugin
.
Princess Reese '14 majored in anthropology and women's and gender studies at Pacific Lutheran University. She now works for MDC's College Bound Program as an assistant youth education adviser at Tacoma's Lincoln High School.
"My program serves underrepresented, first-generation youth interested in going to college but who maybe lack community and family resources," Reese says. "We introduce them to the application process, help them make decisions about where they want to go, connect them to resources to enable their success and help them with scholarships, financial aid, and standardized test prep."
Reese began writing poetry in elementary school and can vividly remember the first poem she ever wrote. "It was a series of repeating stanzas that compared my fourth-grade teacher to a wilting field of tulips," she recalls with a laugh. "I've been melodramatic since birth."
A well-known spoken word poetry performer while attending PLU, Reese is influenced by traditional, written poets as well as spoken word poets. "My favorite to read are Maya Angelou, Bell Hooks, Audre Lorde, Shel Silverstein, Langston Hughes, Alice Walker and James Baldwin. My favorite spoken word artists are Mos Def, Sarah Kay and Porsha Olayiwola."
Reese is currently working on completing an anthology project. Tentatively titled Polychrome, the collection is based on interviews and "first dates" with 25 participants. "In it, I'm exploring themes of love, sex, relationships, spirituality, 'shaping' moments, and concepts of God through vignettes and short stories."
Each day of PLU Poetry Week (April 25-30) will feature a poem by a student, alumnus or faculty member.
I tried to be wild
I tried to live on the wind
But I liked the comfort of my bed and my bank
I tried to be classy
But I like the breeze on my exposed thighs
And I like my voice loud and clear
I tried to be sweet
But sweet can't compare to the taste of necessary words
Truthfully spoken
I tried to be a flower-child
But I like cough drops and that processed sugar
And the feeling of tar as it coated my lungs and teeth
I tried to be enlightened
But throwing shade felt better than seeking the Light
I tried to be on fire for my religion
But dogma and stockings make me itch
And the white churches don't sing beautifully like the Baptist
Ones
But the Baptist churches turned my love for the human body
Into sin
And I saw too much beauty in persons devout to other things
And Muhammad and Siddhartha and Tao forced me to read
I tried to be law-abiding,
But the streets called my body to protest wrongdoing
And the soap box felt smooth and supporting under the soles
Of my broken feet
I tried to be chaste
But I am too good at being a lover
At running my middle finger along a lover's seams and slowly
Opening them up
Revealing their bones and the beauty they forgot they had
I tried to be traditional
But my ironed clothes felt like casket closing in
And I couldn't shake my zigzag enough to
Drop into the mold
I tried to be endlessly funny
And easygoing
But my jokes are too bitter and
Too existential and my default setting got
In the way
I tried to settle down my spirit,
To put parameters on my fire
But my dreams were in the ether and I had to
Go to them
I still must go to them