Dossier and Review Promotion & Tenure (RPT)
Dossier is an Interfolio module where you can store and manage your documents in one place.
Review Promotion and Tenure (RPT) is an Interfolio module where faculty will assemble their tenure and/or promotion packets. RPT access is granted only to tenure and promotion candidates and only after the candidates have met with the Rank and Tenure Committee.
If you are not able to access your Dossier module, please contact the PLU Interfolio Administrator at facgov@plu.edu or 253-535-8312.
You should see "Hi…(your name), where do you want to go?", once you are logged in.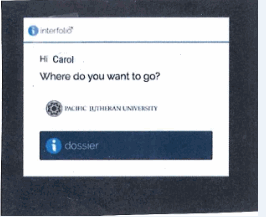 What your Dossier homepage dashboard looks like…

Click on "Dossier" or select "Interfolio Dossier" from the drop-down menu.
Click on the "Materials" tab to add your documents.
You can also add video(s), link out if you have YouTube video (copy URL) or link to a web page, and add a title of your material.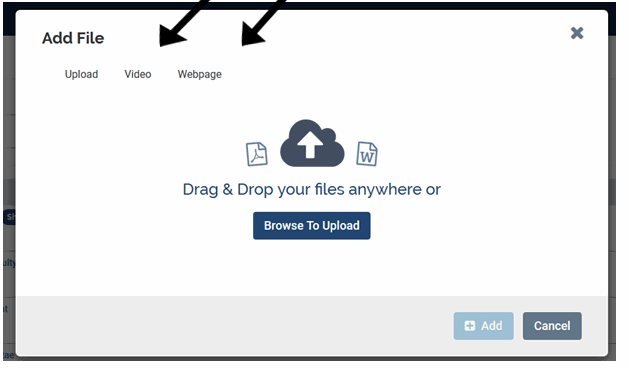 Select add file
Drag and drop your file, or browse to upload.
Click "+Add"
Your files can be up to 100MB in size. During the upload process, Interfolio will automatically convert all files to PDF format for document integrity and consistency.
Please be patient during the upload process—the more files, the slower the upload time.
If your file is too large or have technical issues, contact Scholar Services at help@interfolio.com or at (877) 997-8807 for support.
Under "Collections", you can create folders to organize your materials. You may upload as many documents as you like into a single collection.

Click "Add Collections"
Add a name to your collection folder(s).
For tenure and promotion candidates, we suggest creating separate folders for:  Candidate Folder, Teaching, Scholarship, Service.
Helpful resources of materials and information can be found in the Rank and Tenure Materials webpage.
Give your documents/files a meaningful title so your reviewers will see the titles clearly.
(examples):
– 2015-16 FARSA, 2017-18 Annual Report, 2014-15 Third Year Pre-Tenure Review
– PSYC 101 SPRING 2017 Teaching Evals, BIOL 116 01 FA2016 Teaching Evals
Your Case Packet is created by the PLU Interfolio Administrator when you become a candidate for tenure and or promotion.  The case packet will be available only after the Rank and Tenure Committee meeting with candidates.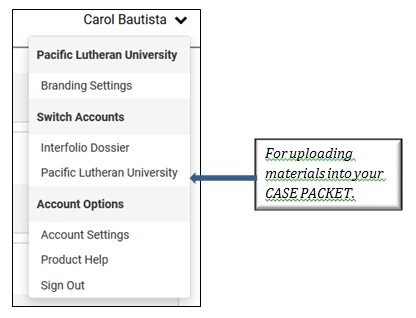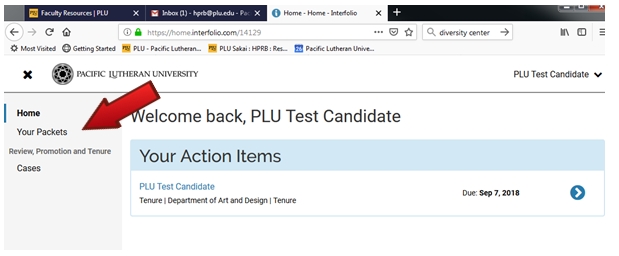 To access your RPT packet, click on "Pacific Lutheran University" from the drop down menu.  Do not click on "Interfolio Dossier".
If you do not see "Your Packet" in your navigation bar, you might be on the Dossier page, switch accounts using the account menu.
Click the link to "Your Packets" from the navigation bar, or use the link (usually your name) to detail in your homepage action items.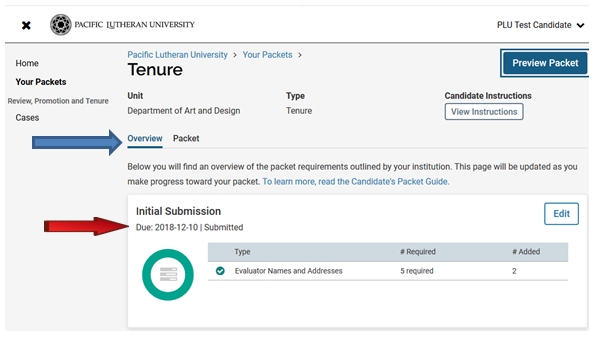 Your tenure and/or promotion packet is divided into the following sections:
Initial Submission – (evaluator names and addresses)
Candidate Folder
Teaching Folder
Scholarship Folder
Service Folder
Submission of your evaluator names and addresses – due earlier than the rest of your materials.  Refer to the Rank and Tenure Committee deadlines posted on the committee's website.
The "Overview" tab outlines the packet requirements which follows the current Rank and Tenure file checklist.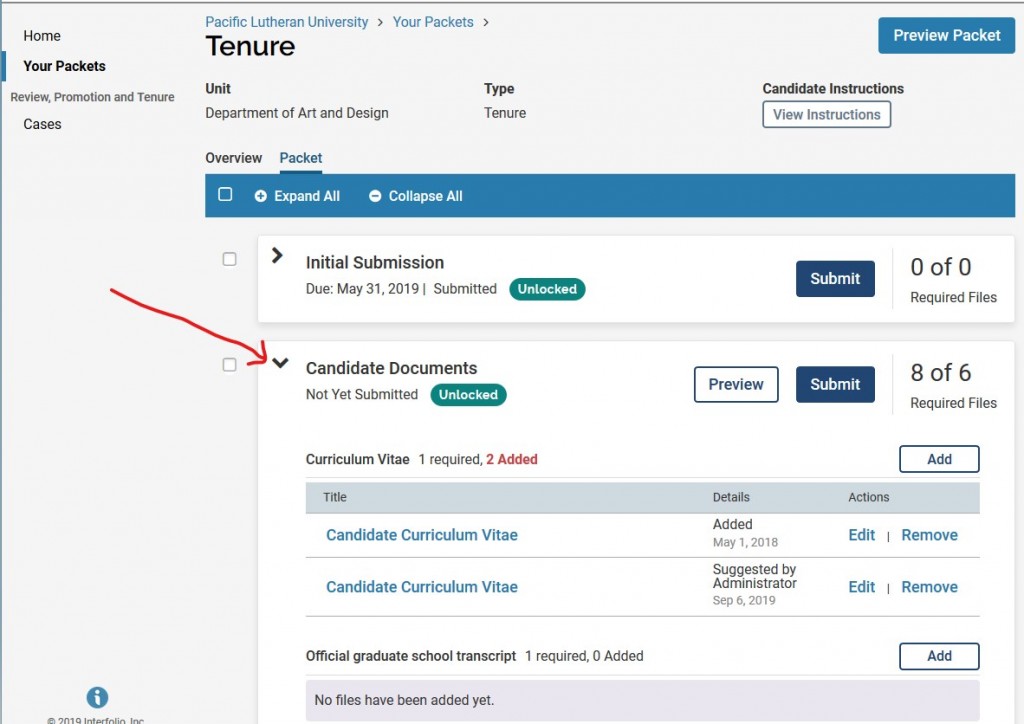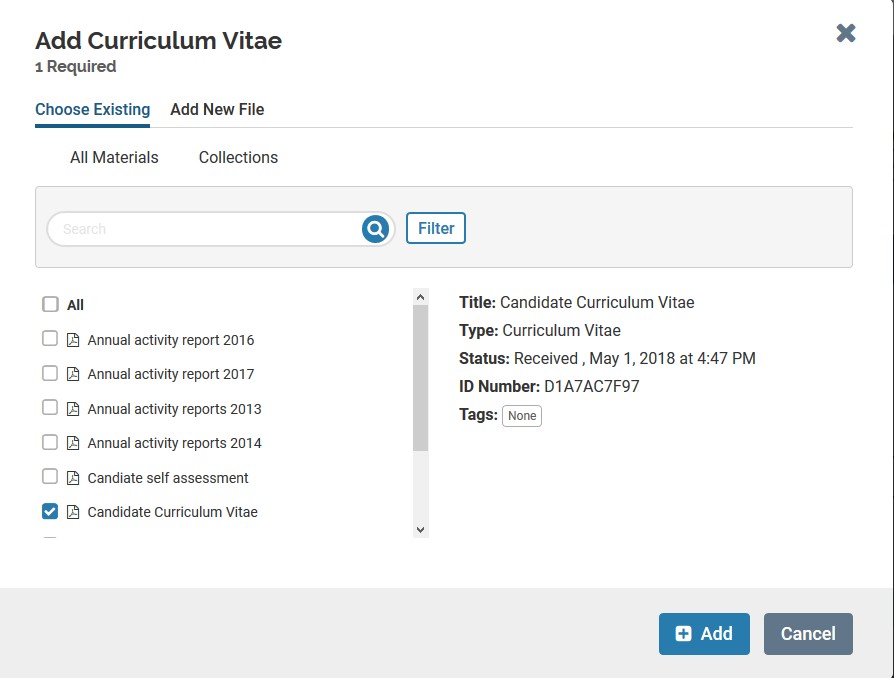 Detail into the section to upload your document.
Click "Add" then "Browse" to locate your document(s) to upload
Click "Add" or "Save" to add your documents.
Click "Submit" ONLY when all your documents/materials are ready for submission.
Please note that Interfolio operates in Eastern Standard time.