Easy Holiday Cookies
These triple chocolate cookies are a great gift for the holidays!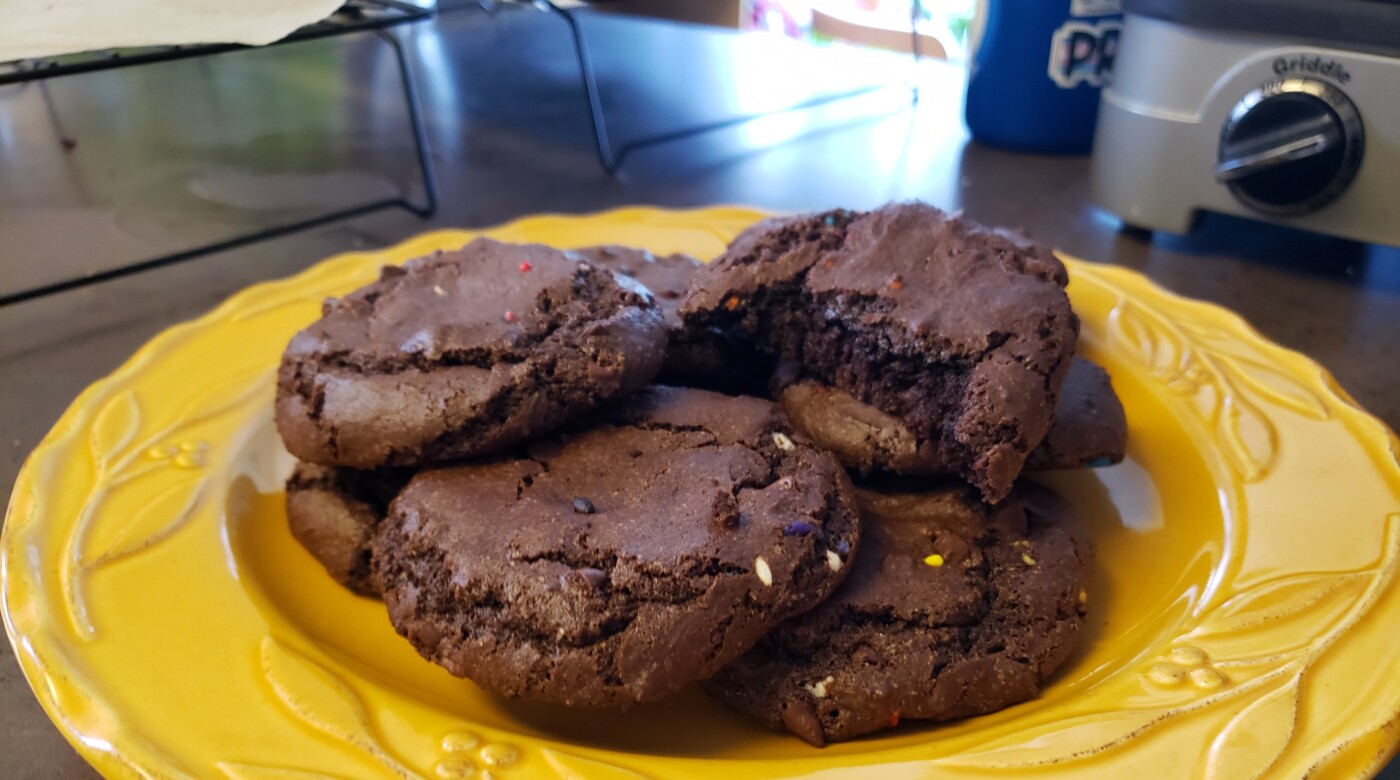 December 8, 2021
Not sure what to gift someone for the holidays? I find that baked goods are always appreciated. I'm someone who loves baking, and greatly prefers baking to cooking, but I know there are plenty of people who do not share my love of baking. The following recipe takes less than 30 minutes from start to finish (depending on how long your oven takes to preheat), and it's super easy to customize. I've made these cookies as gifts countless times before, and they are always a hit. The original recipe for these Triple Chocolate Cookies is as follows.
Ingredients:
1 package chocolate cake mix
½ cup butter or margarines, melted
1 egg
Desired amount of chocolate chips, nuts, and/or other mix-ins
Instructions:
Preheat oven to 375°F

Combine cake mix, butter, and egg in large bowl. Beat at low speed with electric mixer until just blended. Stir in mix-ins.

Drop batter by rounded tablespoonfuls onto ungreased baking sheets. Bake for 9-11 minutes. Cool 1 minute on baking sheets. Remove to cooling racks. (Tip: to check if a cookie is done baking, gently poke the top of the cookie. If it bounces back after you poke it, that means it's done. Please be careful touching hot cookies – I usually keep my oven mitt on when I do this.)

If not eating right away, cookies can be stored in an airtight container in freezer for up to 6 months.
I like to play around with different cake mix flavors and mix-ins when I make this recipe. I've done the classic chocolate cake mix but used white chocolate chips, peanut butter chips, or caramel chips instead of just semisweet or milk chocolate chips. I've also used vanilla, yellow, red velvet, funfetti, strawberry, and lemon cake mixes. Since I switched to a gluten free diet I have also made this recipe with gluten free cake mixes. If you are going to use a gluten free cake mix, I recommend adding an extra egg if the ingredients are not coming together. I have not tried making these vegan, but I encourage you to experiment if you are vegan, or making these cookies for someone who is. 
Rosey Ireson
PACE Intern
Geosciences & Gender, Sexuality, and Race Studies