Art Journaling for Healing
Finding the artist in you and exploring healing around you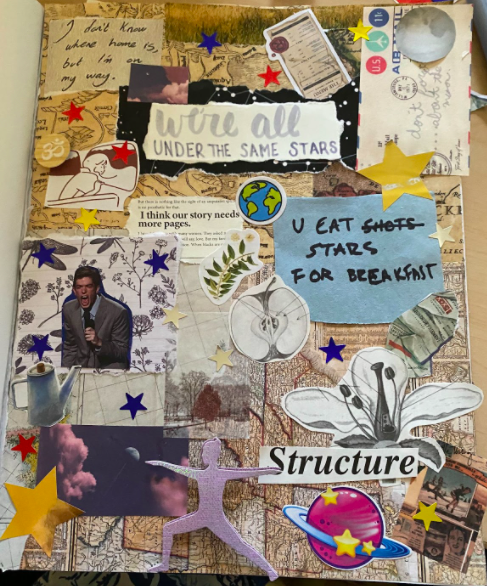 March 4, 2022
Recently, I've been diving deep into art journaling as a way to express myself and compress from my day. I've been creating art journals for the last 7 years, doing a page here and there when I feel called to. This year, though, I've found myself reaching for the page every evening as a way to reflect on my feelings and experiences from the day. I highly encourage this form of journaling/art if healing is something you're looking to find new ways to do. 
As a blog post on My Modern Met explained, "An art journal is a visual diary; it combines elements of writing, drawing, painting, collage, and even printmaking to express yourself. This includes your everyday life, as well as your bigger hopes, dreams, and fears. A single page will often fuse words and illustrations to offer a look at what's going on inside your head."
Art journaling is easy. It can be whatever you want it to be, made of whatever you want it to be. Some people cut out shapes and glue them on a page, some write paragraphs about their feelings and doodle around the paragraphs, and others (like me) use collaging as a medium. I grab whatever I can find: any notebook or piece of paper lying around, some deco paper and deco printables sold on Etsy, cutouts from old magazines and textbooks, & a glue stick, and then I start creating abstract art. 
Here are some examples of some pages I use for inspiration when I feel stuck:
A Quick reference guide to art journaling:
Gather your art journaling supplies

Prepare a space to create
Add layers

Here are the layers I added to create my final product. They include a clipping of a poem, a funny note/inside joke he wrote to me, a vague star theme, a picture of John Mulaney screaming, some stickers, and some mixed deco paper. Alone, these things are just decorations lying in a box in my bedroom, but together they allowed me to process a big change in my life.
Let dry (TIP: If you use a glue stick or craft tape, it doesn't take long to dry. Mod Podge will help it seal together better though.)

Reflect on & share your art

I often find that the art flows out of me first, and then I realize what it meant (a lot like dream analysis). As I was reflecting on the piece above, I realized that it was my way of processing my creation of a new routine and understanding of myself while my best friend is studying away for the semester. Typically, we spend key parts of our days together, but now I am finding new ways to spend those moments while he's in another hemisphere. 
If you're a survivor of sexual and/or domestic assault and art for healing is something you're interested in, the CGE is hosting a series of Creative Healing events for you. It meets every 2 weeks starting March 10th from 6-7:30 PM. Contact Magdalena at MKS@PLU.EDU to sign up and for more information!
-Dylan Ruggeri, they/he, Class of '23
CGE Intern
Sources: https://mymodernmet.com/art-journal-ideas/