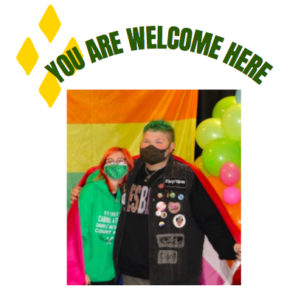 The Center for Gender Equity knows the importance of providing resources, support, and growing spaces for LGBTQ+ students, faculty, and staff. Our goal is to equip all LGBTQ+ members of the PLU community with the resources and support that they need to feel that they truly are welcome here.

Prism is a safe and educational space for all queer, trans, and gender non-conforming students at PLU, encouraging active discussion and fierce advocacy about the joys and issues that arise in the LGBTQ+ community. They work in collaboration with the Diversity Center, Center for Gender Equity, other special interest groups, and any LGBTQ+ identified students.
QTIPOC Corner is a space for Queer, Trans, Intersex, and other LGBTQ+ People of Color to find and share resources to support themselves and one another. We host active events that are spaces for self-care and reflection for QTIPOC Lutes.
The DJS Spaces, including the DJS Lounge, the Office of DJS, the DJS Classroom, and the Community Garden are spaces for all Lutes, especially those passionate about the values of Diversity, Justice, and Sustainability to share space and community together. They are spaces of learning, growing, and thriving for PLU students, faculty, and staff.
Nicole Jordan is the CGE Coordinator. Contact them to share and receive resources.
Email: jordanna@plu.edu
Office: AUC 150