What is Intimate Partner Violence (IPV)?
(1) "Domestic violence" means: (a) Physical harm, bodily injury, assault, or the infliction of fear of imminent physical harm, bodily injury or assault, between family or household members; (b) sexual assault of one family or household member by another; or (c) stalking as defined in RCW 9A.46.110 of one family or household member by another family or household member.
-Washington State Legislature, RCW 26.50.010
While PLU does not have a stand-alone policy for IPV, there do exist policies on sexual misconduct and violence prevention. Please visit PLU Student Rights and Responsibilities webpage for more information. The sections pertaining to Sexual Misconduct and Violence Prevention are particularly relevant.
PLU will uphold the Washington state policies and laws around the issue of IPV in order to protect its students and preserve their individual rights.
Intimate Partner Violence
Center for Disease Control – The Center for Disease Control is a website that provides information and resources on intimate partner violence.
IPV Fact Sheet – The IPV Face Sheet provides information on how to recognize and respond to intimate partner violence.
Healthy Relationship Checklist – The Healthy Relationship Checklist lists the signs of a healthy relationship.
Power and Control Wheel
– The Power and Control Wheel can help individuals identify patterns of abusive and violent behavior in relationships.
Gender-Based Violence Advocate at PLU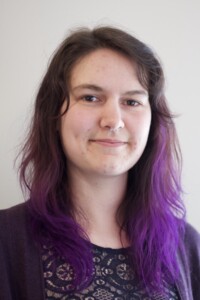 Magdalena Stickel, PLU's Gender-Based Violence Advocate is a trained professional who can help explain your options, connect you to other resources, and assist you in making a formal report should you decide to do so.
253-538-6304
magdalena.stickel@plu.edu