What is Sexual Assault?
Under Washington State law, sexual assault is defined in many different ways. For more information concerning how sexual assault is defined, please click here.
Sexual Assault Myths & Facts – The Sexual Assault Myths & Facts sheet debunks fifteen common myths about sexual assault.
How to Help a Friend – How to Help a Friend offers advice on what to do if someone discloses a sexual assault experience to you.
PLU Policy and Sexual Assault
From the Pacific Lutheran University Student Rights and Responsibilities:
"Sexual Misconduct is a broad term encompassing any unwelcome behavior of a sexual nature that is committed without Consent (as PLU defines it in this policy) and/or by force, intimidation, coercion or manipulation. As defined by PLU, the term Sexual Misconduct includes Non-Consensual Sexual Intercourse, Non-Consensual Sexual Contact, Sexual Harassment, Sexual Exploitation, and Sexual Intimidation. Sexual Misconduct can be committed by a person upon another regardless of gender, and it can occur between people of the same or different sex. It can occur between strangers or acquaintances, including people involved in a current or previous intimate or sexual relationship. Sexual Misconduct may vary in its severity and consists of a range of behavior."
For more information, you can read the PLU Sexual Misconduct Policy.
From the PLU Sexual Misconduct Policy:
"Consent is permission explicitly granted by an individual who is physically and mentally capable of providing it. It is the responsibility of the person who wants to engage in Sexual Activity to insure that they have the valid Consent of the other to engage in the activity. PLU further defines Consent to include the following:
Consent is informed, knowing and voluntary. Consent is active, not passive. Silence, in and of itself, cannot be interpreted as Consent. Consent can be given by words or actions, as long as those words or actions create clear and mutually understandable permission regarding the conditions of sexual activity.
Consent to one form of Sexual Activity cannot imply Consent to other forms of Sexual Activity, even within the same intimate situation. Previous relationships or Consent cannot imply Consent to future Sexual Activity.
Consent cannot be procured by use of force, threats, intimidating behavior, or coercion.
Some individuals are unable to give Consent by reason of Incapacity or Physical Helplessness. It is a violation of this policy to engage in Sexual Activity with someone you know to be, or should have known to be, Incapacitated or Physically Helpless."
Confidential Victim's Advocate at PLU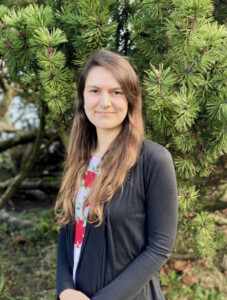 Magdalena Stickel, PLU's Confidential Victim's Advocate is a trained professional who can help explain your options, connect you to other resources, and assist you in making a formal report should you decide to do so.
253-535-8204
magdalena.stickel@plu.edu