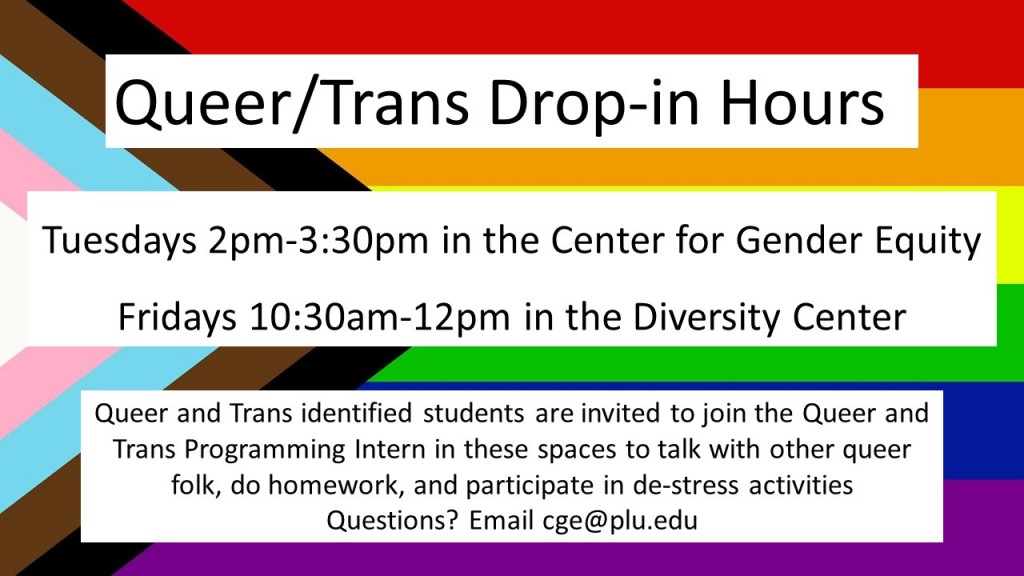 Campus Resources
 Gender Inclusive Restroom Map
not pictured on the map: there are two All-gender restrooms on the first floor of the Rieke Science Center
Gender Inclusive Housing 
Residential Life at PLU routinely works with students to address issues of individual need, comfort and fit with the on-campus living experience. Incoming students for whom their biological sex does not match their gender identity should contact Residential Life to discuss their individual situation and to determine the best option based on individual circumstances, need and availability.
Rights and Accommodations for Trans Students 
Lambda Legal is a national organization committed to achieving full recognition of the civil rights of lesbians, gay men, bisexuals, transgender people and those with HIV through impact litigation, education and public policy work. They've collected some basic information about the rights of transgender students on college campuses as covered by Title IX here.
Community Resources
Medical Services
Cedar River Clinic  in Tacoma offers quality health care in a safe  and culturally responsive environment.  Every client who receives care at Cedar River Clinics is treated with dignity and respect. CRC offers:

Hormone Replacement Therapy for Female to Male (F to M) and Male to Female (M to F)
Based on an Informed Consent Model (ICATH)
Surgical Referrals for Gender Reassignment, Breast, and Cosmetic Surgeries
Postsurgical Follow Up:  Genital Reassignment, Breast, and Cosmetic Surgeries
Clerical Services for Transgender Clients – ID documentation

Ingersoll Gender Center has collaborated with medical and mental health providers to provide the best and most competent services for trans and gender variant people. A list of these providers can be found here.
Capitol Hill Medical (an LGBTQI clinic in Seattle) also schedules appointments for HRT, and they too operate in an Informed Consent model. In their own words, we "are a gay focused clinic that exists to serve the unique medical needs of the Seattle LGBTQ community. We are gay doctors and gay clinicians in Seattle offering primary care services to gays, lesbians, bisexuals, and trans* patients. We are also certified by the American Academy of HIV Medicine as HIV specialists, and offer hormone therapy to our trans* patients who are in transition."
Legal Name Change
Community and Advocacy
Being an Ally
Someone I know is transitioning. I want to be supportive, but I don't know how. 
Seeking out more information is a great start to being an ally. You can start reading here!
Want to learn more? Check out these sites.