What is SAPET?
SAPET (the Sexuality Awareness & Personal Empowerment Team) is a body of trained peer educators who provide training and dialogue in classrooms, residence halls, and other campus spaces to empower students to lead healthy interpersonal relationships.
As a coordinated, institutional effort, SAPET also brings events, campaigns, trainings, and programs to PLU and the surrounding community that place an emphasis on gender, sexuality, health, and violence prevention work.
What does SAPET offer?
Leadership development and volunteer opportunities for students.
A chance to facilitate dialogue on the role of culture and norms in shaping our behaviors with regards to gender and sexuality.
Student leadership in campus activism and social justice.
An opportunity to shape and implement public education programming.
30 hours of professional peer-education and advocacy training.
Annual event and campaign coordination (such as Take Back the Night, Domestic Violence Awareness Month, etc.).
On-demand training for students, staff, and faculty on a variety of gender and social justice focused topics.
Become a member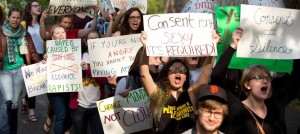 Become a SAPET member today! Engage in meaningful discussions, gain public speaking experience, and educate the PLU community. Email sapet@plu.edu for membership inquiries!
Request a workshop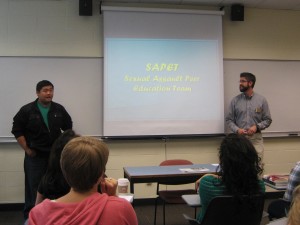 We're happy to tailor existing workshops to better fit your needs and to work with you to develop new trainings and dialogues for your particular audience. Email Sapet@plu.edu for more information!
Check out our annual events!
Sexual Assault Awareness Month
April is Sexual Assault Awareness Month! Contact the Sexuality Awareness & Personal Empowerment Team at sapet@plu.edu to find out how you can participate in or even plan an event!
Take Back the Night
Take back the night is an internationally held march and rally intended to be a protest of and direct action against rape and other forms of sexual violence. Join PLU students in a conversation with faculty, students and staff around the realities of sexual violence followed by a march around campus with our Radical Cheerleaders. Come be a part of the movement to "take back the night" from sexual violence in our community and worldwide! There will be performers, speakers, and food!
Join us Thursday, April 27 at 5:30 p.m. in Red Square!
Meet the SAPET Coordinator: