PatchLink FAQs
What is PatchLink?
A software utility that will update software programs most commonly found on university-owned computers.  PatchLink is installed on the majority of computers on campus.  PatchLink is managed by staff in Computer User Support on computers outside of the Natural Sciences, and managed by NSCI staff on computers within the Natural Sciences.
Why is this software necessary?
Software 'patches' are sometimes called 'fixes' by the software vendor and are required to reduce the risk of security vulnerabilities on your computer.  We often hear about Microsoft security 'holes' that need to be patched.  Other non-Microsoft software is vulnerable as well.  It is physically impossible to visit every campus computer when software 'patches' are released.  Therefore, we've purchased PatchLink to help provide better security for our campus systems.
How does PatchLink work?
Whenever a software vendor releases a patch, our staff researches the nature of the patch and determines whether or not we need to 'push' the patch to campus computers.  When we 'push' the installation, it will not be visible on your computer's desktop.  After the patches and updates are finished you may see a reboot notification pop-up message on your computer.  It will look similar to the following images (two images are shown to display the entire message):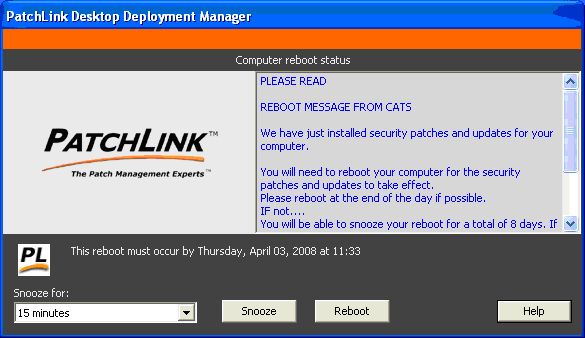 What do you need to do?
Read the message and you will find you have up to 5 days to reboot. You will be able to delay the reboot (snooze) for up to a total of 5 days — see image below: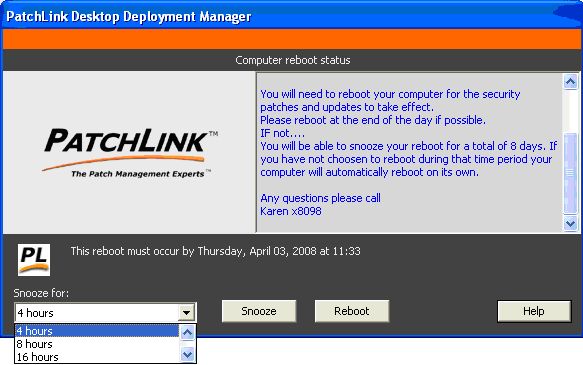 To delay the reboot:  Click on the down arrow and choose the length of time you want to delay the reboot, then click the snooze button.  The window will pop up again when time is up.  You may choose to repeat the snooze button process but the computer will automatically reboot at the end of the 5 day period if you have not rebooted your computer during the notification process.
What happens if my machine is turned off in the middle of an installation or rebooted before the next day?
The system will 'wait' for your machine to be turned on and will update when it is on.  If you turn it off in the middle of an installation, it will continue with the process after it is turned on.
What happens if I don't do anything?
The notification window will stay on top of all other open windows. If you are not in front of your computer when the pop-up appears, the window will stay there until you respond. You will either need to close all of your applications and reboot, or delay (snooze) the reboot until you are ready. You may reboot at any time.
Your computer must be rebooted in order for the patches to take effect. We strongly encourage you to turn your computer off at least once each week — preferably on Friday when you leave campus or at the end of your work week.