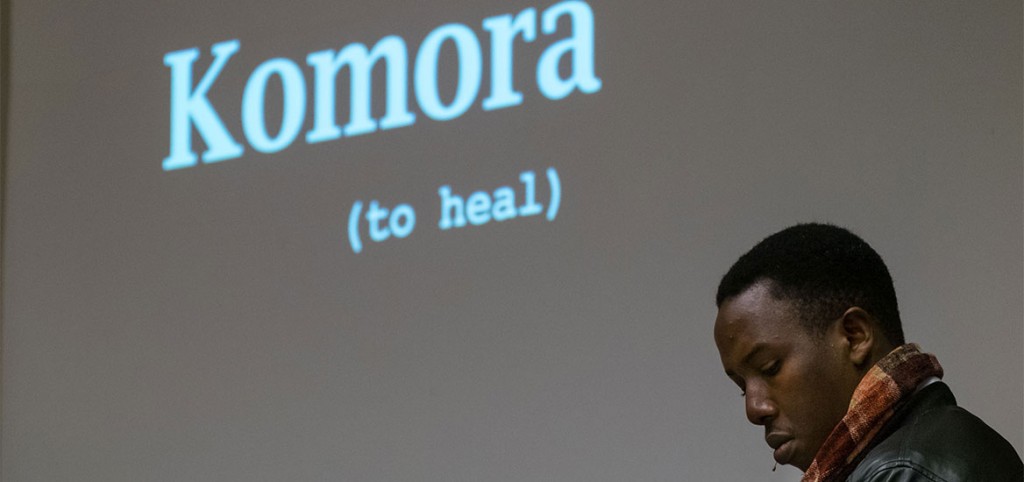 Filmmaker and survivor of the 1994 Rwandan genocide shares message of healing
Emmanuel Habimana didn't choose to be born Tutsi. He still recalls asking his parents as a child why the Hutu neighbors treated him so poorly when they played together. The words cut deeper than childhood teasing: "Someday, you'll die," they would say, calling Tutsis cockroaches.
Habimana remembers seeing blood and bodies in the water while taking cows to drink from a river near his Rwandan home in 1992, two years before the genocide that claimed roughly 800,000 lives in just 100 days.
He ran home to tell his parents what he saw. They were unsurprised.
That was the beginning of Habimana's firsthand experience with the violence in his homeland that eventually claimed his parents' lives in April 1994.
Now, despite the unfathomable task of confronting what happened in the past and moving forward, Habimana shares his story with others. He visited Pacific Lutheran University in October 2016 to speak to an intimate group of genocide studies, anthropology and social work students.
Director of Holocaust and Genocide Studies Programs, Kirsten Christensen, introduces Emmanuel Habimana, filmmaker and survivor of the 1994 Rwandan genocide. (Photo: John Froschauer/PLU)


Emmanuel Habimana co-directed "Komora: To Heal," a documentary about the experiences of orphans after the genocide. (Photo: John Froschauer/PLU)

"It's a really tough responsibility," he said. "Sometimes, it's not easy."
Habimana co-directed a documentary, titled "Komoro (to heal)," in partnership with National Geographic in which he interviewed survivors about their personal experiences during the Rwandan genocide. "I was asking myself what really happened to us," he said of conceiving the project.
Despite his work documenting pain and resiliency, Habimana doesn't claim to be an expert on what happened to him and others like him. He merely shares his story in order to educate people about the heart-wrenching experiences he lived through and to help avoid future atrocities.
"I am a very peaceful person," he told the students. "I can forgive."