2016 Lemkin Lecturer Dr. Gerhard Weinberg
Dr. Gerhard Weinberg, Professor Emeritus of University of North Carolina, Chapel Hill, will be speaking at PLU on Thursday, April 7, 2016 at 7:00 pm in the Regency Room. Dr. Weinberg is a leading world scholar on the topics of Nazi Germany, WWII, foreign policy, and the Holocaust. He was born in Nazi Germany into a family of German Jews, he and his family escaped to London. Later, Dr. Weinberg joined the U.S Military. He earned his Ph.D. in 1951 at the University of Chicago. He worked on Columbia University's War Documentation Project, and established the program for microfilming the captured German documents.
Professor Weinberg has, over the course of his long career, taught at Universities of Chicago, Kentucky, Michigan, and North Carolina-Chapel Hill. He has chaired several professional organizations and served on and chaired several U.S. government advisory committees. Now retired, he has authored or edited eleven books and over 100 chapters, articles, guides to archives and other publications. Some of his books include:
World in the Balance: Behind the Scenes of WWII
Hitler's Foreign Policy, 1933-1939: The Road to WWII
A World at Arms: A Global History of WWII
Visions of Victory: The Hopes of Eight WWII Leaders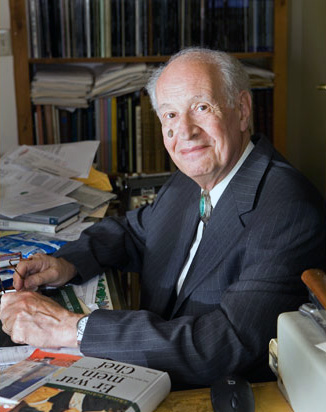 Professor Weinberg's lecture on April 7, "Pope Pius XII in World War II," addresses the heated controversy among historians regarding the silence of the Pope. Called "the Pius Wars," historians still argue why the Pope did not intervene and openly denounce the Nazi's attempted extermination of the Jews of Europe.