Tuesday - Thursday, March 1-3, 2016
Human Resources is pleased to present Personal & Professional Development Opportunities during the first week of March.  Classes will be held between 8:30am – 5:00pm on Tuesday the 1st, Wednesday the 2nd, and Thursday the 3rd of March.
All faculty, staff, and administrators are invited to participate in a wide variety of workshops to improve skills both on and off the job.  Workshop descriptions are below.
Due to space limitations, a reply is required for all workshops.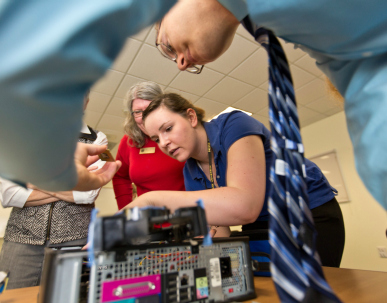 Wednesday, March 2
Tomorrow in Focus: Saving for Your Ideal Retirement
This session will help you plan for today and tomorrow – focusing on the real benefit of time in regards to saving, how to save and plan, and the essential features of retirement investing.
Presenter: Matt Myers, TIAA-CREF
Room: AUC 133
Healthy Numbers: Integrating Healthcare into Your Retirement Plan
Living well in retirement requires that you plan ahead, understand the real benefits and costs of Medicare, and learn how to fold healthcare into your overall retirement plan.
Presenter: Matt Myers, TIAA-CREF
Room: AUC 133
Diversity and Inclusion in the Workplace
This session focuses on understanding diversity and inclusion and the way organizations can benefit from that diversity. Employees, managers, and leaders will have the opportunity to learn and practice several communication techniques that allow people to experience inclusion in the workplace, as well as learning how to develop inclusive work climates.
Capacity: 30
Presenters: Barbara Deane and Effenus Henderson, Archbright
Room: AUC Regency Room
Thursday, March 3