Division of Humanities
Kelsey Larson '11
Major: English and Norwegian
Managing Editor
Norwegian American Weekly, Seattle
"As the Managing Editor of a small weekly publication, I complete a wide range of tasks, from writing articles to issue planning, to layout and design, so every hour of my day is packed full.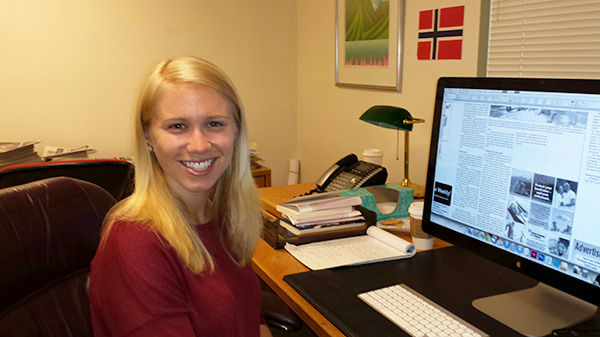 "My favorite part of working as a newspaper editor is all the great people I get to work with, including contributing editors, authors, and Norwegian business owners and political figures.
"I also love conducting interviews and hearing people tell their stories: some of my favorite interviews have been with the owners of a Norwegian food truck in Portland, Oregon; the Norwegian ambassador to Syria; and one of the owners of the colorful Norwegian clothing brand Moods of Norway.
"My PLU Humanities degrees were absolutely essential in securing my current job; I have majors in both English (writing) and Norwegian, so these degrees together made me the perfect candidate. PLU's emphasis on studying abroad inspired me to spend my junior year in Norway, which increased my passion for the language, culture and people. This passion, and the fantastic people I met and connections I made at PLU, helped lead me straight to the job."