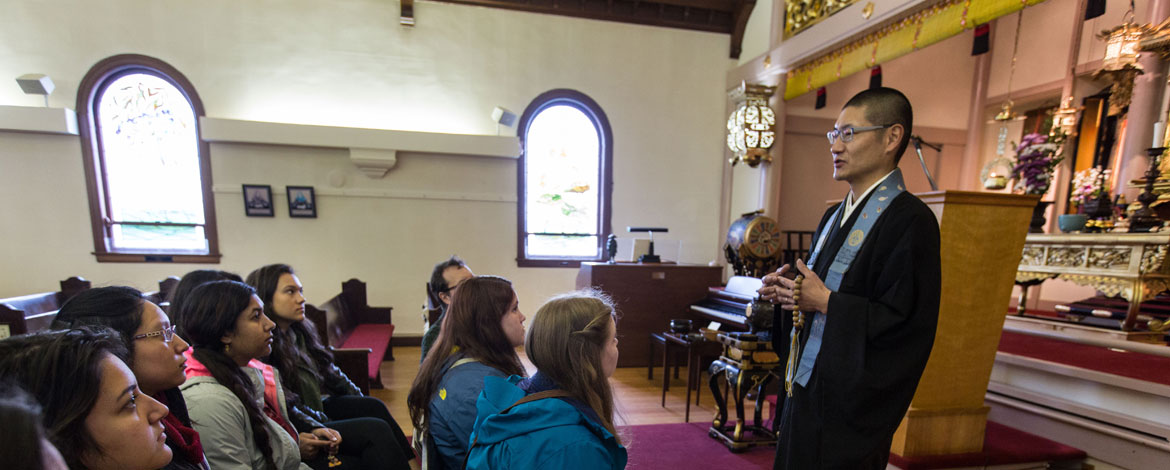 Religion Students visit local Buddhist Temple
Religion Students visit local Buddhist Temple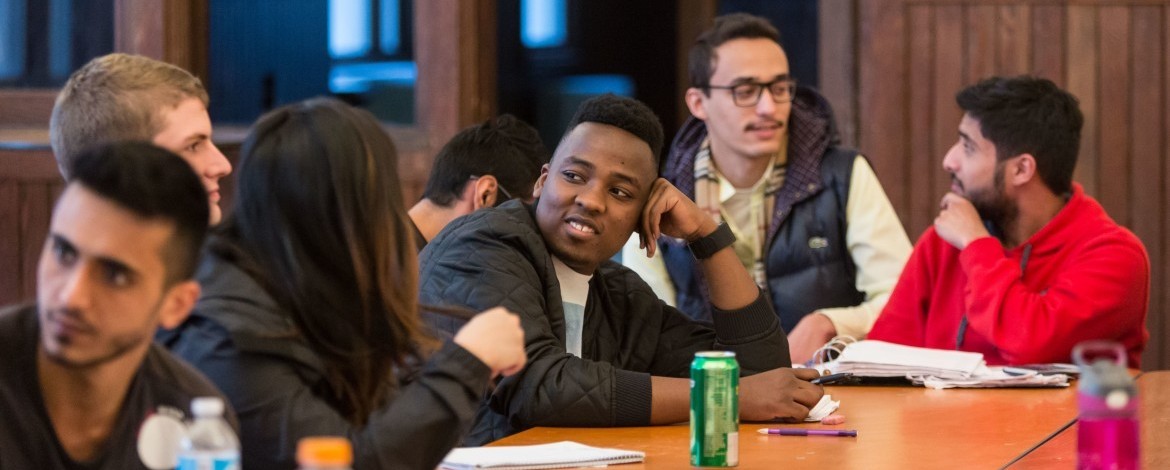 Business Ethics class in Downtown Tacoma
Business Ethics class in Downtown Tacoma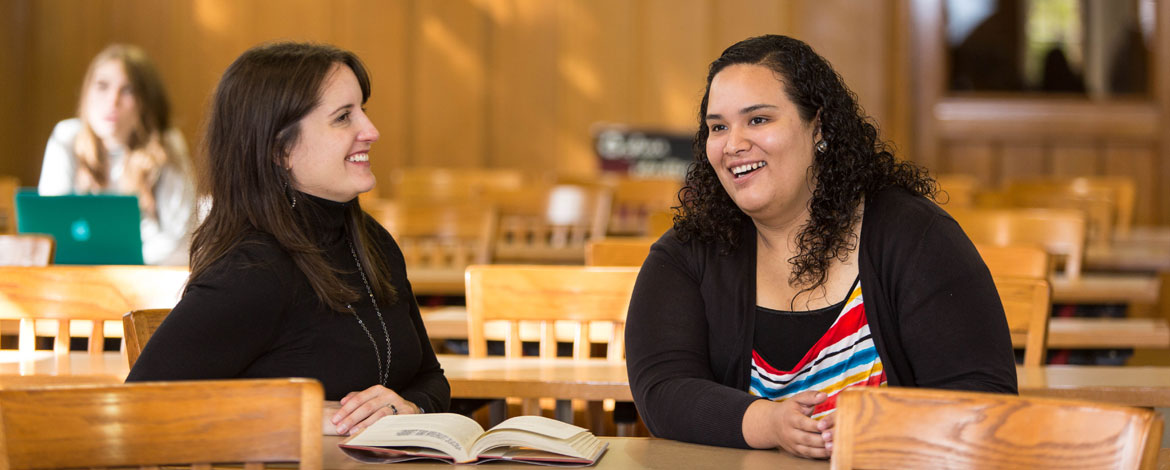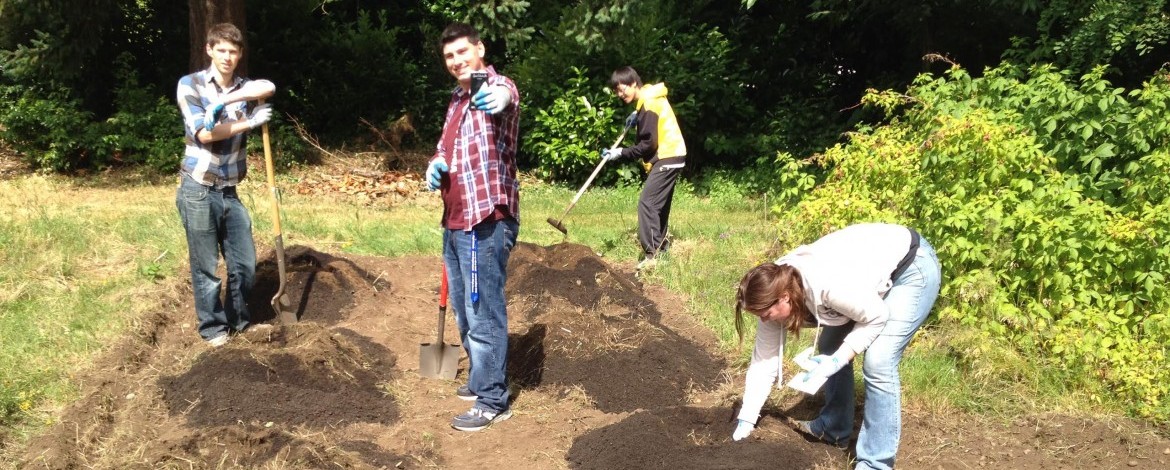 Learning through Serving
Learning through Serving
Connecting the Humanities to our Communities
The Engaged Humanities at Pacific Lutheran University supports and promotes a variety of educational, research, and public engagement initiatives to deepen faculty engagement and student learning, connect meaningfully with the greater Tacoma and Pierce County community, and partner for social change.
In 2018-2019, Engaged Humanities will provide support for faculty to design and implement high impact community engagement components in select courses and facilitate internships for students in the Humanities and interdisciplinary programs.
Digital Humanities (DH) at PLU will continue to connect digital technologies with the academic study of the Humanities.  The new Digital Humanities Lab will provide opportunities for students to develop e-portfolios, podcasts, digital maps, etc. to enhance their academic study and research. Work with digital technologies will be entwined with thoughtful inquiry into how technology impacts people, communities, and the earth. Along with student and faculty work in courses and research, meaningful and mutually beneficial community partnerships will leverage the power of digital technologies in examining human experience and the power of storytelling.
The new Parkland Literacy Center will be a space accessible to the entire community that provides a setting for PLU and Parkland community members to enhance literacy in a broad sense, including reading, writing, mathematical, digital, and scientific literacies. Initially the focus will be connecting Keithley Middle School students with after-school opportunities for creative writing and tutoring and will expand to high school students and other areas of literacy in the future.
Internship Resources
Internship experiences are invaluable for connecting academic and classroom  learning to the professional workplace.
Humanities students should consider an internship to explore career goals, gain hands-on experience, and meaningfully contribute to a company or organization.
The Engaged Humanities Coordinator is available to support students in the Humanities during their internship process, from planning learning goals to searching for a good match, registering for academic credit and in critical reflection and documentation of the experience.  Contact Rachel at haxtema@plu.edu or 253.535.7915 to schedule an appointment.
For general information on internships and to search for current community listings, visit PLU's Career Connections page.
Opportunities for Humanities Students:
Utilize your excellent writing and storytelling skills in a communications role – for example: writing for newsletters, social media and printed publications for a non-profit organization.
Engage with other cultures on their own terms by interning in a globally connected company, an organization serving diverse communities or by pursuing an internship in another country.
Environmental Studies Major and Non-profit Minor, Maddie Titelbaum interned at Citizens for a Healthy Bay during spring semester 2018.
"I have always wanted to work for the government or the non-profit sector and my experiences at CHB have given me new skills, potential career connections for the future, and an idea of the type of contribution that I want to make to the field. This experience has taught me about the complexities in operating an environmental non-profit and has given me a larger perspective on the work that I want to do in the future that relates to equity, environmental justice, and education. I have learned that port cities have very complicated histories and lots of stakeholders. The Port of Tacoma is on traditional land of the Puyallup tribe and European settlers permanently altered the social and ecological landscape. Settlers prioritized growth and industry of Tacoma with little consideration for the rights of indigenous people and the migrant communities that worked in the Bay. In Commencement Bay today there are many complex interactions between the rights of the communities that have been disproportionately impacted by environmental racism, the needs of industry and economy, and the laws from the government."
Riley Dolan, Hispanic Studies and Political Science double major, interned with the U.S. State Department at the embassy in Guatemala City.
"The Hispanic Studies program helped me a lot with being aware of Guatemala's history and culture. Something that I noticed while working at the U.S. Embassy in Guatemala was that other interns, and even some employees, were unaware of the close and complicated history the U.S. and Guatemala share, and it meant a lot to myself to be able to interact with Guatemalans in that way and be culturally sensitive.
I was lucky to be able to intern in the HR office at the embassy, not because I plan on working in HR but because it gave me a lot of insights into what they're looking for in applicants in general, and also how to interact with an HR office, which is something I will have to do regardless where I end up working!"
At PLU, Community Engaged Learning (CEL) is a pedagogical model that incorporates classroom learning with local engagement with community partners. CEL courses are deliberately designed to help students integrate classroom and community-based learning through critical reflection, and assessment. In CEL courses, classroom learning strengthens students' understanding of community concerns and community engagement strengthens students' understanding of course content. CEL includes service-learning, community-based learning and community-based research.
Community-engaged learning is: a structured learning experience that combines community service or research with explicit learning objectives, preparation, and reflection. Students involved in community-engaged learning are expected not only to provide direct community service or respond to questions generated among community partners, but also to learn about the context in which the service is provided, the connection between service or research and their academic coursework, and their roles as citizens (Seifer, S.; Jacoby, B.).
The Engaged Humanities coordinator supports faculty designing and implementing Community Engaged Learning components in courses. Set up an appointment or contact haxtema@plu.edu or 253.535.7915 to discuss planning, logistics, community partner possibilities and reflection resources.
Find more information and resources at the CCES faculty resource page.