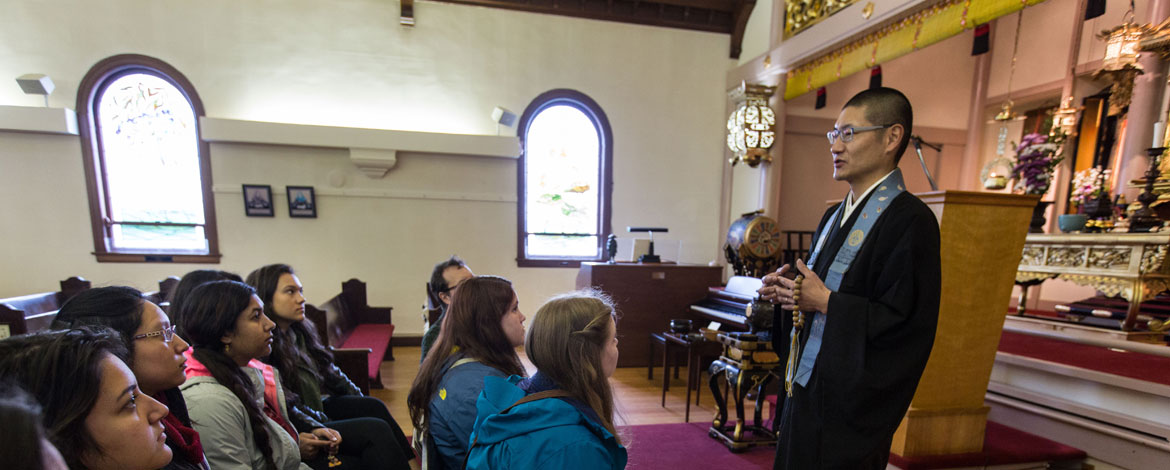 August 29, 2018
Different in emphasis, Zen and Pure Land Buddhist paths to enlightenment are the two most prominent practices of Buddhism in East Asia, and they are well represented in Tacoma.
The 2016 and 2018 courses included the historical development of these two forms of Buddhist praxis in Asia and the often rocky history of immigration from Asia that brought these traditions to the U.S. and specifically to the Puget Sound region.
Students visited two Buddhist Temples in Tacoma, the Jodo Shinshu Tacoma Buddhist Temple and Chùa Phước Huệ Vietnamese Buddhist Meditation Center. Students also participated in volunteer service at the Tacoma Buddhist Temple including polishing brass and serving at the Sukiyaki Event and fundraiser.
"Going to the temple visits in this class has allowed me to learn about Buddhism in a more complex way. I was able to see what we were reading in real life. Going to these temples allowed me to gain respect for the Buddhist temples here in Tacoma, and for the people that practice it."
"Very few courses allow for students to actually get hands-on experience… while learning about vital American and Asian history, global religions, and problems of othering that still perpetuate to this day. As someone who my whole life has viewed Religion and its Institutions as rather diminished in value, I think allowing for myself to not only embrace principles of Buddhism, but equally so, understand ways in which it is used, has opened my eyes to what Religion is, and what it can further provide. To me, this was incredibly valuable."