Getting Started with Clickers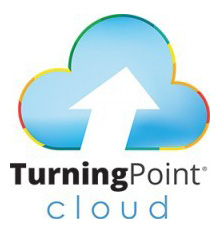 In the spring of 2016, Turning Technologies rolled out their new clicker software, TurningPoint Cloud, replacing TurningPoint 5.X software. Instructional Technologies upgraded the Turning Technologies Sakai integration on Friday, June 3, 2016 and classroom computers were upgraded to TurningPoint Cloud software v. 7.X.
Below are some key steps for getting started with clickers. A list of what's new in the software, workshop and training resources, and Frequently Asked Questions are provided below.
Learn More About TurningPoint Cloud
What's New with TurningPoint Cloud?
If you are familiar with TurningPoint 5, TurningPoint Cloud will come naturally to you. Some of the changes you will see include:
FERPA Compliance – Enhanced security to properly safeguard student data. Login passwords and collected data are encrypted. Files (participant lists or session files) are password protected when exported.
Required Instructor Registration – All instructors using the software will need to register in the new system. Detailed instructions will be forthcoming.
Required Student Registration – All students using clickers will need to register their clickers. Detailed instructions will be forthcoming.
Attendance Poll Function – Attendance can be polled multiple times throughout a clicker session.
Support for ResponseWare – For use from computers and mobile devices rather than clickers.
Frequently Asked Questions
Will my students' clickers purchased before the transition still work with TurningPoint Cloud?
Can I use TurningPoint Cloud software without using the Sakai integration tools?
Yes. You can download TurningTechnology Lite software, a streamlined version of TurningPoint Cloud, from the Turning Technologies download page.
Will my current version 5.X software work after June 3, 2016?
Yes, it will work as a standalone, but will not be compatible with the updated Sakai integration and all classroom computers will be updated to TurningPoint Cloud after June 3.
Can I transfer data collected in version 5.X software to the Sakai Gradebook after June 3, 2016?
No. The files and data formats from version 5.X are different from that of TurningPoint Cloud and will not be recognized by the Turning Point Sakai integration after the June 3 transition. Be sure to transfer any data collected in version 5.X that you want to go to the Sakai Gradebook of your course before June 3.
Is TurningPoint version 5.x compatible with Windows 10?
Is TurningPoint version 5.x compatible with Office 2016?