Classics Student Finds Career Takes Him to Italy, and into Teaching
Editor's Note: Eric Thienes graduated with a degree in Classics and is now teaching art history at Pima Community College in Arizona. Who says classics majors don't have fun?
I just graduated from the University of Arizona with my MA in classics with an emphasis in classical archaeology.
During my studies there, I have been working on a number of projects: Through the local Archaeological Institute of America chapter, I helped reconstruct an ancient Greek pottery kiln. I have also spent two summers excavating an ancient Roman bath complex in southern Tuscany in Italy under Dr. David Soren.
This bath, it is believed, is the very one where the emperor Augustus came for healing. I am currently teaching three courses in art history at Pima Community College, and I am hoping to continue my studies in classics in the future.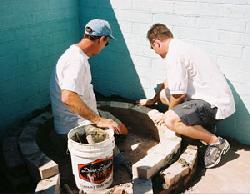 I have attached a few pictures. One is of my trench that was featured in National Geographic Italia along with Erin Nell, our Site Supervisor and PhD candidate from Univeristy of Leicester, and Olivia Miller, a Master's student at the University of Oregon.
The other is me cleaning in my trench for final photographs on the drain channel of the main bath building.  There is a picture of me standing in front of the Ara Pacis Augustae in Rome, and a picture of me helping to construct the combustion chamber of the Greek pottery kiln."
Eric Thiene s, '03