Students do coursework with professor Rebecca Wilkin in their FREN 406 course titled "French / Francophone Feminisms," Tuesday, April 4, 2023, at PLU. (PLU Photo / Sy Bean)
Parlez-vous français?
The French language is the only language other than English that is useful in every major country around the world, regardless of region. It is spoken and studied everywhere: in Europe, Canada, and the Caribbean; and in Africa and the South Pacific. Even in countries where it's not an official language, French can be surprisingly useful — in Latin America, for instance. And many students say one of the reasons they want to learn French is that it's such a beautiful language… well, we agree!
In the French program at Pacific Lutheran University, students immerse themselves in authentic French from the start. From beginning levels on, there's an emphasis on music, art, and social life in the French-speaking world. Students learn not only to express themselves in French and to understand written and spoken French, but also to discover much they didn't know about themselves and the world around them. The study of French in PLU's French Program is not an end in itself.
While an ability to speak French opens the door to some of the world's richest treasures of art and deepest explorations of thought and experience, knowledge of French also brings practical benefits. Fluency in French will help you in your career in surprising ways, whatever that career may be. Many careers in diplomacy or international business all but require the ability to speak French. The need for French teachers at all levels also creates many opportunities. And French is a language of choice for service in Africa and the West Indies.
PLU French majors have often won Fulbright teaching assistantships in France, including Elise Erickson in Rouen; Courtney Berner in Rennes; Sarah Harmon in La Réunion; and Vanessa Bruce in Guérande, near La Baule. PLU French majors pursue graduate work in the United States and Europe. Most recently, Sonja Ruud at the Graduate Institute of Geneva, Sarah Slinker at the School of Oriental and African Studies (University of London), and Bonney Griffin at Vanderbilt University.
So what are you waiting for? Venez faire du français avec nous!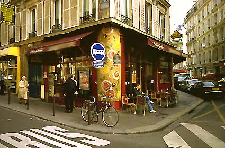 French. It's Official.
"French is an official language in 29 countries, most of which form what is called in French la Francophonie, the community of French-speaking countries. It is an official language of all United Nations agencies and a large number of international organizations. According to the European Union, 129 million, or twenty-six percent of the Union's total population speak French, of whom 65 million are native speakers and 69 million are second-language or foreign language speakers, thus making French the third language in the European Union that people state they are most able to speak, after English and German. Twenty-percent of non-Francophone Europeans know how to speak French, totaling roughly 145.6 million people in Europe, alone." (Wikipedia)