Welcome to Hispanic Studies
PLU students in the Hispanic Studies Program are challenged to think critically in an increasingly global world and to see the complexity of Hispanic cultures from many perspectives. The understanding of a language includes the understanding of the cultures and peoples who speak it. We aim at educating students to become more effective participants in the global community of the twenty-first century by promoting awareness and sensitivity to Spanish language and Hispanic cultures. The leaders of the Hispanic Studies program know how to leverage opportunities with innovative thinking and creativity.
Students who participate in our program's intentional service-learning opportunities abroad are well-positioned to explore careers in non-profit organizations around the world.
Our program expects students to develop their proficiency in the language by focusing on the four skills of reading, writing, listening, and speaking. Content area courses serve the purpose of improving upon skills, broadening cultural knowledge, and gaining a deeper understanding of history, politics, art, and geography.
The program fulfills its mission by teaching the language, cultures, and literatures associated with Spanish, by promoting cross-cultural awareness and understanding, and by presenting models of effective pedagogy. It also does so by encouraging students to participate in the various study-abroad programs, such as the ones in Oaxaca (México), León (Spain), Granada (Spain), and Ecuador.
A Statement From the PLU Hispanic Studies Department
Mary Beth Sheehan '00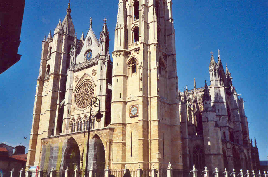 Our program offers a wide variety of co-curricular activities, such as our Hong International Hall living-learning community events and activities. The Language Resource Center offers study and work opportunities for Spanish students at all levels.
"By such innovations are languages enriched, when the words are adopted by the multitude, and naturalized by custom."
-Miguel de Cervantes