4th Annual César Chávez & Dolores Huerta Latino Studies Lecture

Éxodo Hondureño: Central American Refugees, Asylees and Migration in the 21st Century
Thursday, April 4 at 6 p.m. in Nordquist Lecture Hall, Xavier Hall
Speaker: Suyapa Portillo Villeda, associate professor in Chicana/o Latina/o Transnational Studies at Pitzer College
Abstract:
Migration to the US from the Central American Northern Triangle (Honduras, El Salvador, Guatemala) is a phenomenon that can be traced to the constructions of transnational relationships with the US since at least the mid-nineteenth century. Recent migrations, perhaps since the early 2000s, have been marked by disproportionate representation of Honduran immigrants traversing across Mexico and at the US-Mexico border. Today, working class Hondurans migrate in a gendered and sexualized neoliberal context deeply affected by US-Central American economic and political relations. Yet these dynamics, including the historical relationships of the sending countries to the US, are understudied and remain absent from scholarly and popular discourse. Analysis of the recent caravans of women, children and LGBTI people from Honduras requires further understanding of the complex relationship between Honduras and the US, one that includes the context and history of working-class communities leading up to the coup d'état of 2009 and in its aftermath.
Event Details:
Free and open to the public
The Honduran governments' neoliberal turn, influenced by US economic and foreign policy over multiple decades, has imposed an economic and political dominion that challenges people's security and survival daily. Distinct periods in contemporary Honduran history show that these transnational relationships have limited possibilities for the people of Honduras in their own country and arguably even more so as they migrate. My talk contends with critical questions: is US society capable or willing to face the consequences of their foreign policy? Do narratives of US humanitarian generosity clash with lived realities for women, Trans women and youth? How do the caravans fit in the immigration reform discourse against the backdrop of a troubled history of US-Honduran relations, which is perhaps both context and culprit of migration and crack-down at the US-Mexico border? Most importantly, despite it all, how has Honduran agency and resilience, both in Honduras and on the migrant trail, continue to push nations and transnational actors toward finding solutions.
Suyapa Portillo Villeda Biography
Suyapa G. Portillo Villeda is an Associate Professor of Chicana/o Latina/o Transnational Studies at Pitzer College. Her research and teaching interests include Central American history, Central American migration to the United States, gender and labor in the Latin America, US Latina(o) LGBTQ populations, and immigration and health in the Americas. She is finishing a manuscript on the history of radicalism in the North Coast of Honduras told through oral histories of banana workers. She spent most of 2018 researching migration from the perspective of the sending country on a Fulbright Scholar Fellowship in Honduras.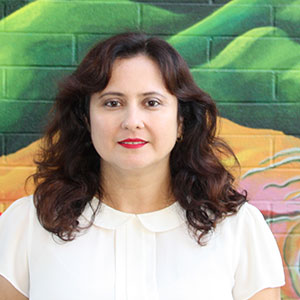 Portillo Villeda publishes in both English and Spanish. Her authored and edited works can be found in the bilingual Journal Diálogo, an Interdisciplinary Studies Journal by the Center for Latino Research at DePaul University, Resentir lo Queer en América Latina: Diálogos Desde/Con el Sur, edited by Santiago Castellanos, Diego Falconi, María Amelia Viteri (Barcelona, Spain: Egales, 2014.), Rethinking Latin American Social Movements: Radical Action from Below, edited by Glen David Kuecker, Harry E. Vanden, Marc Becker, and Richard Stahler-Sholk (Rowman & Littlefield Publishers, 2014.), and Revista Envio published in Honduras by the Equipo de Reflección y Invesitgación y Acción. She enjoyed collaborating with Pitzer students and community partners on a piece published in ReVista Harvard Review of Latin America in 2017. She is a frequent contributor un media in print, on radio and television, through outlets such as NACLA, Latino Rebels, Huffington Post, Counterpunch and Radio Progreso in Honduras. She holds a Master's and a Ph.D. from Cornell University, Ithaca, NY.
Professor Portillo Villeda, a native Honduran, has worked with immigrant and worker organizations throughout the Los Angeles area to raise awareness about immigration, labor issues, and she has worked on a variety of campaigns and organizing projects to improve conditions for immigrant workers and LGBTI/LGBTQ immigrant populations in Los Angeles, Honduras and Central America.

Diary of a Reluctant Dreamer: Undocumented Vignettes from a Pre-American Life
3rd Annual César Chávez & Dolores Huerta Latino Studies Lecture
March 19, 2018
This lecture featured author Alberto Ledesma. He is the author of the graphic memoir-comic book, Diary of a Reluctant Dreamer: Undocumented Vignettes from a Pre-American Life. This graphic memoir is a compilation of cartoons and essays that illustrate in an unconventional way the experience of a long-time undocumented immigrant living in the United States – an experience that is truly American.
Sponsored by the PLU Hispanic Studies Program and members of the Latino Studies Working Group. This event was made possible with special funding from the Mellon Foundation.
"The Pioneers: The Role of Public Policies and Mentors for First Generation Latino Professionals"
2nd Annual César Chávez & Dolores Huerta Latino Studies Lecture
April 6, 2017
Speaker: Dr. María Chávez, Associate Professor of Political Science
For this Latinos Studies Lecture, Dr. Chávez shared her latest research on the public policies & mentoring relationships that helped a generation of Latinos to pursue higher education and become professionals. Inspired by Chicana feminist methodologies, Dr. Chávez's auto-ethnographic study weaves her own journey into her qualitative analysis of the struggles of 31 Latino professionals who eventually found pathways to success.
Sponsored by the PLU Hispanic Studies Program and the Department of Politics and Government

Latino Americans: 500 Years of History
1st Annual César Chávez and Dolores Huerta Latino Studies Lecture
October 13, 2015
As partners in the prestigious Latino Americans: 500 Years of History* grant, PLU joined universities and community organizations across the nation in the effort to celebrate and promote the untold stories of Latino/as in the United States.
Film screening and discussion about "The New Latinos (1946-1965)" from the documentary series The Latino Americans: 500 Years of History.
Panelists: Dr. María Chávez-Pringle, Dr. Emily F. Davidson, and Dr. Carmiña Palerm
Small-group Discussion Leaders: Members of Amigos Unidos
*Latino Americans: 500 Years of History has been made possible through a grant from the National Endowment for the Humanities and the American Library Association.