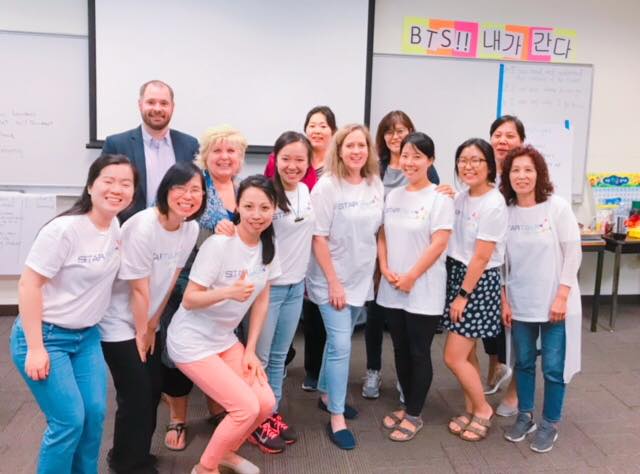 Seattle Schools STARTALK Program @ PLU, Summer 2021
Do you speak Arabic, Korean, or Russian? Are you interested in becoming a language teacher?  Then the Seattle Public Schools STARTALK alternative routes to teacher certification program at PLU is a great opportunity for you!
What? The Seattle Public Schools STARTALK Teacher Certification Program at PLU will prepare native (or near-native) speakers of Arabic, Korean, or Russian to teach their world language to K-12 students. (*Spanish positions are limited.)
When? The program consists of online classes (synchronous) and work on your own schedule (asynchronous) over June, July, and August 2021.  The schedule is here.
Where? Online courses offered through Pacific Lutheran University, Tacoma.
Costs? Registration fee:  $40. Tuition (11 credit hours), texts, and assessments covered by STARTALK funding. Candidates wishing to complete the entire certification program will register for 8 credits during the academic year at $895 per credit, for a total of $7,160 out of pocket to earn your teaching certificate. Financial aid for this portion may be available.
How do I apply?   Apply soon online, spots are limited. Click here to fill out your initial application.
More information? Contact Program Director Judy Hassen (hassenjk@plu.edu) or Professor Bridget Yaden (byaden@plu.edu).
HIGHLIGHTS:
Lesson planning and micro-teaching
11  graduate credits from PLU's School of Education
Standards and content-based program, focused on developing communicative proficiency
Emphasis on STEAM (Science, Technology, Engineering, Arts, and Math)
Content knowledge to pass the Washington Educator Skills Test – Endorsement (WEST-E) WL
Funding for required assessments for those pursuing teacher certification and/or World Language Endorsement (WEST-B, WEST-E and ACTFL OPIc and WPT)
Copy of ACTFL's publication Keys to Planning for Learning

By completing the PLU STARTALK Teacher Program, will I qualify for a Washington State Teaching Certificate?
Yes.  This program is designed to lead to full teacher certification with an endorsement in a World Language (Arabic, Korean, Russian, or Spanish).  11 of the credits of the program are covered by the grant funds in the summer.  The 8 remaining credits will be taken during the school year at a discounted rate of $867 per credit.  At the end of the full summer 2021 program and the academic year courses, candidates will have a Washington State teaching certificate and World Language endorsement.
Can I also earn my Masters degree?
The Alternative Routes-Startalk program is offered via graduate credit.  At completion of the certification program, candidates have the option to complete the remaining coursework for a master's degree.  Candidates have up to three years to finish the coursework but most individuals complete the degree in the year following certification.
I have attended other STARTALK Teacher Programs. Can I still register for this one?
Yes. All teachers, new or experienced, will benefit from an opportunity to review the STARTALK principles, the World Readiness Standards, and the principles of Teacher Effectiveness for Language Learning.  Teachers will also get more experience writing learning plans, differentiating instruction, and doing microteaching with students in this program.
How do I apply for this program?
Spaces are limited, so complete this form by April 1, 2020, to submit your interest in participating.  If you are accepted, then we will email you an application form and instructions for securing your spot by sending your $40 registration fee.
How can I learn more about STARTALK in Washington State?
For more information about STARTALK grants in WA, visit:
https://www.seattleschools.org/academics/international_education/startalk
Are there other fees beyond the $40 registration fee?
For those continuing on to the full certification program during the academic year, you will register for 8 credits at $867 each. Financial aid may be available. Participants are responsible for their own meals and housing if they come from out of the area.
How do I get my transcript after the course ends?
Is there travel or housing support available?
Our STARTALK funds are directed primarily to cover tuition costs, books, and testing.  We do not offer travel or housing support.  However, there is on-campus housing available for a small fee per day.