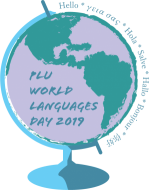 World Languages Day 2019
April 23, 2019
Celebrate language and culture!
Enjoy desserts from around the world!
Win a door prize!
Join PLU faculty, students, and staff as we celebrate the languages and the cultures of the world throughout the day.  There will table activities during lunch and dinner at the Commons, where you can learn some words in a new language and explore traditions from different cultures.  From  7pm-8:30pm in the LRC, join us for a a dessert event – with different tables representing different languages and cultures, food and activities.  Door prizes will be given away!
Schedule of Events:
lunch and dinner – language and culture table events in the AUC hallway outside of the Commons
4pm-5pm– Language major / minor interest session, LRC @ Hong Campus Language Hub
7:00pm-8:30pm – LRC @ Hong Campus Language Hub, Dessert from Around the World
Hosted by the Department of Languages and Literatures, the Language Resource Center, and Academic Assistance.
Thanks to our additional sponsors:  The Wang Center, International Student Services, Residential Life!