Veterans Resource Fair
Tacoma Dome
Apr. 20 | 9:00 a.m. -3:00 p.m.
The Veteran Resource Fair is a community partnership between various veteran owned agencies, nonprofits, federal, state, and local county agencies whose aim is to provide an annual and reliable place and event where Pierce, King, Kitsap and Thurston County Veterans and their families can obtain direct connections and information on many different types of veteran specific programs and resources.
This event is open to all Veterans, active duty US Military, Reservists and National Guard as well as family members.
The CMS Presents: Katie Blanchard
How do you make work safe after surviving a murder attempt?
Apr. 26 | 6:30 p.m. | Xavier Hall, Pacific Lutheran University
First Lt. Katie Blanchard was severely burned in the September 2016 incident at the Munson Army Health Center on Fort Leavenworth.
PLU alumnus and active-duty Army officer Katie Blanchard survived a murder attempt in the line of duty. Come hear how you can be a leader who ensures the safety of those around you.
A former civilian hospital employee was sentenced to 20 years in prison for trying to kill Katie by setting her on fire.
The Pacific Northwest Agora is an after-hours professional club that brings remarkable people together for fascinating conversation.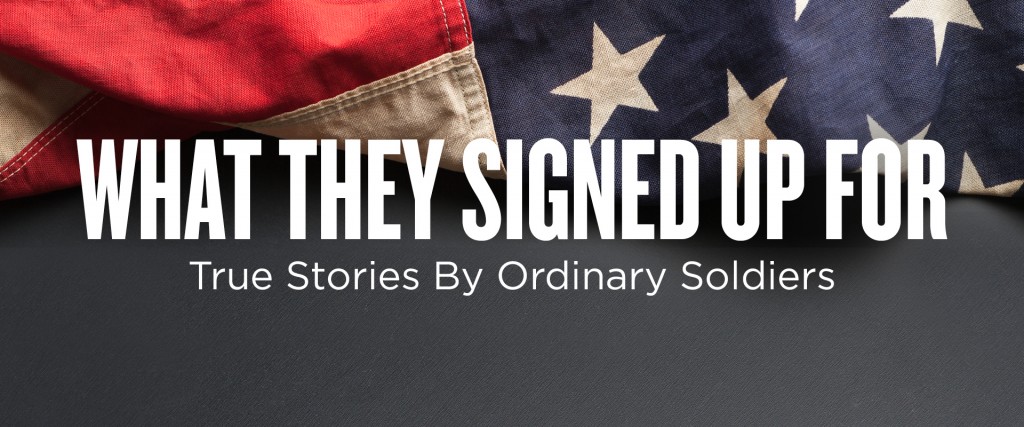 'What They Signed Up For'
10 a.m. | Thursday, Sept. 13 | PLU Regency Room
Free and Open to the Public
Join us for a reading of "What They Signed Up For: True Stories by Ordinary Soldiers," followed by a panel discussion including some of the authors of the book.
This event is a partnership between PLU and the nonprofit What They Signed Up For, whose mission is to inspire other veterans to tell their own stories and to inform civilians about the veteran experience. Michael Farnum, PLU's Director of Military Outreach and one of the book's authors, will moderate. Other speakers include PLU alum Dennis Eller, Robin Eckstein, Nikki Davis and Brandon Mitalas.
The event begins at 10 a.m. in the PLU Regency Room and is free and open to the public. Free copies of the book will be handed out to audience members.

PLU Veterans Day Celebration
Nov. 9 | 10:30-11:11 a.m. | Lagerquist Concert Hall
PLU's annual Veterans Day Celebration will feature a musical performance by the PLU Brass Quintet, a posting of the colors by the Lute Battalion Color Guard, a prayer and benediction by University Pastor Rev. Jen Rude, and a short address by special guest Colonel Curtis A. Buzzard, U.S. Army.