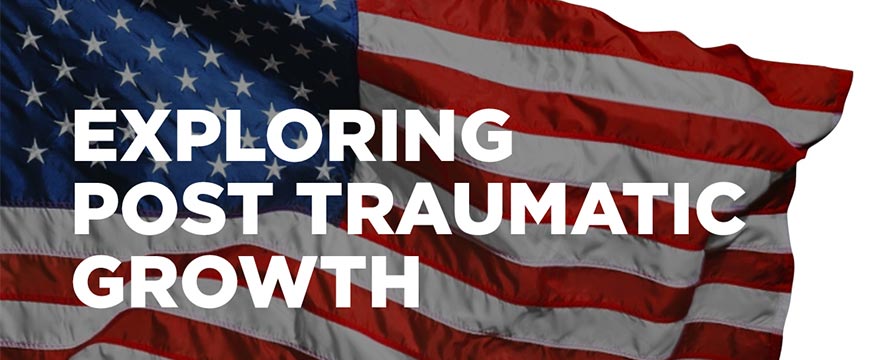 Exploring Post Traumatic Growth
Veterans often experience intense stress and/or trauma during service to their country. This training explores Post Traumatic Growth – which is not focus on diagnosis and labeling, but instead is focused on how to empower people to move beyond difficult situations.
The program is split into two sessions: One for veterans and service members and one for caregivers. The program is on May 1 and May 2 at Pacific Lutheran University, with the morning session (9 a.m.-12 p.m.) for veterans and service members and the caregiver session in the afternoon (1-4 p.m.) on May 1 and the opposite on May 2.
The program is free. Please register beforehand.
Why attend?
Understand about the possibility of transformation from trauma to growth.
Learn about the research on Post traumatic Growth.
Discuss common helpful strategies that facilitate growth.
Learn about developing a "Plan of Practice" regarding personal growth.
Discuss what works and what doesn't when dealing with trauma.
Learn about self-care techniques.
Participants will have time to create their own growth plans and practices to sustain behaviors and thoughts to facilitate growth.
Hosted by the Institute for Posttraumatic Growth, Program of RETC and Pacific Lutheran University and made possible by a grant from the Windows of Hope Foundation – A legacy of Gary E. Milgard Family Foundation.

Tuesday, May 1
Place: Anderson University Center
Times: 9 a.m.-12 p.m. | Exploring Post Traumatic Growth: A Training for Veterans and Service Members
1-4 p.m. | Exploring Post Traumatic Growth: A Training for Caregivers
Free it attend
Wednesday, May 2
Place: Karen Hille Phillips Center for the Performing Arts
Times: 9 a.m.-12 p.m. | Exploring Post Traumatic Growth: A Training for Caregivers
1-4 p.m. | Exploring Post Traumatic Growth: A Training for Veterans and Service Members
Free to attend