2019 OctOboefest
Saturday, October 26, 2019
Mary Baker Russell Music Center
Pacific Lutheran University, Tacoma, WA
Shannon Spicciati, Director
Join us at PLU for the 2nd annual OctOboefest, a day of workshops, masterclasses, and an afternoon recital. We welcome guest artists Nancy Ambrose King (University of Michigan) and Mary Lynch (Seattle Symphony) for this event, as well as performers and teachers from around the Northwest. Registration is available at OpusEvent. Please contact Shannon Spicciati at spiccisk@plu.edu with any questions.
8:45 – check in
9:15-10:15 – workshops (choose one):
Keri McCarthy (WSU), Introducing 20th Century Works (with extended
techniques) to Undergraduates and High School Students
Scott Erickson (CWU), Developing a Warmup Routine
10:30-12:30 – Mary Lynch masterclass
12:30-2:00 – Lunch (available at the Anderson University Center or off campus)
During lunch there will be a room open for reed making, with help available!
2:00 – Recital, featuring Nancy Ambrose King and Mary Lynch. Works by Handel, Morris, Clara Schumann, Pasculli, and others.
4:00-6:00 – Nancy Ambrose King masterclass
6:00-7:00 – Oboe ensemble reading session, open to all!
We hope that you will consider making a reservation for the 2nd annual 2019 OctOboefest. Reservations are open, and being taken through an online service, OpusEvent. You may make your reservation using the Reservation button below. This is a third-party service that will ask you to sign up for a free account and it's quick and easy to do.
PLEASE NOTE: Registration must be submitted no later than end of day Thursday, October 24th in order to attend.  No walk-ups will be allowed.
ADDITIONAL PARTICIPANT INFO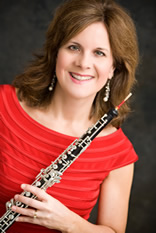 Nancy Ambrose King
Nancy Ambrose King is the first-prize winner of the Third New York International Competition for Solo Oboists, held in 1995. She has appeared as soloist throughout the United States and abroad, including performances with the St. Petersburg, Russia, Philharmonic, Prague Chamber Orchestra, Janacek Philharmonic, Tokyo Chamber Orchestra, Puerto Rico Symphony, Orchestra of the Swan in Birmingham, England, Festival Internacionale de Musica in Buenos Aires, New York String Orchestra, Amarillo Symphony, Cayuga Chamber Orchestra, and Sinfonia da Camera. She has performed as recitalist in Weill Recital Hall and as soloist at Lincoln Center and Carnegie Hall. She has recorded eleven CDs of works for the oboe on Boston Records, Cala Records, Equilibrium, Naxos and Centaur Records. Recent releases include IllumiNation featuring concertos by Scott McAllister, Michael Daugherty, and Alyssa Morris; the Six Trio Sonatas of G. F. Handel; Global Reflections recorded with the Prague Chamber Orchestra and featuring the works of Strauss, Skalkottas, Sierra, and Foss, as well as the premiere of Jennifer Higdon's Oboe Concerto with the University of Michigan Symphony Band. She also recorded a Youtube video channel, Trois Trios/Deux Duos with colleagues Jeffrey Lyman, bassoon and Martin Katz, piano, and can be heard performing on the Athena, Arabesque, and CBS Masterworks labels. She was a finalist in the Fernand Gillet Oboe Competition held in Graz, Austria, and has been heard as soloist on WQXR radio in New York City and NPR's Performance Today. She is on the faculty of the Sarasota Music Festival, has appeared as a recitalist throughout the world and was a member of the jury for the esteemed 2009 Barbirolli and the 2016 Muri, Switzerland Oboe Competitions. Ms. King has written a highly successful e-book for Apple I-Tunes titled Making Oboe Reeds from Start to Finish with Nancy Ambrose King. Her playing has earned high praise from a variety of critics, including the American Record Guide, "Marvelously evocative, full of character, sultry and seductive, with a soft-spoken, utterly supple tone, and as musically descriptive as any I have heard…a fine exhibition of thoroughly musical oboe playing"; "She plays not only with delicacy, but also with an intense, almost rapturous sound that is second to none in expressivity and gradation. Delightful!". "…a lovely player with a tone that surpasses that of most other American oboe soloists. It defines delicacy, yet is strangely assertive, like a soft-spoken woman who nonetheless speaks up strongly when her mind is made up.", Fanfare, "Nancy Ambrose King is clearly a skilled musician of great promise, with a sterling technique"; and The Double Reed, "…thoughtful, expressive, and perfectly controlled performance of consummate accuracy. It's not that she makes it sound easy-she makes it sound perfect", "Ms. King's fluid technique, combined with clean and accurate articulations, makes the most complex passages flow and sounds effortless. Combine these aspects with a beautiful tone and a sensitive touch in the lyrical passages, all oboists have a new level to which to strive." Currently Professor of Oboe and Chair of the Winds & Percussion Department at the University of Michigan, she was previously Associate Professor and University Scholar at the University of Illinois, Urbana-Champaign and served as the first female President of the International Double Reed Society. She is on the faculty of the Sarasota Music Festival. She has also served on the music faculties of Indiana University, Ithaca College, University of Northern Colorado, and Duquesne University Schools of Music, as well as the Idyllwild Music Festival, Bowdoin Music Festival, Marrowstone Music Festival, Strings in the Mountains of Steamboat Springs, and the Hot Springs Music Festival. Professor King received her Doctor of Musical Arts, Master of Music, and Performer's Certificate from the Eastman School of Music, studying with Richard Killmer. A graduate of the University of Michigan with a Bachelor of Music degree where she studied with Arno Mariotti and Harry Sargous, Ms. King was the recipient of the school's prestigious Stanley Medal and was honored with the 2010 Hall of Fame Award by the University of Michigan School of Music, Theatre and Dance.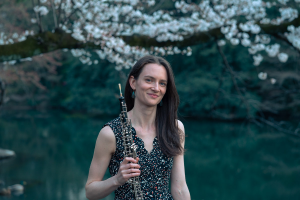 Mary Lynch
Hailed as "the star of the evening" by The Philadelphia Inquirer and praised for her "sweet oboe sound" by The Washington Post, Mary Lynch is currently Principal Oboist of the Seattle Symphony Orchestra. She began her career as Second Oboist with The Cleveland Orchestra and has recently performed as Guest Principal with the San Francisco Symphony, the Chicago Symphony Orchestra, and the Norwegian Radio Orchestra. Since the start of her tenure in Seattle in 2014, she has performed frequently as soloist with the Seattle Symphony, including a collaboration with Itzhak Perlman in Bach's Concerto for Violin and Oboe BWV 1060. Committed to expanding the repertoire for her instrument, in the past year she made world premiere recordings of three concertos: the Oboe Concerto of Marc-André Dalbavie and the Oboe and Oboe d'amore Concerti of Christopher Nickel (all to be released 2019).
An avid chamber musician, Ms. Lynch has spent several summers at the Marlboro Music Festival, has toured with Musicians from Marlboro, and performs regularly with the Newport Music Festival (RI) and the Seattle and Philadelphia Chamber Music Societies. One of her great musical joys is performing Bach cantatas every December with the Gamut Bach Ensemble in Philadelphia. Additional summer festival appearances include the Oregon Bach Festival, Weimar Bach Academy, and the Lake Champlain Chamber Music Festival. Her chamber music performances have been enthusiastically reviewed and broadcast on radio stations around the US, including on American Public Media's Performance Today.  She can also be heard on the Grammy Award-winning Seattle Symphony label performing Dutilleux's Les Citations for oboe, harpsichord, bass, and percussion.
Ms. Lynch earned her BM and MM degrees at New England Conservatory and The Juilliard School respectively, studying with John Ferrillo, Elaine Douvas, and Nathan Hughes. Upon graduating from Juilliard, she was awarded the prestigious William Schuman Prize for outstanding achievement and leadership in music. She is also a graduate of Interlochen Arts Academy, where she studied with Daniel Stolper. Now a devoted teacher herself, Ms. Lynch serves on the University of Washington faculty and has presented masterclasses at The Juilliard School, University of Maryland's National Orchestral Institute, Interlochen Arts Camp, and the University of British Columbia, among many others.