Currently Reading:
Rieke Science Center campaign aims for $6 million goal
January 28, 2012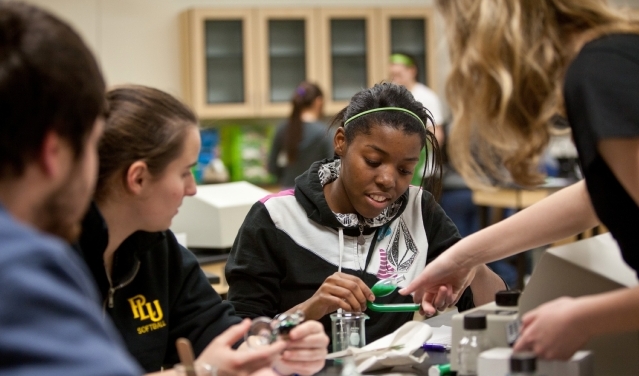 Rieke Science Center campaign aims for $6 million goal, bring center into 21st century
As PLU's fundraising campaign crosses the $119 million mark – $19 million above the university's original goal – the entire PLU community looks to the work and effort of the last two years with pride and hope for the future. And now, it's time to get back to work.
Of particular focus now is the 26-year-old, 88,500 square-foot Rieke Science Center. The facility has served the Division of Natural Sciences well, however, the building is outdated and requires upgrades to meet the needs of faculty members and the students they are educating particularly because undergraduate student and faculty research is one hallmark of a PLU education.
"The renovation of Rieke Science Center will give us more flexibility with respect to how we can use the facility to support the kinds of teaching we want to do," said Angie Alexander, PLU professor of biology and former dean of the natural sciences. To that end, Rieke currently has a new smart classroom, thanks to generous contributions from multiple donors. Design work has begun on a new chemistry research lab, a new greenhouse and an additional classroom.
The Louis and Lydia Sheffels Biology Laboratory, which would not have been possible without the support of Carol Sheffels ('58) Quigg, Jerry Sheffels '54 and the entire Sheffels family, was completed last year.
"The Rieke Science Center is an important part of the education of PLU students going out into the world," Carol Sheffels Quigg said.
The lab is the first of many renovations planned for Rieke. The goal is to raise $6 million for an overall upgrade of the building. Currently, gifts to the university for Rieke Science Center have reached $2.1 million.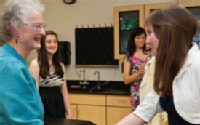 Future plans for Rieke include the reconfiguration of an interior laboratory space supporting and enhancing scientific instructional methodologies for student and faculty research, updating more classrooms, improvement of the second floor "open lab," and updating building infrastructure such as heating and ventilation."Compared to what I think of as 'the old days' when most of the teaching was lecture and many of the labs were demonstration- based labs, we are now doing much more project work in the labs," Alexander said. "Teaching has shifted not entirely away from lecture, but certainly toward problem solving, project work, discussion groups and group work during class periods."
All this points to continued efforts to create a space where PLU's students have the resources and support to meet the demands of scientific inquiry in the 21st Century. To learn more about the renovation of Rieke Science Center, and the variety of naming of the science center or call 800-826-0035.