Currently Reading:
First responders practice chemical spill scenario at Rieke
October 1, 2012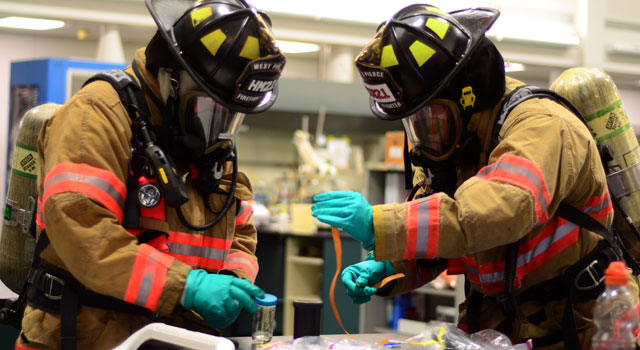 First responders practice chemical spill scenario at Rieke
A HazMat team with members from Central and West Pierce Fire and Rescue gathered in between Rieke Science Center and Foss Field preparing to enter the science center to respond to a spill of unknown mixed chemicals.
The first responders were on the PLU campus for a chemical spill response exercise. Running through scenarios, like an unknown chemical spill, helps fire and rescue personnel and PLU staff prepare their protocols, gain knowledge about campus facilities and builds relationships that are vital in responding to emergency situations, said Jennifer Wamboldt, PLU emergency programs manager.
"We appreciate the opportunity anytime to become more familiar with the PLU campus," said Capt. John Davis, Central Pierce Fire and Rescue. "It's a good opportunity for use to grow and learn."
"It's vital to develop trust because you have multiple agencies coming together to respond to a situation," he added.
It is not only a training opportunity for fire and rescue, but it also allows PLU staff to go through emergency responses. In this scenario, fire and rescue assesses the situation and works to identify the chemicals and hazard potential. After the spill is stabilized, scene control reverts back to PLU and Joe Bell, PLU environmental health and safety officer, contacts an agency that specializes in cleaning up the spill.
This scenario also gave PLU staff the chance to test the notification process. Someone notifies campus safety of the spill. Campus safety assesses the incident through a series of questions, calls 911, EHS, and a campus engineer to turn off ventilation in the building and helps to secure the area by forming a perimeter around the building. Once the HazMat team arrives, PLU personnel become part of its incident command. The agencies work together to address the emergency.
Going over scenarios like this one builds a certain "muscle memory" to responding, Davis said. First responders develop calm and understand the protocols when the real situations occur.
"You become very comfortable with the process," he said.
In the practice scenarios the team is also faced with many unknowns that they have to assess and respond to, but practicing these provides preparation in handling the unknowns they will face in a real response.
"It helps create a safer campus," Wamboldt said.