Currently Reading:
PLU's task is to be a New American University
September 1, 2013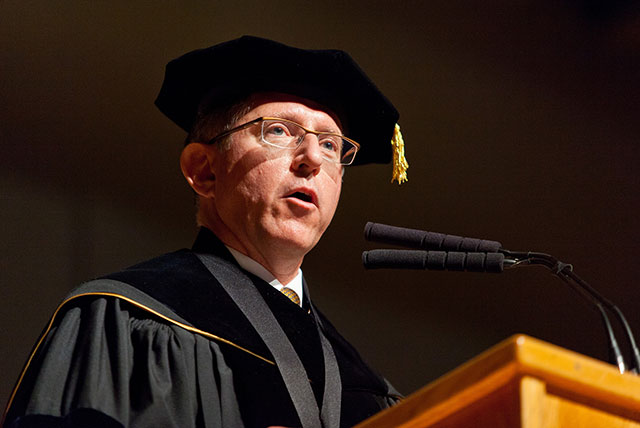 Convocation 2013: Taking your true calling and making a difference in the world.
By Chris Albert
Like any good English professor, President Thomas W. Krise had a few lessons to teach the incoming class of 2017 at Convocation of the 2013-14 academic year before real classes began in the afternoon.
First off, Krise noted that the root meaning of "convocation" comes from a "calling together," maybe even "a calling together of voices." At Pacific Lutheran University, finding your vocation or, in this case, your calling, is at the core of the university's mission, Krise said.
He stressed this to the incoming class during Convocation, Sept. 9 in Olson Auditorium.
"This notion is very important to us," Krise said. "You see, the news has been obsessed recently about getting a job after college. And much of the national conversation is focused on the mere transactional nature of education and the mere occupational purpose of it."
At PLU, those who teach in the liberal arts think finding one's calling is much more than that, he said.
"We at PLU take the business of launching graduates into careers as seriously as possible," Krise said. "But we have our sights set on a whole lifetime, not merely the few months following graduation. The full lives of our alumni are our product – not merely the diplomas we give on Commencement Day."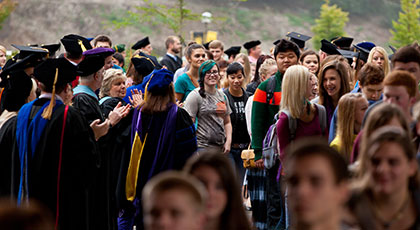 When he was growing up, Krise said, the word "calling" was something he thought was for the clergy. But upon reflection of those in his life – like his father, who escaped from a German WWII prison camp, and went on to establish the Army's first Equal Opportunity program – Krise now says he views the scope of "a calling" in a much broader sense. And to his dying day ten years ago this fall, his father's work on diversity and race relations was the work his father was most proud of, Krise noted.
In his own career, Krise said he's met hundreds of people who were immensely dedicated to their careers in public service, in the armed forces, in teaching, in service to young people and to education.
"They were certainly 'called,' weren't they?" Krise asked.
"Here we are, at PLU's Convocation in a coming together,'" Krise said. "We learn together. We discover knowledge in community. And learning in community is not only a hallmark of the Lutheran tradition of higher education, but also a strong tradition at PLU.
"We not only learn together – teacher and student, mentor and learner, colleague and colleague – we learn together in order to serve the greater good," he said. "We learn together so as to benefit others, whether it's through our compassion as a researcher answering the greater questions of the arts and sciences or through our integrity and leadership in the professions or in the business community."
It is what PLU's mission statement is built upon: "We at PLU seek to educate students for lives of thoughtful inquiry, service, leadership and care, for other people, for their communities, and for the Earth."
The word "care" stands out in this statement, Krise said, adding it is "an unusual word for a university mission."
Care for people, communities and the Earth matches up very well with the university's emphasis on diversity, justice and sustainability in its long-range planning, he said.
These are important tenets of PLU, but those other words in the mission statement — thoughtful inquiry, service and leadership – are equally important.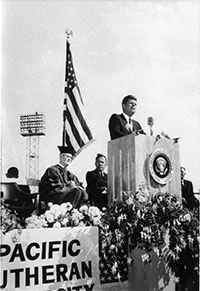 And they are not new ideas to PLU. Krise noted that 50 years ago this month, President Kennedy spoke at a joint Convocation with UPS, and echoed these same thoughts.
"President Kennedy's speech that day, though meant for those times, was prescient to our times as well," Krise said. "He gave voice to issues – ongoing to this day – which must be solved in community – in convocation."
Just months before he was assassinated, Kennedy made a call for social justice. In that speech, given at Cheney Stadium, Kennedy noted that 9 million children in the U.S. lived on what was considered a poverty income at the time: $3,000 a year.
"How many of them will drop out of school and never have a chance again?" Krise noted, reading from Kennedy's speech. "How many of our children who have talent will not have a chance to use it, will not get to a college or university? How many of them will graduate, or fall out of school and be unable to find work or will live in slums in our large cities?"
Kennedy marveled at the blessings nature has bestowed on the Northwest, but added it is even more imperative that nature be used wisely.
"Fifty years ago, this month, in convocation, President Kennedy called out for us to value our nation's rich diversity of energetic and talented people," Krise said.
"We at PLU have committed ourselves over the course of our long and distinguished history to do the best we can to cultivate a learning community designed to prepare graduates to help realize a vision of a better world," Krise said.
The Convocation program also included music from members of PLU's University Symphony Orchestra, Choir of the West and University Chorale and recognition of student scholarship awardees and faculty achievements.