Currently Reading:
PLU: A New American University
September 4, 2013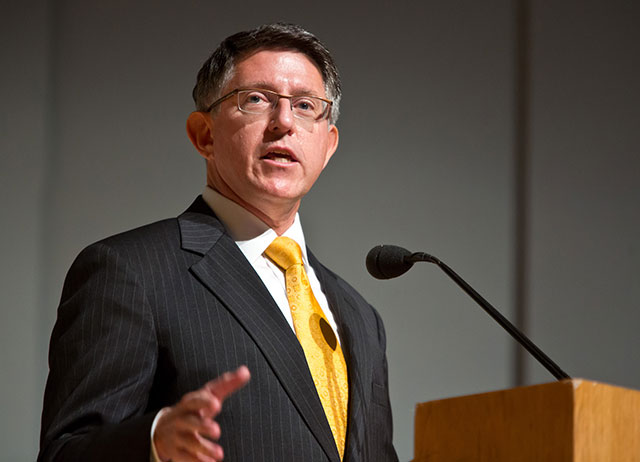 PLU: A New American University
By Chris Albert and Barbara Clements
University Communications
Pacific Lutheran University needs to nurture a culture of risk-taking and "failing fast" and moving forward, President Thomas W. Krise told the assembled faculty on Wednesday at the annual Fall Conference.
"We have this in our DNA, and we really need to cultivate this attitude and the need for taking risk," Krise said. "We really need to not be afraid of what a mentor of mine calls the full-speed mistake."
Krise gave an example of the Customer Relationship Management system that was deployed last year. It became apparent that it was not the CRM best suited for PLU's needs, so the failure was identified and the university changed course to find a CRM that fit better, and now a new system is being implemented this year.
"Often the greatest successes," he said, "happen after a mistake."
While the university is faced with daunting realities of economic restraints, demographic shifts and even the question of the value of a college education, this cannot be a culture afraid to try and afraid to fail, Krise said.
"We need to create a culture of possibility," he said. "We need to encourage some risk-taking."
The accomplishments of the previous year show how Pacific Lutheran University is an institution that does not fit the defined mold of most universities and colleges, said Krise. The university does not have huge classes, or emphasize research above teaching, he said.
Krise noted that the type of faculty PLU attracts consider themselves teachers first.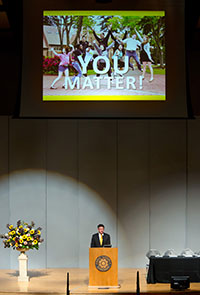 "We really need to not be afraid of what a mentor of mine calls the full-speed mistake."
"When you interview them, and ask, 'When did you first get interested in teaching?' they lean forward and talk about who first inspired them to be a teacher," he said. Krise himself makes it a point to teach a class at least once a year, and will be taking students to Washington DC during J-term.
It's often these professors who first come to mind, Krise said, when he asks alumni what they remember most about PLU.
"It's all about relationships, and this is a deeply relational institution," he said. A mother of a first-year Lute told Krise during a trip to Alaska that she was deeply grateful that her daughter was at an institution that meant so much to so many people.
"PLU is a New American University," he said. "We need to be new, creative and bold to achieve the things we said we wanted to in PLU 2020."
The concept of a New American University was coined by Ernest Boyers, but it truly does mirror the mission envisioned by PLU's first president, Bjug Harstad, who stated PLU would be "a university of the first rank."As such a place of learning, the ideals should be ones of inspiring creativity and collaboration, embracing diversity and differences, and caring for the community and the world, Krise said.
"Let's think about ways we can do our work more effectively, more creatively, more collaboratively," Krise said. "How can we do our work better?"