Currently Reading:
PLU Research Team Turns Sustainability Project into a Powerful Catalyst
PLU Research Team Turns Sustainability Project into a Powerful Catalyst

February 9, 2015
By Sandy Deneau Dunham
PLU Marketing & Communications
TACOMA, WASH. (Feb. 9, 2015)—A student-led research team from Pacific Lutheran University poured a lot of energy into its recent project—which ended up saving a lot of energy … and impressing some high-powered businesspeople.
In December, PLU students Ashley Connors '17, Aiko Nakagawa '15 and Neil Wagner '15 presented their behavioral-based research project, "Encouraging Conservation in Communal Living Environments," to representatives of Puget Sound Energy and the Independent Colleges of Washington.
The presentation—and the presenters—made a huge impression, and now PSE is working on putting some of the team's ideas into practice, Wagner said.
"We thought one of the PSE people was doodling through our presentation, but afterwards she told us, 'I've got four or five ways I'm going to put this to use,'" he said.
The research team really exemplified the New American University tenet of interdisciplinary study, said team advisor Mark Mulder, Assistant Professor of Business. "We have a student in hard science (Connors, a Biology/Chemistry major), one in Economics (Wagner) and one in Psychology (Nakagawa)," he said. Plus, Matt Luth, PLU Assistant Professor of Management, and Sustainability Lead Nicholas Lorax also served as advisors.
Everything, and everyone, started to come together thanks to a $10,000 PSE-funded sustainability grant in February 2014 from the Independent Colleges of Washington.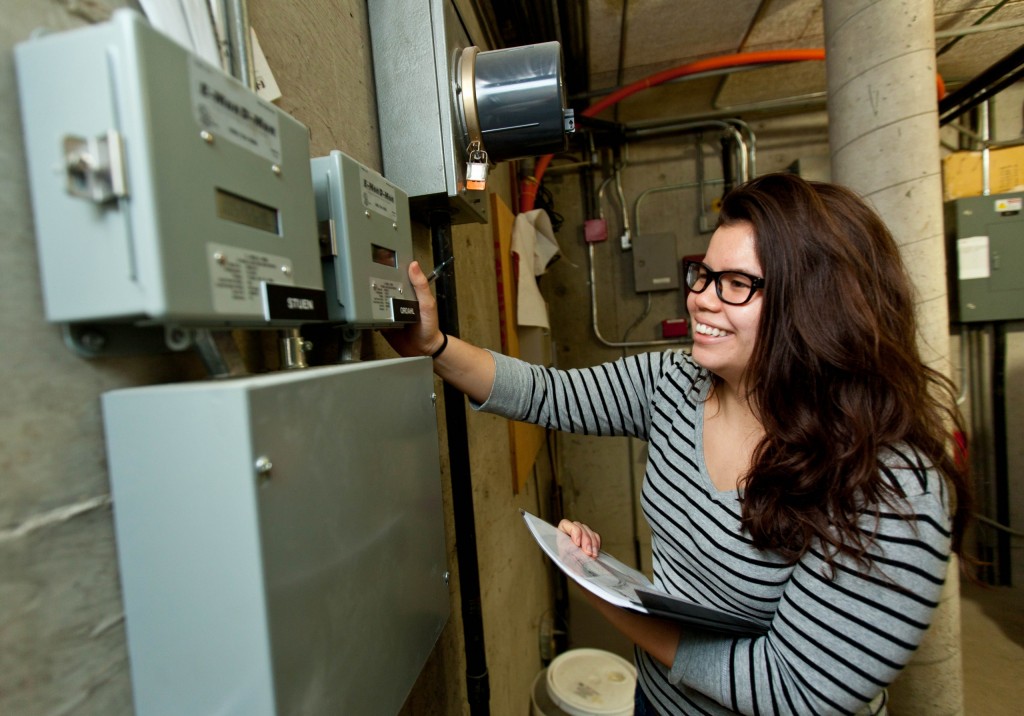 "The original idea was of taking UnPLUgged and figuring out how to passively create behavioral changes without financial initiatives," Wagner said. "We wanted to develop behavioral approaches to energy efficiency and conservation."
The team met over the summer for behavioral and academic research before the experimental research.
"We sat in a room and read a lot of papers," Connors said. "A large part of what we wanted to do was to make people think energy conservation is normal."
The team then conducted experiments, including flyers detailing energy-saving tips; visual cues such as blue tape around door handles and light switches; and the high-profile Sweater Swap, which encouraged the PLU community to keep wintertime thermostats set at 68 degrees.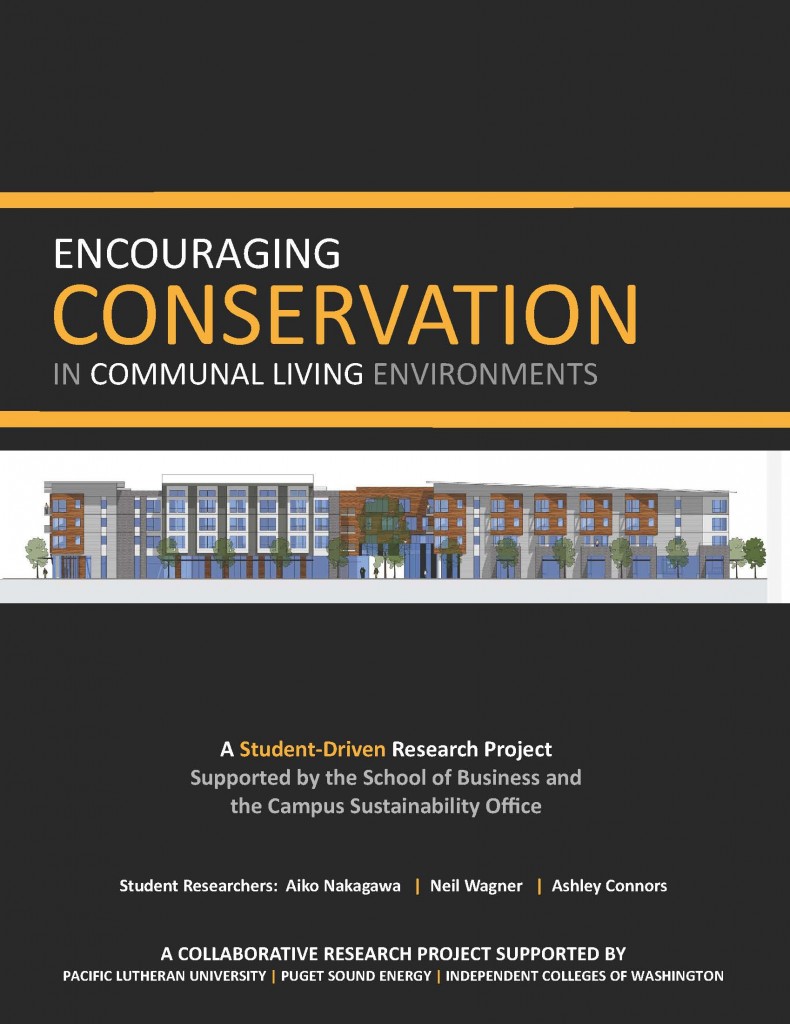 Team members collected data three to five times a week and concluded that the results supported non price-based energy-conservation interventions.
They also found a surprise or two.
"There's a little bit of a stereotype that Lower Campus doesn't care about sustainability," Connors said. "But they showed the largest drop in energy usage."
In the end, the researchers found that while not all the interventions showed a change in energy usage, overall the campaign raised awareness, promoted involvement and achieved lower energy consumption university-wide.
Data gathered, the team assembled, designed and printed a professional-quality brochure that summarized and analyzed the process, and then the students presented the research in a PowerPoint to a PSE conference room of a dozen or so spectators whose jobs motivate energy use.
"We spent two weeks of our lives on that presentation," Connors said.
"I was pretty nervous," Wagner said.
Mulder said the audience was very intrigued by the research. "The results were very positive," he said. "There were lots of high-fives after the presentation."
The day after the students' presentation, Anne Cassidy, Vice President for Advancement Services for the ICW, emailed PLU President Thomas Krise to share her impressions:
"It was a dynamic presentation—the students were absolutely terrific in every way possible," she wrote. "Hats off to PLU students Aiko Nakagawa, Neil Wagner and Ashley Connors for knocking it out of the park.  Mark Mulder, their faculty advisor, did a superb job working with and preparing the students for this opportunity.  I hope they will share the final report booklet … PSE wants more copies for their employees!"
That was the goal all along, Wagner said.
"When we started creating experiments, we were thinking, 'Can PSE replicate these for their communal living communities?'" he said. "And a lot of people were very interested in applying our campaigns. We got a lot of feedback from the booklet and a pretty long discussion, and some of the things we did lined up with some of the things they did."
Companies such as PSE understand how to implement these programs, Luth said. "Financial programs, like buying new light bulbs, don't always work," he said. "There's an emerging trend toward behavioral changes."
Luth and Mulder both emphasized that this truly was a student-driven project—and success.
"Mark and I were tour guides, not research guides," Luth said. "That's the value of a liberal-arts education: giving that freedom to explore, but reining it in with guidance. It was their baby."