The Seattle Symphony Horns
The Seattle Symphony Horns are the horn players for the Seattle Symphony and Opera. The six-player team, described by the Seattle Times as "magnificent," is comprised of horn players from Seattle, Texas, Oklahoma, Maryland and Australia. Principal horn, Jeff Fair joined the orchestra in 2003. Associate Principal Mark Robbins has been in the section since 1981.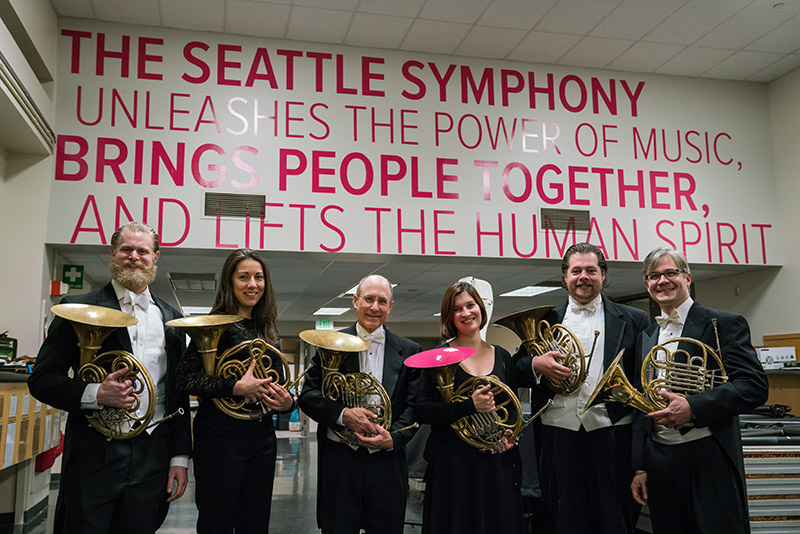 Relative newcomers Jon Karschney and John Turman joined in 2015 as Assistant Principal and Third Horn, respectively. Jenna Breen joined as Second Horn in 2016, and Danielle Kuhlmann joined as Fourth Horn soon after in 2017. The section can be heard on the Seattle Symphony's many recordings, including three Grammy-award-winning albums.
As individuals, members keep a busy schedule of teaching, playing chamber music, and performing at festivals around the world. In November of 2017, the SSO Horns performed Schumann's Konzertstuck with the University of Washington Symphony Orchestra.
In addition to playing on the Benaroya Hall stage, the Seattle Symphony Horns maintain a comprehensive and entertaining online presence on their Facebook, Instagram, and Twitter pages. They enjoy attempting to wear matching outfits as often as possible.
Bernhard Scully is currently the horn player of The Canadian Brass, the Horn Professor at the University of Illinois at Urbana-Champaign, and the Artistic Director of the Kendall Betts Horn Camp. Among his many awards are top honors at numerous competitions, most notably being the first classical brass player to win a McKnight Fellowship for Performing Musicians. As the Horn player of Canadian Brass, Bernhard annually tours the world over, is featured on many CD's and videos, and performs in front of orchestras that have included the New York Philharmonic, Philadelphia Orchestra, Detroit Symphony, Vancouver Symphony, National Arts Centre Orchestra, and the Toronto Symphony. As Principal Horn of the Saint Paul Chamber Orchestra (SPCO), Bernhard was often featured as a soloist, performing notable works by Mozart, Strauss, and Britten.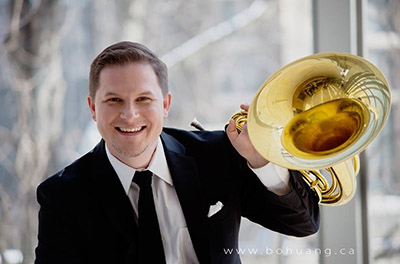 He collaborates often with many great North American Orchestras including the Cleveland Orchestra as guest principal horn, Chicago Symphony, San Francisco Symphony, Minnesota Orchestra, Pittsburgh Symphony as guest principal horn, and as principal horn of the Violon du Roy in Quebec City. His solo album, Dialogue en Francais: French Masterpieces for Horn and Piano, was featured on Minnesota Public Radio. His recording The G. Schirmer Horn Collection Volumes One, Two, and Three (Hal Leonard Publishing) includes much of the standard repertoire for horn and piano. His newest CD features the premiere recording of Gunther Schuller's Quintet for Horn and Strings (2009) along with Mozart's Quintet for Horn and Strings in collaboration with the acclaimed Jupiter String Quartet. Bernhard has given lectures and master classes around the world and is a regular featured artist at international music conventions and festivals. He has been on the faculties at the Brevard Music Festival, Chautauqua Festival, Rafael Mendez Brass Institute as a member of the Summit Brass, Music Academy of the West, Eastman School of Music, in residence at the University of Toronto with the Canadian Brass, Madeline Island Music Camp as a member of the Prairie Winds, and the Illinois Summer Youth Music Horn Week.
His degrees are from Northwestern University (with honors) and the University of Wisconsin-Madison where he attended on a Paul Collins Distinguished Graduate Fellowship. In 2010, he received the Distinguished Alumni award from UW-Madison for excellence in artistry. He did further study in Germany with Hermann Baumann and in Norway with Froydis Ree Werkre.
As part of an exclusive agreement between the Conn-Selmer Corporation and Canadian Brass, Bernhard performs on both 24-karat gold-plated Conn 8D and Conn 11D horn models. The Canadian Brass is managed by IMG Artists in NYC, and The Feldman Agency in Toronto, ON. Canadian Brass exclusively records with Opening Day Records, and is affiliated and partners with Opening Day Entertainment Group.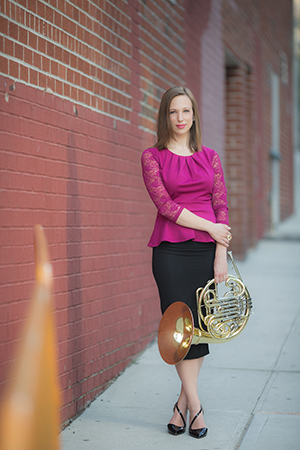 Leelanee Sterrett, Third Horn of the New York Philharmonic, joined the orchestra in June 2013. She was previously a regular substitute musician with the Philharmonic, a member of the New Haven Symphony Orchestra, and a fellow of Ensemble Connect (formerly Ensemble ACJW), Carnegie Hall's collective of young professionals and music advocates. In recent seasons, Ms. Sterrett has made solo appearances at Carnegie Hall, with the New Haven Symphony Orchestra, and with her Philharmonic colleagues at the 2014 International Horn Symposium in London. In 2017, she joined the horn faculties of New York University and Rutgers University.
A northern-Michigan native, Ms. Sterrett grew up in a musically enthusiastic family and attended Interlochen Arts Academy. She received her bachelor's degree from the University of Wisconsin–Madison and a master's degree from the Yale School of Music. Her primary teachers include William Purvis, Douglas Hill, and Julie Schleif. Ms. Sterrett has spent summers at the Tanglewood Music Center, the Pacific and Sarasota music festivals, the National Orchestral Institute, and the Banff Centre for the Arts. She is a past prizewinner in the International Horn Competition of America and the Yamaha Young Performing Artists Program.
Having relocated from Manhattan's Upper West Side to rural New Jersey, Ms. Sterrett enjoys being outdoors, learning how to garden, and has taken up yoga. She is an avid distance runner and has completed the New York City Marathon.