Division of Natural Sciences Signature Events
The Rachel Carson Science, Technology and Society Annual Lecture
Held in late February
Supported by a generous endowment from George L. and Helen B. Long, the Rachel Carson Science, Technology & Society Annual Lecture was designed to bring leading experts in the fields of science and technology to campus to address the PLU community. Visiting scholars interact with PLU students and faculty in the classroom, and lecture on a scholarly topic of general interest in the evening. The 2020 lecture brought Willliam Foege, B.A. ('57), M.D., M.P.H. back to campus. Dr. Foege is best known for his leading role in the effort to eradicate smallpox, but he was also key to the fight to eliminate Guinea worm disease, polio, measles and river blindness. He's a global health champion, especially in the arenas of child health and development, preventative medicine, and vaccines, and he lent his passion and expertise to help shape and expand The Bill and Melinda Gates Foundation's revolutionary mission in global health.
Our 2021 speaker will be Dr. Dayna Baumeister, the Co-founder of Biomimicry 3.8. Biomimicry is learning from and then emulating nature's forms, processes, and ecosystems to create more sustainable designs. With a devotion to applied natural history and a passion for sharing the genius of nature, Dr. Baumeister has worked in the field of biomimicry since 1998, traveling the world as a biomimicry thought-leader, business consultant, and professor.
Morken Madness
Held in early-March

Academic Festival
Held in mid-May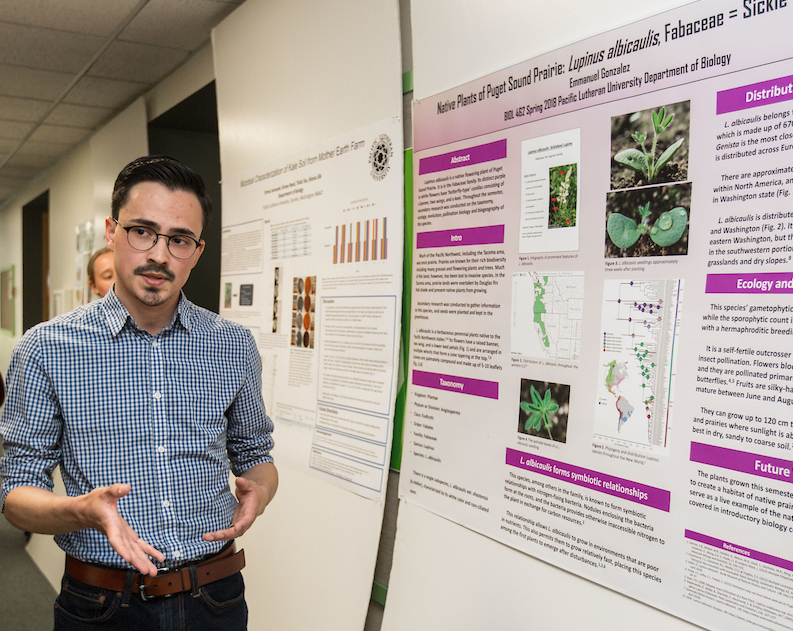 Rieke Weekie
Held in mid-November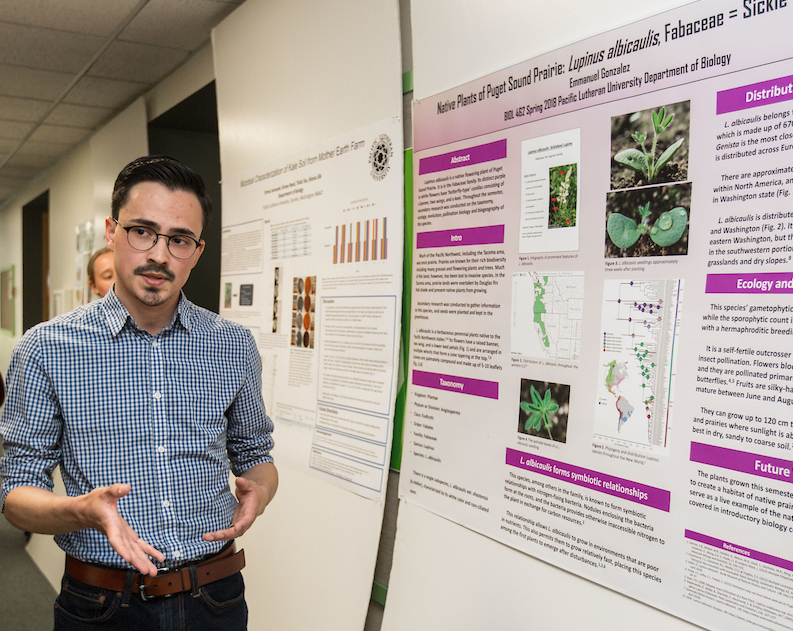 Departmental Signature Events
Darwin Day
Held in mid-February
Darwin Day honors scientific inquiry, persistence, and curiosity. Held every February 12th – marking the birth of Charles Darwin on that day in 1809 – universities and scientific communities around the world commemorate the impact of Darwin's work, celebrate the interaction of scientific disciplines, and encourage and inspire everyone to get involved in science.
The PLU Biology Department invites students and PLU community members to celebrate Darwin Day with science-themed food and events, including displays of plant and animal specimens from our natural science collections, natural selection games and prizes, photos with a life-sized Darwin, birthday cake, and free science-themed Valentine's Day cards.
Mole Day Eve
Held in late October
The PLU Chem Club teams up with Chemistry faculty to host an annual Mole Day Eve event that coincides with National Chemistry Week and Mole Day.  Mole Day is celebrated on October 23 from 6:02 a.m. to 6:02 p.m. and commemorates Avogadro's Number (6.02 x 1023), which is a basic measuring unit in chemistry.
The Chem Club serves chemistry themed deserts, like liquid nitrogen ice cream and the ever-popular Periodic Table of Brownies. Club members lead guests in hands-on chemistry activities while the faculty members perform exciting (and often explosive) demos. This event is open to students and members of the PLU community. Safety goggles are required and provided.