Lutes to join group of 8 from around nation to represent young voices at U.N. climate conference in Morocco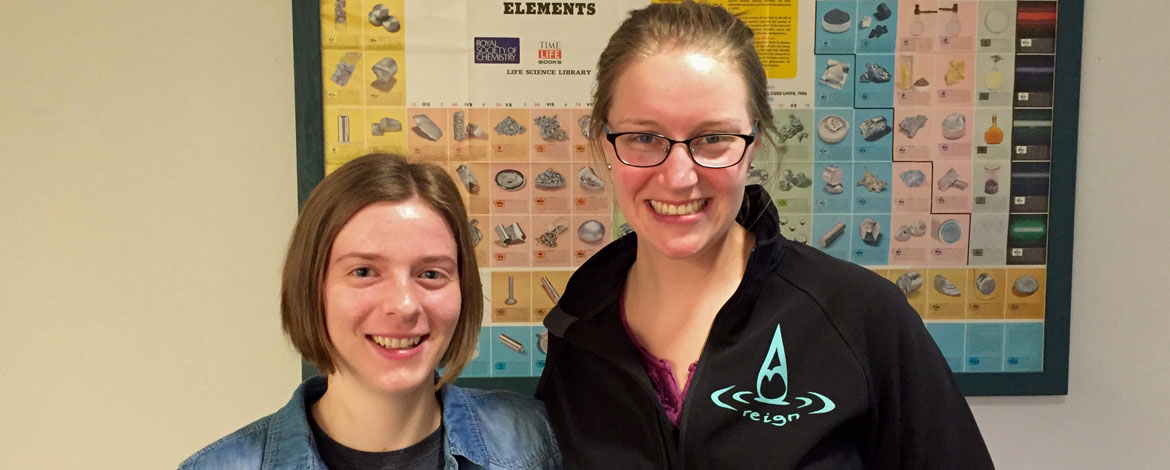 July 26, 2016
By Genny Boots '18
PLU Marketing & Communications
TACOMA, WASH. (July 27, 2016)- Amidst crowds of politicians, scientists and international leaders, two Lutes will travel abroad and walk the halls of the annual Conference of Parties for the United Nations in November. They will represent a quarter of a small contingent of college students selected nationwide for the opportunity.
Alice Henderson '16 and Maddie Smith '17 have been chosen to represent the American Chemical Society (ACS) serving as the student voice, engaging young people through social media on climate science and policy.
Each year, only eight students are chosen to tweet, post and blog about their experiences discussing climate change at the conference, which is in Morocco this year. The program aims to increase climate literacy and education for students.
The United Nations Framework Convention on Climate Change (UNFCCC) is an international agreement to lower greenhouse gas emissions and reduce the effects of climate change. Each year, the Conference of Parties meets to analyze the progress of each country and the goals of the convention.
Last year, the convention in Paris set 17 goals to limit global warming and negate the impacts of climate change. It was considered by many to be one of the most important meetings on international climate policy. This year's convention will assess and build on those goals.
For Smith and Henderson, this is a chance to meet with leading figures in environmental science, learn and go abroad once again as representatives of PLU. They will travel to Washington D.C. in October for a group training and then fly to Morocco in November.
Both women have studied away while at PLU. Henderson spent a semester in Windhoek, Namibia, and Smith traveled to Peru and Ecuador for a J-Term trip and spent a semester in Oaxaca, Mexico. They have focused their studies on a language along with chemistry. Henderson, who graduated in the spring, studied chemistry and French with a minor in environmental studies. Smith is a chemistry major, as well as a double minor in Hispanic studies and environmental studies.
Neal Yakelis, chair of PLU's Department of Chemistry and advisor to Smith and Henderson, said global perspective was likely one reason both women were chosen for this opportunity.
"They both have a passion for not only sustainability issues and climate science, but also having an international perspective and thinking about how what we learn in chemistry relates to things like social justice and sustainability and diversity," he said. "I think that both Alice and Maddie, because they've studied abroad, because they have (studied) a foreign language, I think that's given them a need for that bigger picture."
Smith and Henderson have had long lasting interest in environmental issues, which they brought with them to PLU. "Sustainability has always been an overarching interest that finds its way into all of the things I have done on campus," Henderson said.
For Henderson, applying for the U.N. program was far from her mind with a busy spring semester consumed by capstone and graduation. But Yakelis' encouragement spurred her into finishing the application.
"I think that PLU has a lot of professors who are here because they get excited about the things their students are doing," she said. "And as a student it's really empowering to have professors who do get so excited."
Smith came to PLU not intending to major in chemistry. She knew she was interested in environmental science, but thought biology would be her path. After taking organic chemistry, Smith found her passions and talent with chemistry.
"Here, the professors have been so supportive, especially in the chemistry department. I would have never thought I would be at the point I am now," said Smith, who hopes to pursue a graduate program in environmental science and chemistry.
As the news of their selection continues to sink in, Smith and Henderson are just beginning to raise money for their travels. They will blog from October to April, throughout their travels to Washington D.C. and Morocco. The program ends when they travel to the annual ACS convention in the spring and present on a climate-related topic.
Henderson and Smith are some of a few students from small liberal arts schools, and the only participants from the West Coast.
"It definitely makes me feel like my time at PLU has been worthwhile," Henderson said. "This is something that I definitely wouldn't have gotten to do if I had been at a different school. It's made me feel really good about my time here."
This is not the first time Lutes have been present at a U.N. function, but it is a hallmark that two Lutes have been chosen to represent a student voice at such a convention. Smith and Henderson will use their skills as scientists and communicators to engage young people on what's happening in Morocco.
"It just seems like a quintessential way for them to connect with the mission of PLU when we think about how we connect our thoughtful inquiry and what we do in the classroom to being able to engage the world and really bring and connect what we learn to the global community," Yakelis said.
For now, Henderson and Smith will continue with their summer plans. Smith works at PLU doing summer research and Henderson is applying for jobs in the Puget Sound.
Follow along with Smith and Henderson on their adventure at studentsonclimatechange.com.