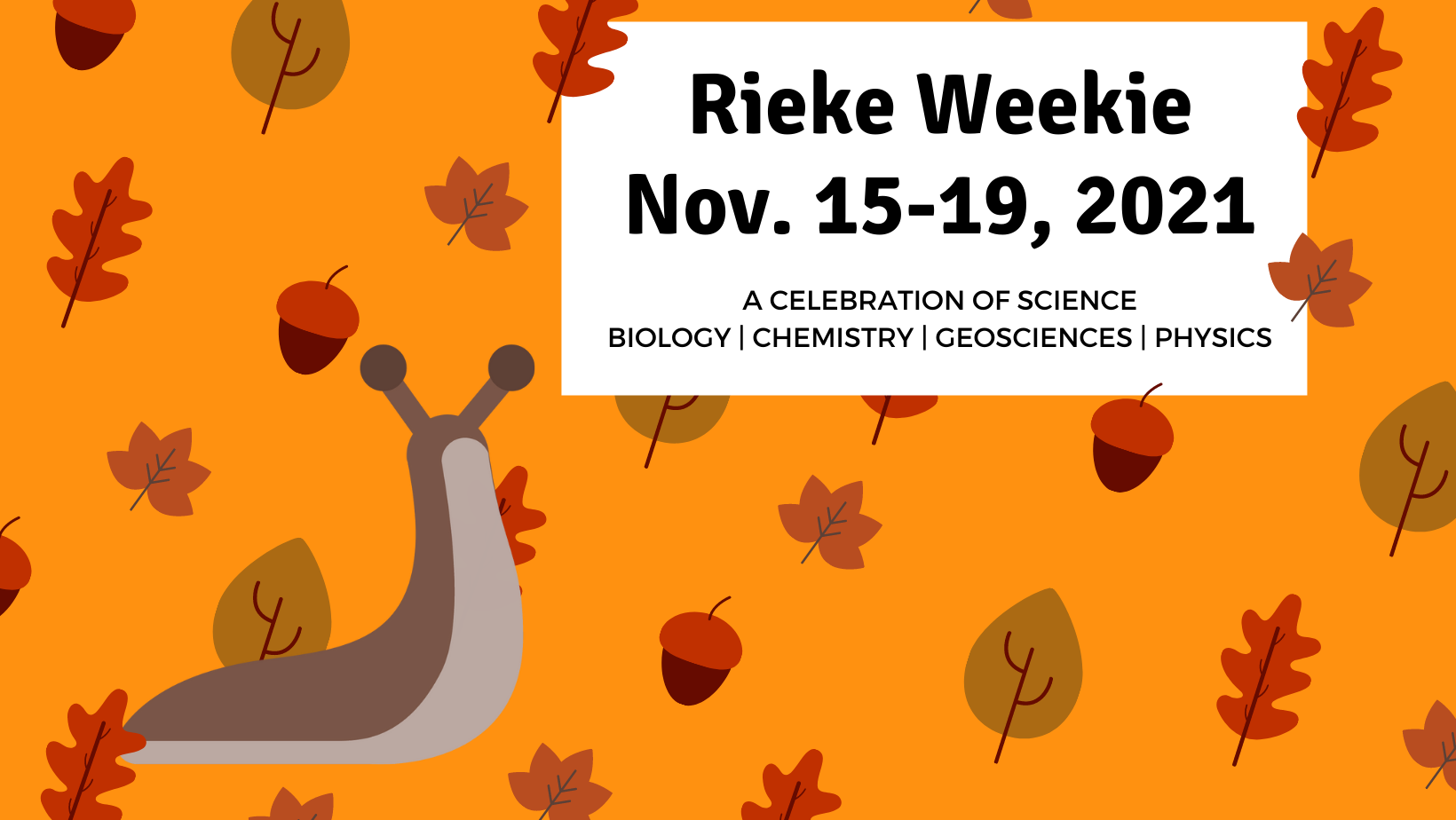 Rieke Weekie - November 15 - 19th
It's time for the third annual Rieke Weekie! Join us November 15-19th, as the Division of Natural Sciences hosts special events in celebration of the disciplines represented in the Rieke Science Center (Biology, Chemistry, Geosciences, and Physics). In the lead-up to Rieke Weekie, we're sponsoring an art contest and a book nook naming contest – winners will be announced on the final day of Rieke Weekie (details below). All of the PLU community is invited to attend and participate!
Schedule of Events
—————————
Friday, October 15th
Submission period for Rieke Art Contest and Book Nook Naming Contest opens.
Monday, November 15th
Last day to submit to art and book nook naming contests. Please drop off art submissions to the Rieke admin office in room 158 by 9am. Art will be displayed for voting in glass cases in the Rieke Lobby for the week. Book nook naming entries must be submitted online by 9am.
Monday, November 15th
Public voting on art submissions and book nook names begins. To view artwork in person, please visit the Rieke Lobby.
Monday, November 15th
Coffee/tea gathering to chat with other Natural Sciences students, faculty, and staff in the Rieke Lobby.
Participate in a faculty-led science craft.
Wednesday, November 17th, 4-9:00pm
Student-researcher poster session and representatives from Career & Experiential Learning, NSSURP, Alumni Mentoring, and NatSci Fellows will be on hand to provide information about their programs and resources.
Reception for NatSci majors and alumni.
Meant to Live Alumni Panel
Friday, November 19th
The Rieke Art Contest And Book Nook Naming Contest winners will be announced during an in-person celebration in the Rieke Lobby. All winning artwork will be displayed in the cases in the Rieke Lobby, as well as on Natural Sciences social media. The results of the Enrieké Scavenger Hunt will be announced.
We look forward to celebrating with you! If you have any questions, please contact Christine Nicolai, NatSci Admin Asst at nicolacs@plu.edu