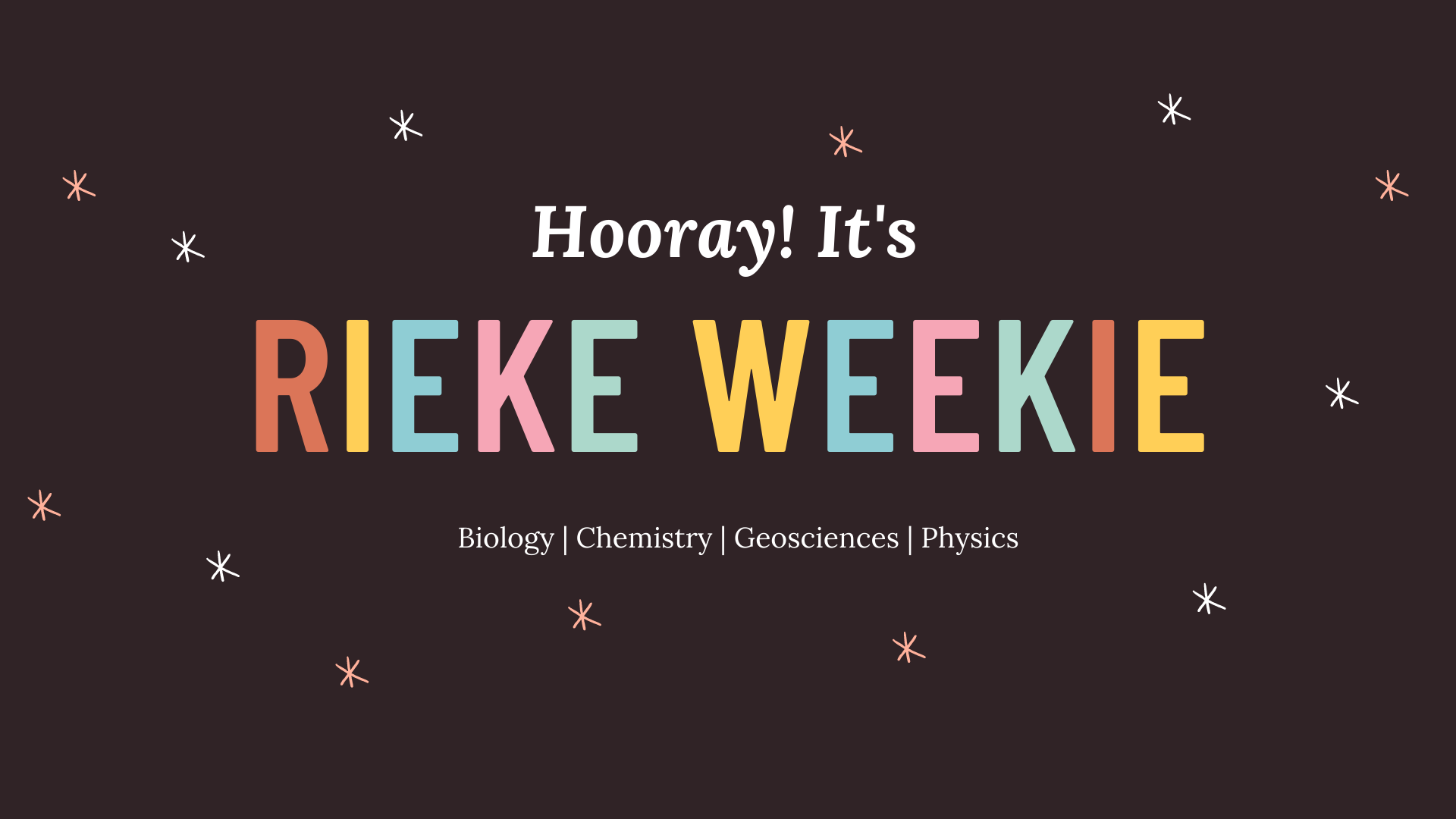 Rieke Weekie - November 16 - 20th
It's time for the second annual Rieke Weekie! Join us this week, November 16-20th, as the Division of Natural Sciences hosts special events in celebration of the disciplines represented in the Rieke Science Center (Biology, Chemistry, Geosciences, and Physics). In the lead-up to Rieke Weekie, we're sponsoring an art contest – winners will be announced on the final day of Rieke Weekie (details below). All of the PLU community is invited to virtually attend and participate!
Schedule of Events
—————————
Monday, October 12th: Submission period for Rieke Art Contest and Summer Research Elevator Pitch Videos open
Wednesday, November 11th: Last day to submit elevator pitch videos
Thursday, November 12th: Last day to submit to the art contest
Friday, November 13th: Public voting on art submissions begins – vote here. You can also prepare for the Wednesday Q&A Session with summer research students by watching the "elevator pitches" here.
Monday, November 16th, 12pm-12:30pm
Virtual coffee/tea gathering to chat with other Natural Sciences students, faculty, and staff. Learn about faculty members' educational and professional paths.
Participate in a week-long virtual Enrieké Scavenger Hunt. Details will be released via email and social media.
Wednesday, November 18th, 12-12:30pm
Virtual Q&A session with NatSci student researchers to discuss their elevator pitches and research experiences.
Elli Pippin, PLU's Assistant Director for Career & Experiential Learning, will give a brief presentation on resources for securing internships and research opportunities.
Thursday, November 19th, 5-6pm
Trivia Night for NatSci Fellows with prizes like PLU lanyards and Enrieké stickers. Not a NatSci Fellow? Sign up here. Once you're signed up, a link to the trivia event will be emailed to you.
Friday, November 20th, 12-12:30pm
The Rieke Art Contest winners are announced in a virtual celebration. All winning artwork will be featured on Natural Sciences websites and social media accounts. The results of the Enrieké Scavenger Hunt will be announced.
We look forward to celebrating with you! If you have any questions, please contact Christine Nicolai, NatSci Admin Asst at nicolacs@plu.edu