It's a big year for retirements in the Division of Natural Sciences! We're sorry to see our amazing friends and colleagues leave, but we're excited for the new adventures they'll embark upon in retirement. We expect them to keep in touch and send us lots of updates – hopefully with photos that will make us appropriately envious. Best wishes to Jill, Sheri, Tom, George, and Richard!
Professor Sheri Tonn
Professor Sheri Tonn
Dr. Sheri Tonn is retiring as a professor of chemistry at Pacific Lutheran University where she has been on the faculty since 1979. She has taught environmental chemistry, instrumental methods, and biochemistry. For many years she was involved in the cross-disciplinary integrated studies and environmental studies programs. She led student international trips to Australia and Guatemala. Sheri has served in various administrative roles, including 15 years as the vice president of finance and operations. Her responsibilities included the university's budget, endowment investments, risk management and real estate, facilities, campus master planning, dining services and other auxiliary services. She also has served as Dean of Natural Sciences and Dean of Information Resources, which included the Library, Campus Computing and other campus technology.
Sheri has served on a number of boards, and was the founding board chair of AASHE (Association for the Advancement of Sustainability in Higher Education) and Citizens for a Healthy Bay. She is the immediate past chair of the Tacoma Pierce Community Foundation and the current chair of the Washington State Board of Pilotage Commissioners.
Sheri earned her B.S. in chemistry at Oregon State University, and her Ph.D. in chemistry from Northwestern University. An avid SCUBA diver, she is looking forward to more dive trips in her retirement!
Of Cats and Math
Math professor Ksenija Simic-Muller and son Joseph Muller, a sixth grade student at Bryant Montessori, coauthored an article for Mathematics Teaching in the Middle School. Their piece, "Isle of Cats," uses mathematics to explore the issues impacting Aoshima Island in Japan, population: 13 humans and 130 cats. What an awesome collaboration!
Heidi at HAPS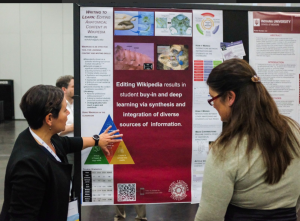 Heidi Schutz presented at the annual Human Anatomy and Physiology Society Conference (HAPS) in Portland this May. Heidi has partnered with Wiki Education for her class' writing assignments since 2017 and spoke about the free tools and instructor support that's enabled her students to edit anatomical content in Wikipedia. These writing projects have improved "student buy-in and deep learning." Michelle Behrens also attended the conference, which was focused on teaching, so Michelle and Heidi attended tons of talks, posters and workshops to hone their teaching practice.
May 14-25: Textbook Drive to support the Lute Library & Course Reserves. Donate in Rieke!
May 21-23: Free Electronics Recycling Event – drop off items at the Concierge Desk
May 22: Biology Capstones in Morken 131 & 132 from 10AM – 2PM
May 26: Commencement