November 10, 2017 | ISSUE 12
PLU @ GSA 2017 in Seattle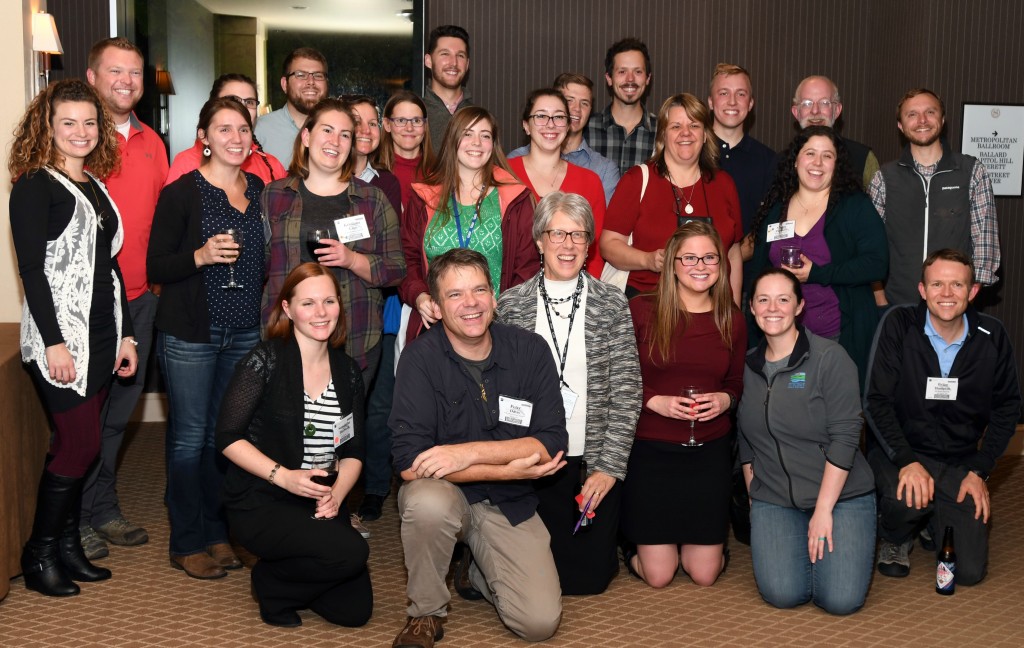 Geosciences faculty, students, and alumni gathered at the Geological Society of America's Annual Meeting, October 22-25 in Seattle. Students presented their research posters, including Samantha Denham '18 and Justin Johnsen '18 (working with Tarka Wilcox); Alex Yanello '19, Hannah Bortel '18, and Logan Krehbiel '19 (all working with Claire Todd). There were also several alums and former students presenting at the conference, including Victoria Benson '17, Aerin Basehart, Aaron Steelquist '14, and Christina Gray '16. To view all the photos from the GSA meeting, check out the Geosciences Facebook page.
George and Helen Long Endowment
---
Not only does the George and Helen Long Endowment fund the annual Rachel Carson Lecture Series, it also provides funding for student internship experiences at non-profits. Click here to read more about the Longs and the students who received internship funds this year.
STEM House Visits Fred Hutch
STEM House students recently took a field trip to Fred Hutchinson Cancer Research Center with Matt Smith. They enjoyed a guided tour of the facilities, learning about the history of the center and the ground-breaking work being conducted there. The tour included a walk-through of some lab space and common areas, as well as a stop by their double helix-inspired staircase. The trip ended with discussion and some very high quality cafeteria food in the Fred Hutch cafeteria.
Faculty Grant Opportunity
In case you missed it in the Office of the Provost Faculty Newsletter: The New American Colleges and Universities (NAC&U), of which PLU is a founding member, is excited to announce the inaugural Collaboration, Growth, and Innovation (CGI) Grants Program. Click the button below for a full description of the program, including eligibility guidelines and application instructions. The deadline for applications is December 1, 2017.
Click here
Friday Fun with Science
In case you missed it, scroll down to the bottom of the Fall 2017 ResoLute webpage. You'll see Groovy Noodles and more fun with science! 😉
Under the Microscope!
Six Questions with Dean Waldow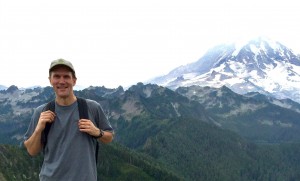 1.What attracted you to PLU when you were applying for jobs? How long have you been here?
a. I was interested in teaching and doing research at a PUI and I had connections to ELCA schools so PLU was a natural fit. The mountains and the Puget Sound were a bonus.
b. Let's just say, over twenty years. 😉
2.What are you most excited to be working on right now?
Teaching-wise: flipped content. Research-wise: Working with students on my battery research.
3.If students left your class with only one concept, what would you want them to take away?
Developing a physical picture to go with abstract concepts.
4.Are you involved in any community organizations?
South Sound Symphonic Band, Evergreen Woodworkers Guild
5.What was the last book you read? Movie you watched?
Broadband Dielectric Spectroscopy (or did you mean a non-science book 🙂 ) Fantastical Beasts and Where to Find Them.
6.What do you like to do in your free time?
Free time? What is that… Exercise, hike, run, golf, garden, music, make things…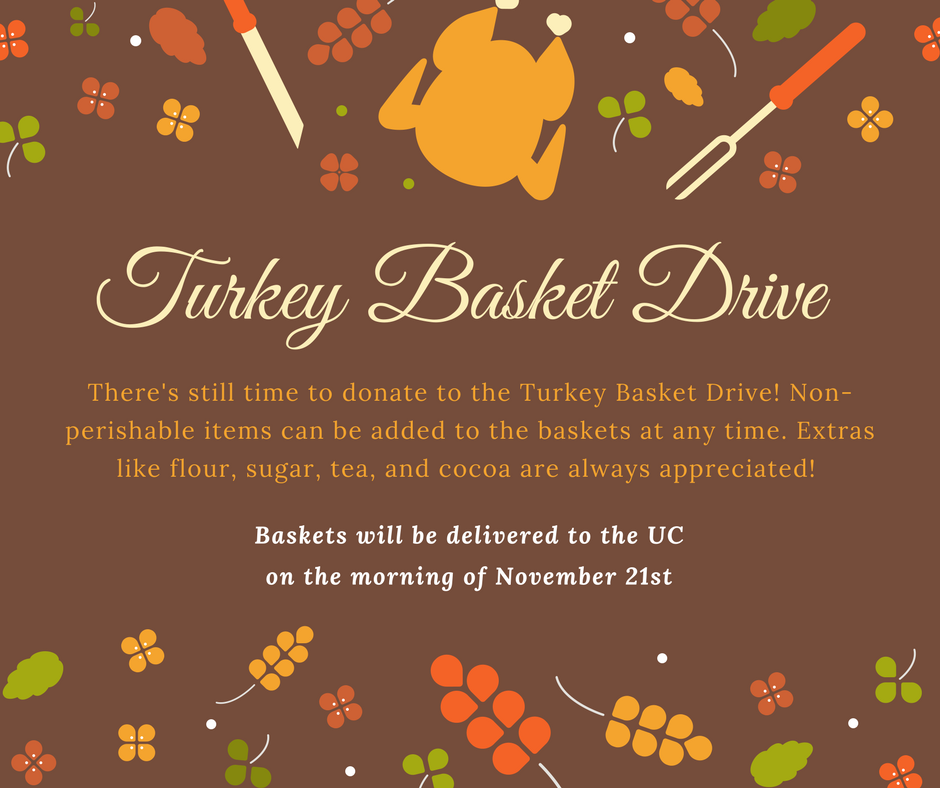 Faculty & Staff News
Student & Alumni News
November 13: Chemistry Seminar – University of Oregon Master's Industrial Internship Program – Morken 103, 12:30-1:35pm
November 14: CS Tech Talk – Xinli Zou or Wyzlink, Inc. – Morken 103, 1:45-2:45pm
November 16: Math/Physics/Computer Science field trip to the Museum of Glass – 5:00-8:00pm
November 17: Biology Seminar – "Beyond Force Transduction: Exploring the Role of Muscle's Extracellular Matrix in Injury Adaptation" – Leraas, 2:00-3:00pm
November 20-22: Christine is on vacation – plan accordingly.
November 21: Turkey baskets will be dropped off first thing in the morning. Don't forget your refrigerated food donations!
November 23-24: Thanksgiving Holiday! PLU is closed.
October 27, 2017 | ISSUE 11
PLU Alum Wins MESA Teacher of the Year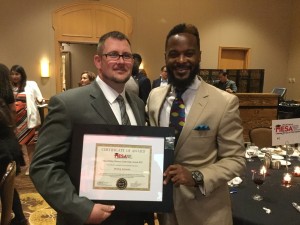 We're so pleased to announce that Phillip Schmitt, a teacher at Gray Middle School (Tacoma Public Schools), was honored at the recent Washington MESA Board Champion Dinner and received one of two Teacher of the Year Awards! ‍
Phillip is a PLU grad (MA in Education) and one of the many teachers who have benefited from our own Tacoma/SPS MESA Center here at PLU. That's our MESA Director JR Nobles in the picture with Phillip. Yay, JR! We love seeing alums like Phillip doing great work to support science education for underrepresented students right here in our backyard, all supported by MESA staff housed here at PLU.
New Bird Species in North America
Julie Smith has been studying speciation in a group of birds and the work has resulted in the recognition of a new bird species in North America. Here's what Julie has to say about the research and discovery:
North American Red Crossbills are resource specialists with each of the ten recognized call types specializing on a different species of conifer. I have investigated with the help of collaborators whether the different call types are reproductively isolated and hence separate species. This year we resubmitted a proposal to the American Ornithologist's Union (AOU) that provides evidence that one of the call types shows high levels of reproductive isolation and should be given species status. The AOU accepted our recommendation and the Cassia crossbill is now recognized as a new species of bird in North America. The Cassia crossbill is restricted to two small mountain ranges in southern Idaho making it the rarest bird in North America.
Summer Research in ResoLute
Heidi Schutz - Biology Studying the Evolution of Fish


Renzhi Cao - Computer Science Artificial Intelligence Without Science Fiction


Dean Waldow - Chemistry Building Better Batteries


Shannon Seidel - BiologyScience Education for an Inclusive Classroom


Tarka Wilcox - geosciencesLocating Landslide Hazards in Western Washington

Speaking of summer research…if you haven't already perused the Fall 2017 issue of ResoLute, we recommend starting with the "Summer of Science." Six faculty members and their student researchers were featured in this issue, which also contains video from each of the research groups. Read the articles, watch the videos, and get jazzed about all the possibilities for summer research 2018!
Student & Alumni News
Under the Microscope!
Six Questions with Amy Siegesmund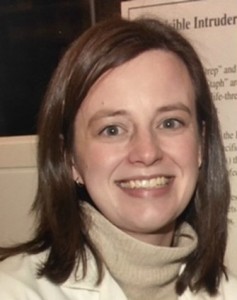 1.What attracted you to PLU when you were applying for jobs? How long have you been here?
This is my 10th year at PLU. My "dream job" was to teach at a small liberal arts school where my primary focus would be teaching but I would also have the opportunity to do research with students. Initially, I applied for a visiting position (2 years). It was so out of character for me to take such a risk–I had no guarantee that I would have a job after 2 years! But it was what I wanted to do and so I took the risk. Within my first weeks here, I knew this was a perfect match for me. Our students are absolutely amazing and I have some of the best colleagues any person could ask for. 10 years later, I feel the same way.
2.What scientific discovery would you have loved to be part of/present for?
I would have loved to been part of the discovery of the first oncogene, ras. It was the late 1970s, early '80s and about 3 labs were in a neck-and-neck race to be the first to identify a human oncogene. The discovery in and of itself was amazing and changed the entire field of cancer biology. But I also think it was a time in medical research when discovery was still valued and the competition that was happening between those labs led to better, more rigorous science.
3.What makes you feel accomplished?
I work hard to try to help students become more effective problem solvers and critical thinkers and admittedly, I push students outside of their academic comfort zone. One of the things that makes me happy is when a student who has really been working hard and pushing themselves realizes that he or she has the ability to do something they previously thought unattainable. That realization and sense of empowerment and confidence that comes with it is one of the best things I get to witness as an educator.
4.What was the last book you read? Movie you watched? 
I just finished "On Tyranny" by Timothy Snyder.  I find that lately I have a hard time sitting and concentrating on a movie, so I've been watching more TV series–Grantchester is my current pleasure.  But my tastes are pretty diverse–if you looked through my viewing history you'd see The OA, Broadchurch, Buffy the Vampire Slayer, The Crown, Vikings, Archer, and The Golden Girls!
5.What profession other than your own would you like to attempt?
I honestly can't imagine doing anything else–teaching is my vocation and I feel lucky to do this every day.  That said, I have often said that when I retire, I would like to have a yak ranch.  They are supposedly quite docile and their hair can be spun into fiber that is as soft as cashmere and warmer than wool!
6.What do you like to do in your free time?
Camping, hiking, and backpacking!
Carol Quigg Visits the Division
On September 13th, the division hosted an open house to celebrate the completion of the Rieke 220 classroom renovation. Generous supporter and friend to the Natural Sciences, Carol Sheffels Quigg joined us for the open house and toured some of the areas that have benefited from her donations. In addition to contributing to the renovation of Rieke 220, Carol is a benefactor of the new ICP-MS instrument in chemistry, the GRAPL (Glacial Research at Pacific Lutheran) program, the Intro to Bio Lab, and the greenhouse that bears her name. Students, faculty, and special guests President Allen Belton, Executive Director of Gift Planning Doug Page, and Executive Director for Institutional Support Aileen Bacon attended and discussed how the increased usability of the new space would benefit all.
Follow us on Facebook!
Did you know that all six departments and the division have Facebook pages? This is a great way to keep connected with all the events in our area, as well as student and faculty updates, scholarship and job opportunities, and photos. Encourage students to follow their department (or multiple departments) to receive the latest updates.
And do you have something fantastic to share? News or student opportunities or an interesting article? Send it to Christine – she'll see that it's posted and hashtagged.
Biology
Chemistry
Computer Science
Environmental Studies
Geosciences
Mathematics
Physics
Division of Natural Sciences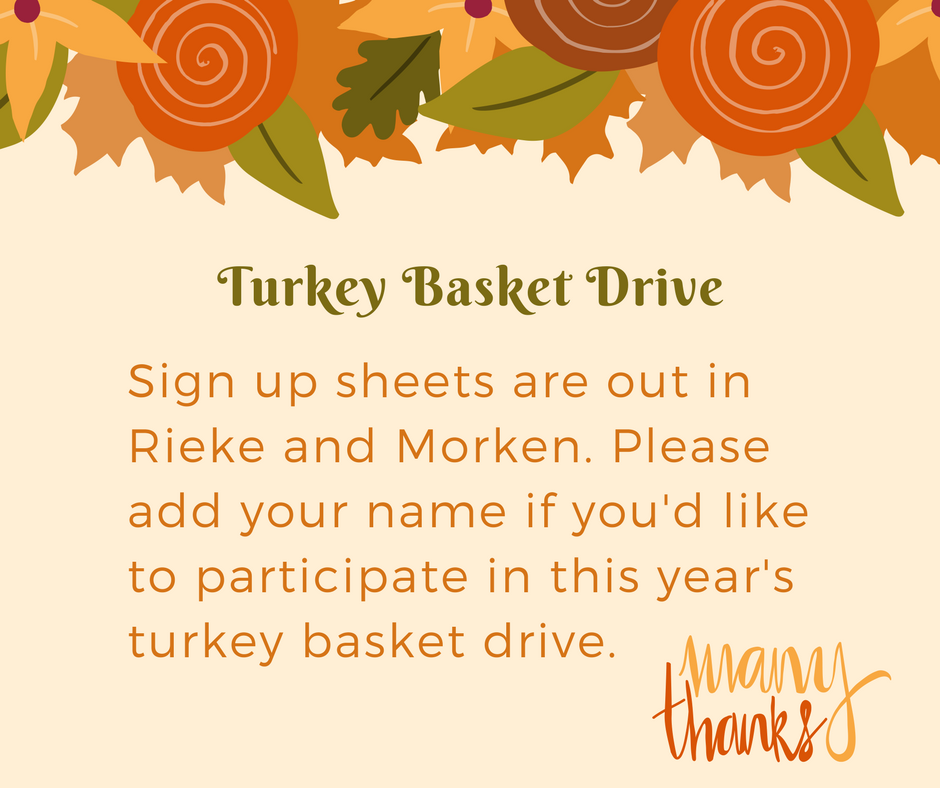 Faculty & Staff News
October 27: Division Meeting – STEM House, Leraas Lecture Hall, 2:40-3:40PM
October 30: Halloween Bake Sale to raise funds for the Art Club – AUC from 4:30-8:30PM
October 31: Free Ghoulish Foods from Dining & Culinary Services – AUC 12:00-1:30PM
November 1-3: Powell-Heller Holocaust Conference
Through November 3: Joseph Rossano's Vanity in the University Gallery.
November 3: Biology Department Seminar, 2-3PM in Leraas – "Performance benefits of careful behavior: reducing thermal risk at a snail's pace" Hilary Hayford from UW Dept of Biology
November 9: Meant to Live Lecture by Major Margaret Witt, Scan Center 7PM