Directions:
The PLU BSN Portfolio is a demonstration of a student's attainment of the BSN program outcomes. The portfolio process also introduces students to the professional practice of portfolio creation and maintenance of current practice. The portfolio process also encourages reflective practice which evidence shows improves overall nursing practice.
In NURS 260 Professional Foundations I & NURS 309 Professional foundations and Principles of Leadership:
Students will create the foundation of their portfolio in their PLU Google for Education Account – Google Websites. This foundation will include: an "About Me" page, the inclusion of any personal bodies of work from the Sophomore I and Sophomore 2 semesters for appropriate program outcomes, a reflection of their starting point within each program outcome, a reflection of their completed Liberal Arts courses (as defined as any college level course taken at PLU or any other transferred college course being used to obtain the BSN degree at PLU) for each program outcome, and finally a reflection for a plan of improvement in each program outcome.
Every Semester:
Students are responsible for maintaining and updating their portfolio each semester. Students are expected to update each program outcome with additional Nursing or Liberal Arts personal bodies of work from didactic and clinical courses to demonstrate their growth in the program and work towards progression in attainment of the program outcomes. Students are encouraged to share and discuss their portfolios with their advisor.
In the Original BSN Curriculum NURS 480 Professional Foundations II (through the end of the Spring 2023 semester) & the New BSN Curriculum NURS 483 Transition to Practice (to begin in the Spring 2023 semester):
Students will complete their portfolio and demonstrate attainment of each program outcome with a score of "proficient" in the grading rubric for each section of the portfolio. Students will have reflections with accompanying evidence for each outcome that demonstrates a personal journey through the program in attainment of the program outcomes as well as a plan for future growth in each of the program outcome areas. The portfolio will demonstrate growth through the program rather than only documenting the best examples the student created. Each program outcome will also demonstrate integration of their Liberal Arts education and how it helped them be successful in the nursing program. The "About Me" page will be updated to include an up-to-date resume, personal philosophy of nursing, and professional goals.
Google Sites:
The PLU BSN Portfolio utilizes Google Sites. Students who are having technical issues with Google Sites should contact Instructional Technologies within the PLU Library. Instructional Technology workshops will be held during NURS 260 (N309) and NURS 480 (N483) courses, however, they also will offer individual instruction as well as open lab time in the Library. Instructional Technologies can be contacted at itech@plu.edu
Directions for Grading:
The first page of the rubric has colored boxes along the left column which correspond to where points are given on the second page. The home page, personal page, and organization sections of the portfolio only receive one score. The program outcomes receive 3 different scores for overall reflection, evidence, and liberal arts. Scores are then tallied in the right hand column on the second page. The maximum score is 270 points. Comments may also be given on the second page along the right side of the rubric.
Definitions:
Reflection: The portfolio should demonstrate the ability of the student to reflect on their progress through the curriculum and be able to demonstrate their growth within each program outcome.
Students may choose to represent this as a journey from point A at the start of the program to point B at the end of the program. Students should demonstrate improvement in skills, knowledge, and abilities as they relate to each piece of the program outcome. Explanation of only the highlights and best moments of the program demonstrates achievement but not growth or reflective practice of the overall nursing school experience.
Evidence: Students should utilize key assignments and personal work from each course within their portfolio to bolster and supplement their reflection within each outcome. Evidence shall be comprised of work and achievements the student created themselves through the curriculum. Information, education, syllabi, and other documents provided to the student does not constitute as evidence. Attendance of a course does not constitute as evidence as it is not evidence of learning. Students should make sure that each nursing course is represented within the portfolio but that evidence from courses is not duplicated among program outcomes.
Liberal Arts: Liberal Arts courses are non-nursing courses that are utilized to obtain the BSN degree regardless if they were taken at PLU. If it is included on your CAPP report, it would count towards your Liberal Arts education. For ELM students, Liberal Arts courses would include those from your prior degree and pre-requisite courses for nursing school. The Liberal Arts reflection should be a reflection of how these non-nursing courses have influenced or helped your progress in each program outcome. The reflection should demonstrate an integration of your Liberal Arts education within your nursing experience. Evidence to support your Liberal Arts reflections is encouraged but not mandatory as we recognize many students do not keep assignments from non-nursing course or that courses may have been taken several years ago.
Original BSN Portfolio Rubric (to be retired at the end of Spring 2023)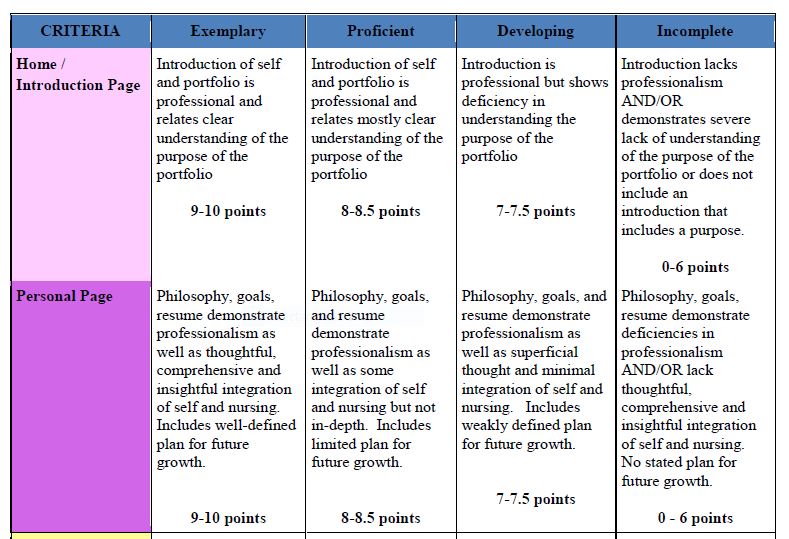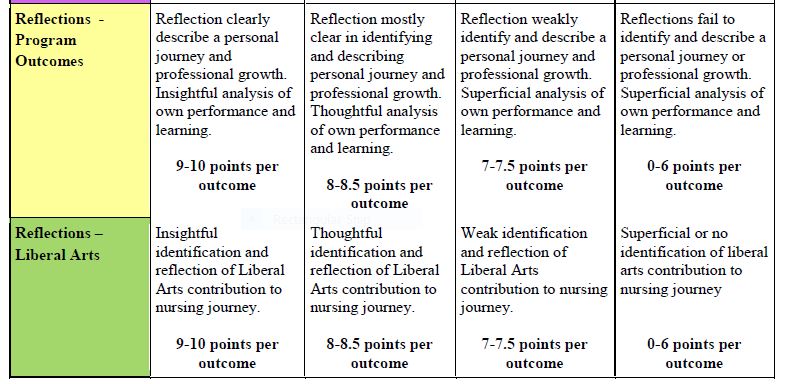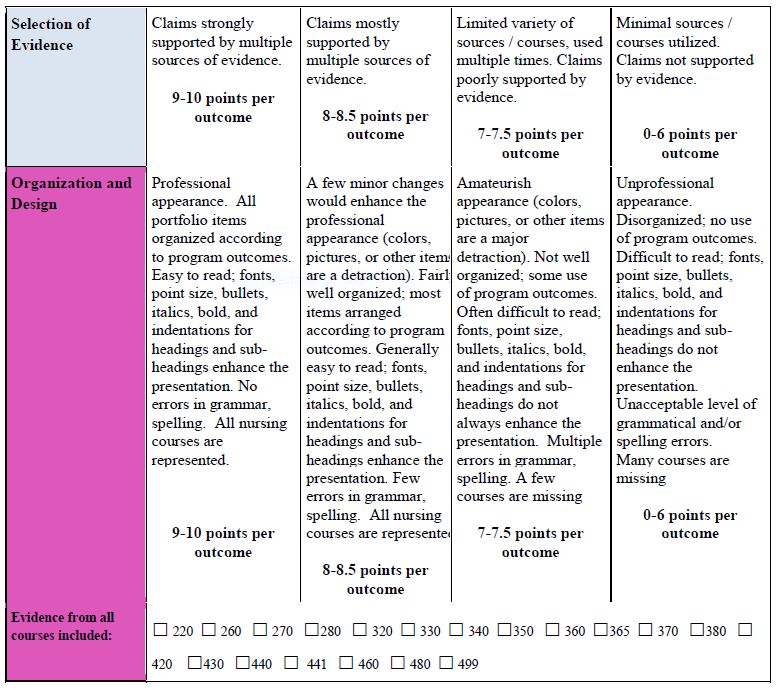 Traditional BSN Portfolio Rubric New Curriculum, Beginning Fall 2021