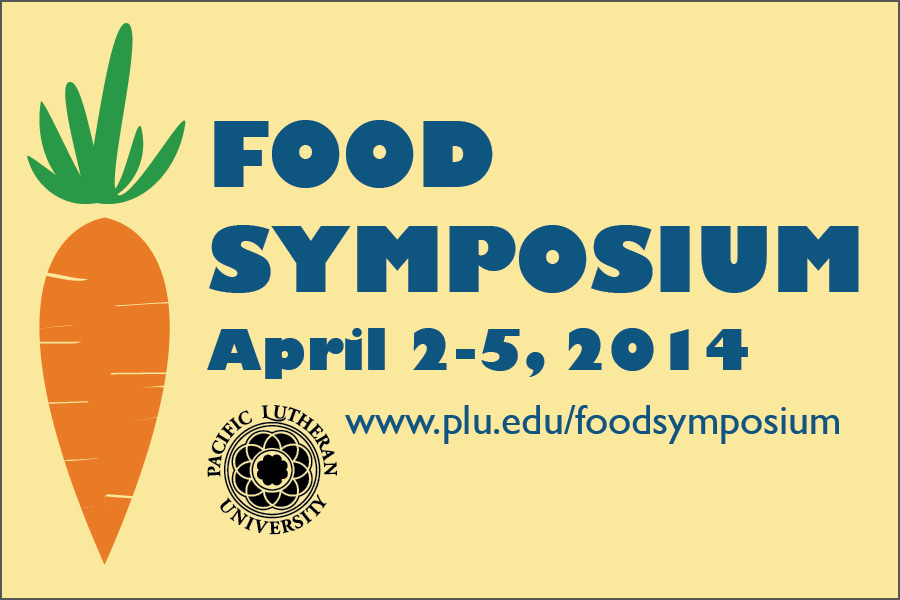 PLU's Philosophy Department, PLU's Center for Community Engagement and Service, and Trinity Lutheran Church will hold a multi-day Food Symposium on the topic of food democracy. The event will feature a key note address by Professor Thomas Pogge (Director of the Global Justice Program and Leitner Professor of Philosophy and International Affairs, Yale University) as well as a series of panel discussions by faculty and community members, student poster presentations, food demonstrations, a community meal and a day of service opportunities to initiate student involvement with local agencies. The event will address both local and global solutions to hunger and food access, specifically through the lenses of PLU's commitments to diversity, sustainability, and justice.
Thank you to these important sponsors:
Pacific Lutheran University Department of Philosophy, Office of the Provost, Division of Humanities, Division of Social Sciences, Dining and Culinary Services, Center for Community Engagement and Service, Campus Ministry and Environmental Studies Program
American Philosophical Association
The Society of Philosophers in America
Trinity Lutheran Church Feeding Ministry
Schedule of Events
Wednesday, April 2, 2014
10:30 am – Lagerquist Hall
Chapel Service Speaker: Professor Samuel Torvend
7pm – Scandinavian Center
Key Note Speaker: Professor Thomas Pogge, Director of the Global Justice Program and Leitner Professor of Philosophy and International Affairs, Yale University
Lecture title: "The Hunger Games"
Lecture description: Since the 1996 World Food Summit, the world has been committed to halving world hunger by 2015. But the specification of this promise has changed from the Summit version to the Millennium Declaration to the Millennium Development Goals (MDGs). These revisions have dramatically diluted the promise, raising the number of hungry people deemed acceptable in 2015 by 55 percent. In a final push, in 2012 (year 22 of the 25-year MDG exercise) the FAO revised its methodology for counting the hungry with the effect of raising the 1990 number of hungry people by 157 million and lowering the 2010 number by 57 million. This switch harmonized the hunger numbers with the World Bank's rosy poverty trend line and enabled the FAO to proclaim: "The Millennium Development Goal 1 hunger target, halving the proportion of hungry people in developing countries by 2015, is still within reach." As new development goals are about to be formulated, we must urgently learn the lessons from the expiring ones which have brought mainly cosmetic efforts and cosmetic progress. The very least each of us owes to the world's undernourished people is an honest recognition of what we are doing to them.
Thursday, April 3, 2014
Scandinavian Center
Panel 1: Diversity & Food – 12:00 pm
How do we work to maintain or build a diverse food system? What are the connections between biodiversity and social/cultural diversity?
Panelists:
Holly Foster – Farmer and Co-founder of Zestful Gardens
Romey Haberle – Assistant Professor of Biology
Kevin O'Brien – Associate Professor of Religion
Valerie Segrest – Native nutrition educator, Coordinator of Muckleshoot Food Sovereignty Project
1:00-2:00 pm Break: Food Justice Expo – food demonstration, snacks, poster presentations, community organization information
Panel 2: Sustainability & Food – 2:00 pm
What is a sustainable food system? What do we want to sustain about the current food system?
Panelists:
Bridgett Crews- Co-Founder of Free Range Kitchen – Culinary Incubator and Co-op Kitchen
Carrie Little – Farmer and Co-Founder of Little Eorthe Farm
Justin Lytle – Assistant Professor of Chemistry
Erin McKenna – Professor of Philosophy
3:00-4:00 pm Break: Food Justice Expo – snacks, poster presentations, community organization information
Panel 3: Justice & Food – 4:00 pm
How do privilege, power, and oppression shape our current food system, and what would a just food system look like?
Panelists:
Jim Beaudoin – Director of Operations FISH Food Banks and Manager of SE Tacoma location
Anna Leon-Guerrero – Professor of Sociology
Joe Martinez – Global Advocate and Mexico Program Director – United Farm Workers
Michael Schleeter – Assistant Professor of Philosophy
Community Meal – 5:30 pm – Trinity Lutheran Church – all are invited
Sign-up to volunteer with meal preparation and clean-up!
Saturday, April 5, 2014
Day of Service facilitated by the PLU Center for Community Engagement and Service
Sign-up for the community garden work parties
___________________________________
All participants are welcome. If you need special accommodations please call PLU Disability Support Services at 253-535-7206.
Questions about the Food Symposium, please call Rachel Haxtema – 253-535-7915 or email haxtema@plu.edu
___________________________________
Community Spring Food Events
Friday, April 4th – 7 pm – Scandinavian Cultural Center – Fungi for the People
Learning from Fungi to adapt in an ever-changing world, we can develop strategies for working with mushrooms to solve problems in food and environmental justice, putting power back into the hands of the people. Event sponsored by PLU Sustainability.
Saturday, April 12th – 10 am-3 pm – Draft Horse Plow at Mother Earth Farm
Our six teams of drivers and draft horses will plow and ready the fields for planting at Mother Earth Farm. Vegetables grown at Mother Earth Farm are harvested and delivered fresh to emergency food programs around Pierce County through Emergency Food Network.
Wednesday, April 16th – 7:30-8:45 am – Emergency Food Network – Recognition Breakfast
Honoring individuals and businesses for their dedication to helping hungry children, adults and seniors in Pierce County.
Saturday, April 19th – 1-3 pm – Building Raised Beds and Containers on a Budget – Parkland Spanaway Library
Get inspired with creative ideas for garden planters! Demo projects will be built, planted and raffled to participants in this Home Depot demonstration with Master Gardener Terry Stewart. Free event is sponsored by Friends of the Parkland Spanaway Library and Home Depot.
Saturday, April 26th – 9:00-11:30 am – A Place at the Table – Screening at The Grand Cinema
This important film examines the social, cultural and economic implications of hunger in the United States through the stories of a single mother, a fifth grade girl and second grade girl. Introduction and reception with coffee and light snacks, film screening followed by discussion Q&A with Helen McGovern-Pilant, Executive Director of Emergency Food Network. Event sponsored by Junior League of Tacoma.
Friday, May 2nd – Sunday, May 4th – Trinity Lutheran Plant Sale
6th Annual plant sale includes workshops, demonstrations, books and resources.
Saturday, May 3rd – 10 am-2 pm – Harvest Pierce Community Garden Summit
The Community Garden Summit is the best FREE event in town for those dedicated to community gardening and local development projects. This event will inform, energize, connect and support the local community in their effort to connect with their local food supply and each other.
Saturday, May 10th – Fair Tradin' Community Barter Event
Trinity Lutheran Church hosts this opportunity to trade home-grown and home-made items.