Determining the Value of Life:
Panel Discussion on Biomedical Ethics
Thursday, October 1, 2015
7:00pm
Regency Room, Anderson University Center
Panelists:
Eric Ruthford graduated from PLU in 2001 with majors in Communication and History. His career since then has included newspaper reporting, serving as a Peace Corps volunteer in Ukraine, and non-profit management. Philosophy was not a favorite topic for Eric as a student, but bioethics suddenly became relevant for him and his wife, Miri, when their first son was born in the 22nd week of gestation, and the doctors said it was too early to try to save him. Eric is working on a book, tentatively titled "Break the Rules, Help Me Survive: The Story of Our 22-Week Micropreemie Son."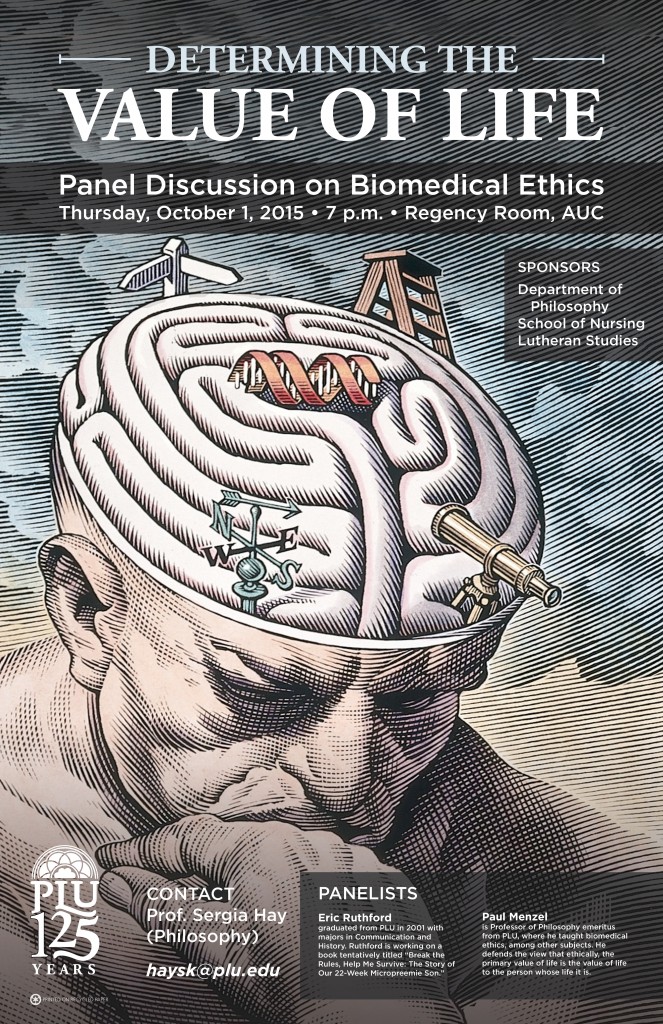 Paul Menzel is Professor of Philosophy emeritus from PLU, where he taught biomedical ethics among other subjects. He has written widely on moral questions in health economics and has recently turned his attention to puzzles about the value of life. He defends the view that ethically, the primary value of life is the value of life to the person whose life it is. In the case of severe dementia, discerning that value is difficult, but Menzel argues that it can be discerned clearly enough to support according considerable authority to people's advance directives about care in their own prospective dementia.
Sponsored by:
Department of Philosophy
School of Nursing
Lutheran Studies