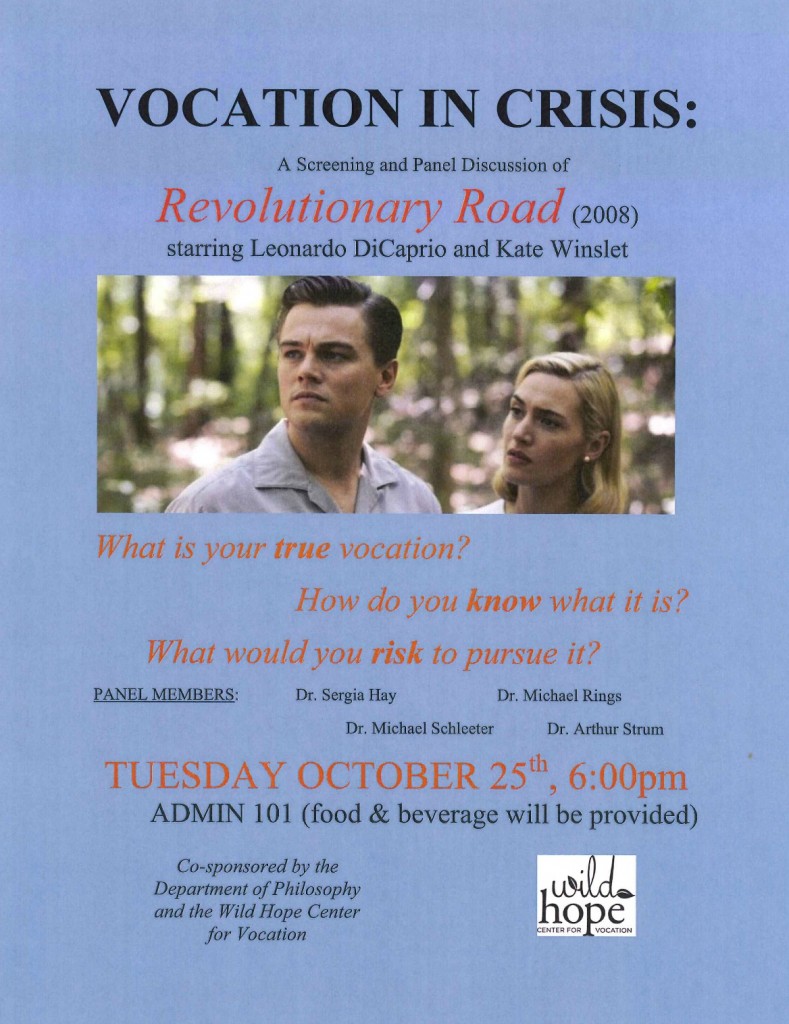 Vocation in Crisis
VOCATION IN CRISIS: A screening and panel discussion of Revolutionary Road
(2008, starring Leonardo DiCaprio and Kate Winslet)
TUESDAY OCTOBER 25th, 6:00pm,  – Admin 101 (food & beverage will be provided)
Panel Members: Dr. Sergia Hay (Philosophy), Dr. Michael Rings (Philosophy), Dr. Michael Schleeter (Philosophy), Dr. Art Strum (Multidisciplinary Programs)
This intense film tells the story of a young couple in 1950's New York who decide to "drop out" of their suburban, unfulfilling life and move to Paris so the husband may discover and pursue his "true" vocation. A variety of obstacles—both external and internal to the characters—frustrate these plans, leading ultimately to tragic results for both.
The film poses some very thought-provoking questions about vocation, self-fulfillment, and authenticity, including:
What does it mean to claim that one form of vocation is more "true" or "authentic" for someone, versus other options they might pursue?
Why does it matter whether one is true to oneself, or not?
 In what ways might the pursuit of one's "true vocation" blind one to other concerns and responsibilities (be they moral, practical, social, etc)?
In what ways might these and other questions prompt us to reexamine or revise our ideas about vocation and how we go about pursuing it in our lives?
The aim of this event is to prompt an exploration of vocation and personal authenticity, an inquiry into troubling aspects of these ideas that we may have good reasons to value and promote, but should also strive to understand more fully and deeply.