About Campus Life
Campus Life integrates the traditional work of Student Engagement and Residential Life to create a more cohesive, intentional, and holistic student experience while enhancing student learning, engagement and success at PLU. Campus Life is situated within Student Life, a Division that strives for improved care, learning and service to students through increased synergies and efficiencies. Through shared departmental leadership, vision and work, the Campus Life partnership enhances student learning, engagement and success at PLU. Students will have the opportunity to explore a variety co-curricular opportunities that enhance and encourage learning outside of the classroom.
Residential Life Mission Statement
Residential Life Mission Statement
The mission of Residential Life is to create a safe, inclusive residence hall experience that supports PLU students' belonging, learning, and enjoyment while empowering them to positively serve their communities.
Residential Life Statement of Care and Inclusion
Residential Life at Pacific Lutheran University (PLU) is committed to living our mission statement through practicing radical inclusivity as an essential operation of our department. During times of political change and division, we believe every student deserves space where they feel safe, heard, and appreciated. We will continue to support civil discourse intended to deepen our understanding of each other and that champions care over indifference. We will not tolerate behavior that stems from intentions rooted in hate. We will continue to build and nurture inclusive spaces that promote students' belonging, learning, and enjoyment, especially in solidarity with those identifying with historically marginalized communities.
Students Living On-Campus
At any given time, nearly 50% of the full-time undergraduate student body is housed on campus, with approximately 85% of all first year students in residence. PLU requires students to live on campus until they have reached junior status or 20 years of age (unless they are living at home, within 25 driving miles of campus, with parent(s), spouse or child. Once released from this requirement, 31% of residential students entering their 3rd year at PLU and 18% of students entering their 4th year remain in campus housing. While some of our students choose to move to privately owned houses and apartments surrounding campus, they maintain a strong sense of identification with their original campus living community.
Student Engagement Mission Statement
Student Engagement Mission Statement
Student Engagement partners with students, faculty, and staff to empower Lutes to engage in the PLU community, connect students to PLU academic and student life resources, uplift student voices for advocacy, and enhance students journey to support student transition, success and retention.
Student Engagement Statement of Care and Inclusion
Student Engagement is committed to fostering brave and inclusive communities with students, staff, and faculty advisors; inclusive of race, ethnicity, national origin, gender identity, sexual orientation, religion, interfaith, age, ability, socio-economic, immigration, and veteran status.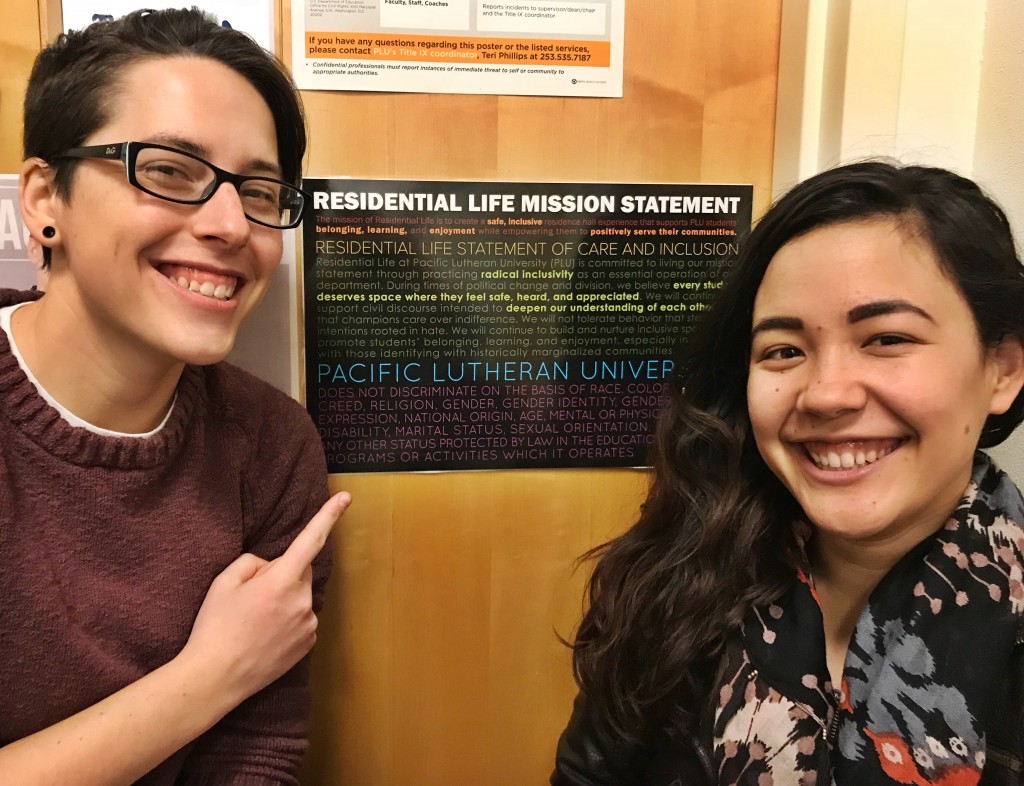 Dan Murray, Former Community Director for South & Pflueger Halls: "Being a Community Director at PLU, specifically for Upper Division students, has given me so many opportunities that I never thought I would have had! I've been able to develop and implement collaborative campus wide initiatives (check out Adulting 101!), serve on numerous committees and network with other professionals all over campus, help organize and implement RA training and selection, present at regional conferences, and really grow my depth of knowledge on topics relating to all things social justice! Between my student staff and the colleagues in the Res Life office, I am constantly learning from an amazing group of people who have supported me every step of the way!"