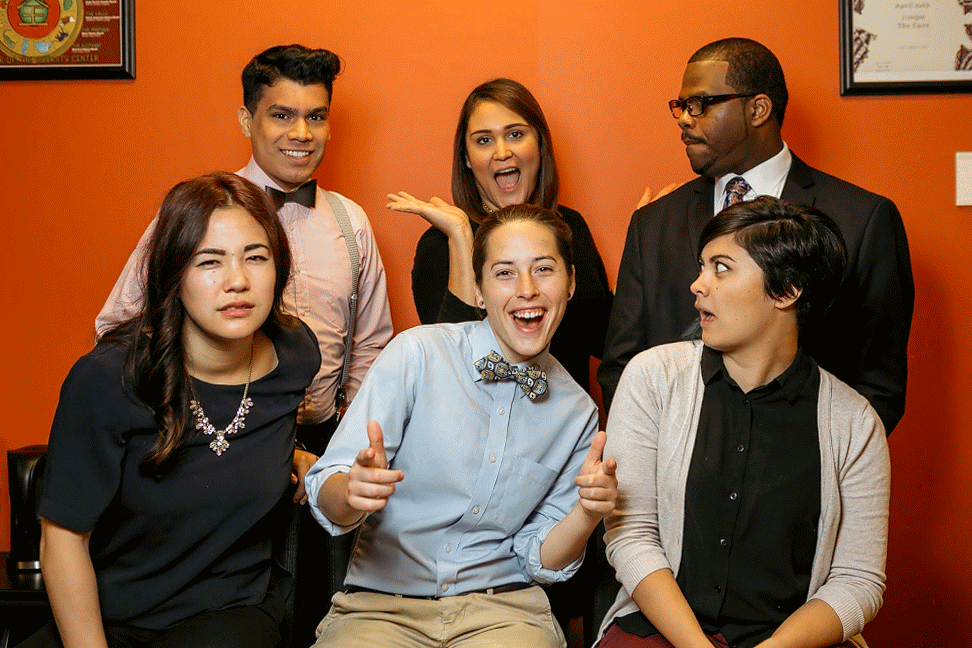 What drew you to Pacific Lutheran University?
Luke Ruiz, Former Resident Director of South & Kreidler Halls: "I was attracted to the social justice mindset that was evident through interactions with staff, faculty, and especially the students. I find it very rewarding to be engaged in social justice dialog happening at PLU. Recently I participated in the book club during J-Term and we had the opportunity to read The New Jim Crow by Michelle Alexander. It was awesome being part of conversations regarding social injustice in America and to hear students' perspective on current political topics."
Paul Metellus, Former Resident Director of Pflueger Hall: "Ultimately, what drew me to PLU were the experiences that I would be able to get here that I don't think I would have at any other institution.  I am doing the work I love, having transformational experiences with the students I work with, and being an agent of change."
What makes you excited to continue working at PLU?
Rachel Betron, Resident Director for Hong and Hinderlie Halls: "Within just one year of working at PLU, it was very apparent that the administration, many faculty and many staff are all committed and accountable to addressing access and equity for students at PLU. I've had the opportunity to work with colleagues across departments on a Trans Student Task Force, addressing specific resources and policies that impact our trans and gender-non-conforming students at PLU. I also participated in various campus programs such as the PLU LISTEN campaign, which integrates student, staff, and faculty voice on what diversity, racism, and other social justice concepts mean to them. In my second year as a Resident Director, I look forward to continuing this work with fresh perspective from student leaders and residents alike."
Life after Resident Director at PLU. What are you doing now?
Nicole Scheer, Former Resident Director for Hong and Hinderlie Halls: "I came to PLU directly after graduate school with no full-time work experience. I chose PLU because I knew at a small college, I would have lots of opportunities to get involved and develop new skills, and because of the global focus. Though I was searching for residential life jobs, I knew I wanted to continue working with intercultural and international programs and PLU would allow me to do that. Finally, PLU's mission really resonated with me and it felt like a good culture fit.
"While at PLU, I had the opportunity to teach a class for first generation students, facilitate reflections for students recently returned from study away, to develop and enhance learning communities, and to transform RA training. I developed lasting, meaningful relationships with colleagues across campus and the students, and received a lot of support from around campus in continuing to develop my interest in international and experiential education.
"When I left PLU after 3 years, I was able to stay in the area and get a job working with international students participating in short-term programs in Seattle with the University of Washington. Being an RD at PLU was challenging and interesting, and made it possible for me to build the skills I now use, and will continue to use as I take my career in this exciting new direction."
Carlos Solorzano, Former Resident Director for Tingelstad Hall: "My educational experience entailed a Bachelor of Science in Computer Engineering, Master of Business Administration, and a Master of Arts in Higher Education, all from the University of Denver. During my graduate studies in Higher Education, I also worked as a Graduate Resident Director for two years.
"The number of opportunities I was given at PLU to work outside of Residential Life set me very well for positions of leadership or positions outside of residential life. For example, my work in helping create the Men's Coalition (for healthy masculinity), creating social justice workshops for student leaders campus-wide, and co-programming with the Women's Center on numerous occasions will set me very well to continue my work in creating awareness of social justice issues. As a Strengths certified educator, PLU encouraged me to work with faculty, staff, and students across campus in both one-on-one settings and large classroom settings – and this will come in very handy in my goal to do consulting work later on in my career.
"I recently returned from a position as a Resident Director for Semester at Sea, during their Fall 2013 voyage. This position allowed me to continue my work in student growth and development, but while traveling to 15 countries around the world."