Wild Hope Center for Vocation | Student Essay/Video Contest
Calling All Lutes to Serve
The Wild Hope Center invited current students to write an essay or create a video on the calling to "serve," a core element of PLU's mission. The current global pandemic presents a unique context with which to live this mission. How does one serve the neighbor or the greater good during an unprecedented time like this? Especially when normal routines have been so disrupted? How does one do so when experiencing their own grief and loss? Students' submissions discussed their calling to serve others, their communities, and the earth, especially during times of uncertainty. They shared their perspective on how one's capacity to serve expands or contracts during a time of massive community closure. Wild Hope extends much appreciation to all the students who took the time to reflect on their calling through their submissions and is excited to announce the contest winners as follows.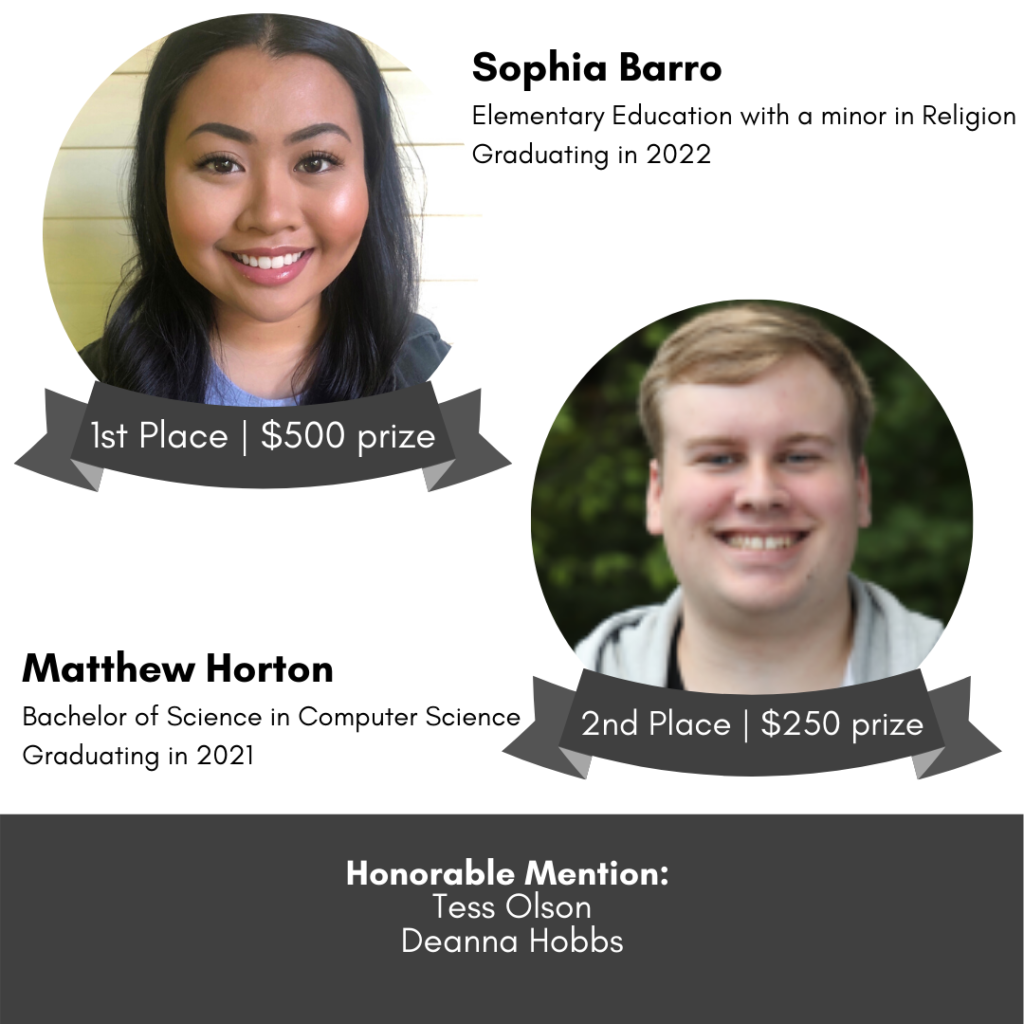 Service Awards
Each year CCES has the honor of issuing four awards recognizing individuals and organizations for their contributions and service to the community. We had many eligible nominations, and thank those who took time to recognize those doing incredible work for the greater good. This year are excited to announce and celebrate the dedication of the following recipients.
Student Service Organization Award
Big Buddies
This award is given to a PLU student service organization that has shown a sustained commitment to serving others in the local community. The organization's vision reflects the good of the community, using leadership skills to empower others.
Big Buddies has a long standing student led partnership with James Sales Elementary School. PLU students provide the elementary students with adult mentors and a structured after school program in order to facilitate both the academic and socio-developmental success of the Little Buddies. Big Buddies are a positive adult role model for the students, and the program itself provides a structured after-school time period where students are engaged in constructive, positive activities. Mentors are assigned to one student, and while the program takes place in a group setting, the time mentors spend with their students is focused one-on-one. This time offers crucial supplemental support to students who may not otherwise receive it. We are pleased to recognize Big Buddies for their commitment to the community with the 2020 Student Service Organization Award.
Ron Vignec Community Partner Award
Parkland Safe Streets
This award recognizes an organization with an outstanding commitment to serving our community through sustained partnerships, educating the public, and empowering others to address community concerns and needs.
Whether it is a fun community event or a serious discussion forum, Parkland Safe Streets will be there. The mission of Safe Streets is to "Unite and inspire neighbors, youth, and businesses to build safe, healthy, thriving communities." Parkland Safe Streets is constantly advocating for resources for the neighborhood and educating about resources that are active in Parkland. The group includes community members involved in many different facets of the area, often serving on multiple committees which helps connect people and represent various needs. It is our privilege to honor Parkland Safe Streets with the 2020 Ron Vignec Community Partner Award.
David T. Alger Award
Created in 2009, this award honors Reverend Alger for his deep connections with Associated Ministries, Pacific Lutheran University and the Pierce County community. More specifically this award acknowledges members of the PLU community who have exemplified an extraordinary commitment to service, sustained engagement and collaborative leadership with agencies, programs and community leaders that serve the public good. Two individuals are honored each year with this exceptional award, one student and one faculty or staff member.
Lilly Bulski | Student Recipient
Peer nominator Grace Steele had this to say about Lilly, "She works tirelessly to maintain a fully stocked and accessible food pantry for Parkland community members and PLU students no matter the circumstances. She uses her leadership skills and abilities to advocate for the food pantry in ways that get other people involved and active in her cause, she also continues to envision the ways in which the program can grow and become better. Such as making the food pantry look more like a store and normalized for those who use it. The links between the food pantry and those who use it connects students as well as community members and faculty this makes connections and links our university with the nearby communities." Congratulations to Lilly for being the 2020 David T. Alger student recipient.
Rev. Jen Rude | Faculty/Staff Recipient
As student nominator, Elizabeth Kulus, put it, "Pastor Jen seeks to connect the PLU community with each other, as well as reach out to our local and world communities through meaningful connections." Taking on more than her role requires of her, Pastor Jen exemplifies what it means to build bridges between the PLU and greater community. She organizes visits to the Living Stones Prison Worship community each semester for students to attend and worship alongside inmates, many of whom do not get a lot of outside visitors. In addition, helps with programming for the Friday Interfaith Prayers for the World gathering that happen in Red Square. We are pleased to award Pastor Jen with the 2020 David T. Alger Award for Faculty/Staff.
With a fresh coat of paint and bright gold bulletin boards, CCES hit the ground running back in September. The image above, a replica of one of those boards in our office, is full of student led programing aimed at positively impacting our community. Highlights from the past year include launching the Around the Sound series coordinated by our three Local Ambassadors, Elizabeth Kulus, Isabel LaRue, and Madison Willis. And while programming for the Spring came to a sudden halt, the work of our dedicated staff did not. Quickly switching gears in the midst of uncertainty, the Big Buddies transformed their curriculum into online content, America Reads/Counts Tutors created worksheets paired with Storyline Online read alouds, and they found ways to continue to support the community from afar. Click the bars below  to learn more progam specifics about what we have accomplished this year.
A Special Thanks to...
A special thanks to…
Rev. David Alger
Tamara Williams
Franklin Pierce Schools
PLU Office of Advancement
PLU Office of the Provost
PLU Office of Student Financial Services
Wild Hope Center for Vocation
Washington Campus Compact
and YOU for joining us in this celebration!