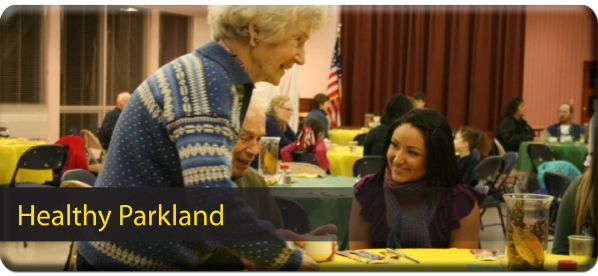 Healthy Parkland Initiative
In 2013, PLU, Trinity Lutheran Church and Emergency Food Network began working together on the Healthy Parkland Initiative– a partnership leveraging the unique resources each brings to the community and collaborating for an even better Parkland with improved healthy food access.
Our activities include: student volunteer opportunities and community engaged academic courses, increasing awareness of local food and nutrition concerns and research to discover new possibilities for healthy food access.
Our partners:

Trinity Lutheran Church (TLC) – located across the street from PLU – provides a food ministry, a garden and community dinners for the benefit of the neighborhood.

Emergency Food Network (EFN) – located nearby in Lakewood – distributes food to over 67 Pierce County food banks and meal sites and operates Mother Earth, an organic farm.
Each of these organizations has opportunities for PLU community members to volunteer their time in service and offers a community connection to learn more about food security in our local community.
Volunteer opportunities:
Food sorting and re-packing bulk foods for over 67 local food banks at EFN's warehouse – Repack Project

Setting up, registering guests and providing groceries at the Trinity Lutheran Church food pantry Tuesday, Fridays and Sundays – Volunteers interested in this must be willing to commit to a minimum of 3 weeks of consistent involvement. Contact Wanda Wentworth at Trinity Lutheran Church

Prepping produce, cooking, serving and participating in Trinity's Community Dinners – third Friday each month (except December).

Grow food with EFN's Mother Earth Farm, Trinity's Garden of Edible Grace or PLU's community garden!
Events and Community Engagement:
Hunger and Homelessness Awareness Week – November 14-22, 2014

EFN's annual Empty Bowls Event – November 22, 2014
Contact Rachel Haxtema, Healthy Parkland Coordinator at haxtema@plu.edu with additional questions about how you can be involved in our Parkland efforts to increase healthy food access!