Programming Leadership Opportunities
CCES offers students the opportunity to take on programming leadership opportunities through paid positions. These positions are designed to support other students, faculty, staff, and the public in fostering mutually beneficial relationships.
If you are interested in CCES Student Leadership Opportunities, we encourage you get involved with CCES programs and connect with current staff to find out more.
Local Ambassadors (10-12 hours/week)
Our Local Ambassadors support annual programs– such as Chocolate Trail, 5th and 7th grade visit days, Winterfest, Poverty Simulation, and the Around the Sound series. Through these programs local ambassadors provide opportunities for educational, service, and fun local excursions to get to know the 253.
To view job postings for CCES and other student employment opportunities, visit PLU's Job Opportunities Board by connecting with Student Employment.
Club Keithley Coordinator (10 hours/week)
Club Keithley is a student service organization that provides support for Keithley Middle School, located across the street from PLU. The Coordinator facilitates Club Keithley volunteer meetings, orientations, and placements for PLU students wanting to be involved in a Keithley classroom, as a mentor, or with CHAMPS. More information on Club Keithley here.
Big Buddies Coordinator (10-12 hours/week)
The Big Buddies Coordinator creates lesson plans for each day of the program, incorporating time for homework, reading, crafts, and play. The Coordinator is responsible the program design and operations, as well as supporting the 20 (approx.) Big Buddies through training and reflection on being a mentor.
Big Buddies with Additional Duties (7 hours/week)
Big Buddies with Additional Duties is open to those who have previously been a Big Buddies Mentor. This team of students helps support the coordinator with the operational side of Big Buddies, and also serve as a resource for new Big Buddies as they navigate being a mentor with the program.
America Reads/Counts Coordinator (10-12 hours/week)
The America Reads/Counts coordinator assists with placement of tutors in three local elementary schools, while still taking on the tutor role themselves. The coordinator also organizes meetings to build community among the tutors and offer the opportunity to share ideas and techniques for working with kids on their reading and math.
Work with a CCES Program
CCES houses two programs that utilize Federal Work Study Funds awarded in student FAFSA packages.
Our Federal Community Work-Study programs operate in partnership with local elementary schools in Parkland and Spanaway. CCES hires PLU students each academic year to tutor and mentor elementary school students. Students are paid through their awarded federal work-study funds associated with their FAFSA package.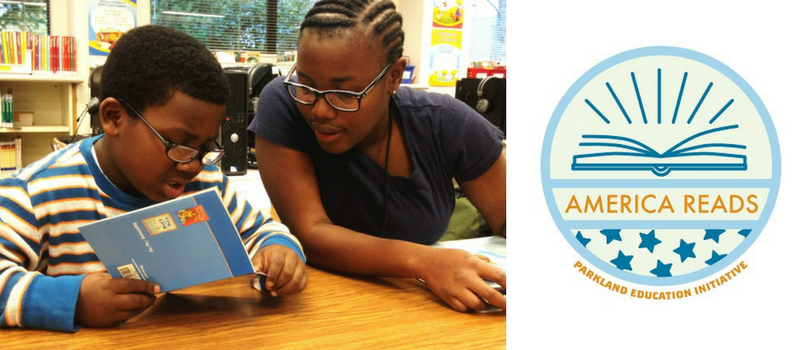 America Reads/Counts Tutoring Program
Pacific Lutheran University America Reads/Counts is a program aimed at improving childhood literacy and math skills. America Reads/Counts was a grassroots national reading campaign enacted under President Clinton that encouraged all citizens to get involved in improving literacy across the country by helping children learn to read. PLU students serve as America Reads/Counts tutors and dedicate over 1500 hours of tutoring to our local elementary schools every year. The number of available positions is determined by need of the elementary schools.
PLU students work in three area elementary schools as part of the schools' reading and math programs.
Franklin Pierce School District:
Big Buddies Mentoring Program
Big Buddies is an after school program that matches PLU students with a student from James Sales Elementary. The PLU mentors meet with their "Little Buddies" on Tuesdays and Thursdays at the school to do homework and play games in a supportive team environment. The program typically has approximately 20 Big Buddies Mentor positions.
The Big Buddies program at James Sales Elementary in Tacoma, Washington is sponsored and managed by the Center for Community Engagement and Service at Pacific Lutheran University in partnership with James Sales Elementary.
The program's goal is to provide elementary school students with adult mentors and a structured after school program in order to facilitate both the academic and socio-developmental success of the Little Buddies in our program. Mentors are PLU students whose pay is funded through PLU's Federal Community Service Work Study program. As part of their role, mentors help students with their homework, providing assistance in both literacy and math. They also provide a positive adult role model for the students, and the program itself provides a structured after-school time period where students are engaged in constructive, positive activities. Mentors are assigned to one student, and while the program takes place in a group setting, the time mentors spend with their students is focused one-on-one. This time provides crucial supplemental support to students who may not otherwise receive it.
For more information about our FCWS programs, please contact Kristin Menson, Director at the Center for Community Engagement and Service at kmenson@plu.edu.