Federal Community Work-Study
Our Federal Community Work-study programs operate in partnership with local elementary schools in Parkland and Spanaway. The Center hires PLU students each academic year to tutor and mentor elementary school students. Students are paid through their awarded federal work-study funds associated with their FAFSA package.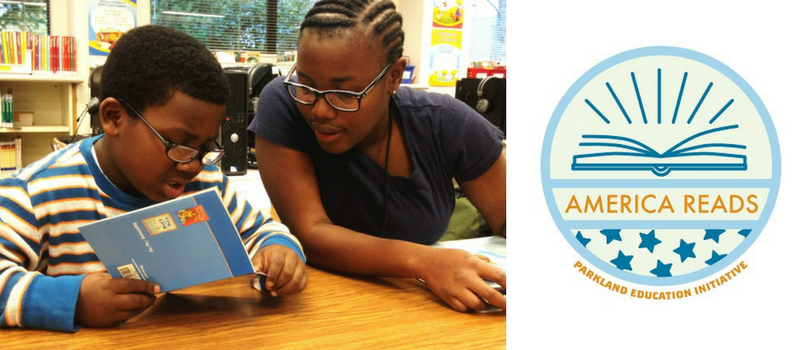 America Reads/Counts Tutoring Program
Pacific Lutheran University America Reads/Counts is a program aimed at improving childhood literacy and math skills. America Reads/Counts was a grassroots national reading campaign enacted under President Clinton that encouraged all citizens to get involved in improving literacy across the country by helping children learn to read. PLU students serve as America Reads/Counts tutors and dedicate over 1500 hours of tutoring to our local elementary schools every year.
PLU students work in three area elementary schools as part of the schools' reading and math programs.
Franklin Pierce School District:
Big Buddies Mentoring Program
Big Buddies is an after school program that matches PLU students with a student from James Sales Elementary. The PLU mentors meet with their "Little Buddies" on Tuesdays and Thursdays at the school to do homework and play games in a supportive team environment.
The Big Buddies program at James Sales Elementary in Tacoma, Washington is sponsored and managed by the Center for Community Engagement and Service at Pacific Lutheran University in partnership with James Sales Elementary.
The program's goal is to provide elementary school students with adult mentors and a structured after school program in order to facilitate both the academic and socio-developmental success of the Little Buddies in our program. Mentors are PLU students whose pay is funded through PLU's Federal Community Service Work Study program. As part of their role, mentors help students with their homework, providing assistance in both literacy and math. They also provide a positive adult role model for the students, and the program itself provides a structured after-school time period where students are engaged in constructive, positive activities. Mentors are assigned to one student, and while the program takes place in a group setting, the time mentors spend with their students is focused one-on-one. This time provides crucial supplemental support to students who may not otherwise receive it.
For more information about our FCWS programs, please contact Kristin Menson, Director at the Center for Community Engagement and Service at kmenson@plu.edu.