Why do we vote?
As a democratic republic, our government doesn't work without active citizens. Think of a car without an engine or a computer without a hard drive—a democracy without voters is nothing more than a shell with no real legitimate power. Our government was designed so that our voices would be accounted. While it's sometimes easy to think "my one vote won't make a difference" the reality is that every vote counts. Think about Florida in 2000. While your vote may only be a whisper, when it is combined with the votes of others who share your opinions it quickly becomes a roar. Make sure you roar fierce and make your voice heard.
Don't forget about the rest of the ballot!
With all the attention placed on the presidential candidates and their vice-presidents, it's easy to forget about everything else that will be on the ballot this November. Members of Congress and state officials are up for election. A number of important initiatives, referendums, and constitutional amendment are on the ballot as well. While being informed about the presidential candidates is extremely important, learning about the other aspect of the ballot is vital.
Absentee Ballot
Are you eager to participate in the elections this year but you are not a registered Washington state voter? You can still vote without going to your county's elections polls with the use of a Mail-In Ballot!
Ghost Voting: Don't be a ghost voter
Ghost voting is when you do not vote, vote ignorantly or vote against what you believe. Here are five types of Ghost Voters who do not invest in the voting process for one reason or another:
The Sideline Ghost Voter: Non-Political—you may care for certain causes, but are either disgusted with current political atmosphere or view yourself as a non-political person. Either way, you're out of the conversation.
The Talk-A-Good-Game Ghost Voter: You can debate to the mat on issues in your Sociology class or enjoy ripping political pundits apart in the UC Commons. But, where is your voice when it comes to putting your vote where your mouth is?
The Potato Couch Ghost Voter: No-show—You can't bring yourself to the polls or even fill out a mail-in ballot. Voting is just not important to you. Your vote won't matter that much.
The Posse Ghost Voter: Peer voter/strict party-line voter—Going with the flow is your M.O. You're part of a group of people or political party whom you like. So what if their political opinions and yours don't match?
The Clueless Ghost Voter: You are completely lost as you scan the ballot and have not looked into the issues or candidates at all. You may have made it to the polls, but the issues haven't crossed your mind before that.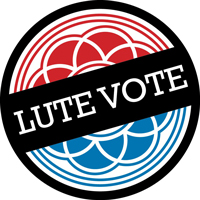 Lute Vote is a new project aimed at increasing access to voting for PLU students. Do you have questions about when or where to vote? Do you want to hand out Otter Pops to newly registered voters? Do you think young folks are going to be incredibly important this election? If you answered yes to any of those questions then you should mosey on down to the ASPLU office, register to vote and join Lute Vote!
I Will Vote
Pacific Lutheran University actively promotes voter registration and voting through a civic engagement campaign called "I Will Vote." From September to November, students are encouraged to review their voter information, register (if necessary) and turn in their ballot.
Student Voting Rights
As a college student, you have the right to vote where you go to college or in the town where you grew up!
www.vote411.org
On The Issues
Help voters to make educated decisions. Pick candidates based on issues rather than on personalities and popularity.
www.ontheissues.org
Vote Smart
Self-described ``Voter's Self-Defense System.`` The offer basic information on keeping your vote free from partisan influence.
www.votesmart.org
When do I need to fill out a new voter registration form?
You will need to register to vote whenever you vote in a new state, change your name, or change your address and want to vote as a resident of the new address.
What are the voter registration requirements for Washington state?
In WA, you must be at least 18 years of age by election day, a U.S. citizen, a Washington state resident, and not deemed by a court of law as mentally incompetent or denied the right to vote due to a convicted felony.
How do I register to vote?
You can contact your county election office to ask for a voter registration form, register to vote on-line, or obtain and fill out a National Mail Voter Registration Form. Websites listed on the back have downloadable voter registration forms or directly offer on-line voter registration.
Where can I find out information about my county elections office?
To locate and find the contact info for the county election offices in WA state, go to the Elections & Voting page of the Secretary of Washington Website. If you'd like to find out county election offices from another state, visit Student's Guide to Voting page at gocollege.com, which posts links to each state's election website.
How do I vote while studying outside the country or while overseas?
You can request to become an absentee ballot voter. The U.S. Election Assistance Commission website lets you find your county election office contact info and gives you primary & general election deadlines along with ballot postmark deadlines. Remember, always double check the contact info at your state's election website.
What is the voting registration deadline?
In WA, the deadline is 30 days before Election day. Each state has their own deadline. Check them out at yourvoteyourvoice.org, which displays voter registration deadlines and deadlines for requesting voter registration forms on a user-friendly interactive map.
What is the residency policy for voter registration in WA?
To gain WA residency or transfer residency from one county to another, you must live in WA/transfer to another WA county 30 days before election day. This does NOT mean that you have to live 30 days at your desired WA residency before registering to vote.
How do I become a mail-in ballot voter?
Contact your county election office to request an absentee ballot application. Request, complete and return the application (signed and dated) early. In WA, mail-in ballots count when postmarked OR signed & dated no later than election day and returned up to 15 days after primary/special election and up to 21 days after a general election. Other states have their own mail-in voting rules so check their county election offices for details if you choose to vote outside WA state.
How can I find out more about voting issues and candidates?
www.vote411.org is your "one-stop-shop" for voting information. They provide non-partisan information on both state and national elections. www.OnTheIssues.org provides the voting history of every political leader on every issue available. www.VoteSmart.org is a self-described "Voter's Self-Defense System." The offer basic information on keeping your vote free from partisan influence.
Why do we vote in November?
A. Most Americans made their living from agriculture in 1845 and Congress felt that November was the most convenient month for farmers and citizens living in rural areas to get to the polls. Preparing fields and planting crops consumed lots of the public's time in the spring and summer months. But by early November, the harvest was over in most areas, and the weather was still mild and dry enough to allow travel over the dirt and rock roads of the day.
Why do we vote on a Tuesday?
In 1845, and for many years after that, only the county seats had a polling places. For many voters, this meant at least an overnight trip on horseback or buggy. If the election were held on Monday, people would have to leave on Sunday, which in 1845, was reserved for church.