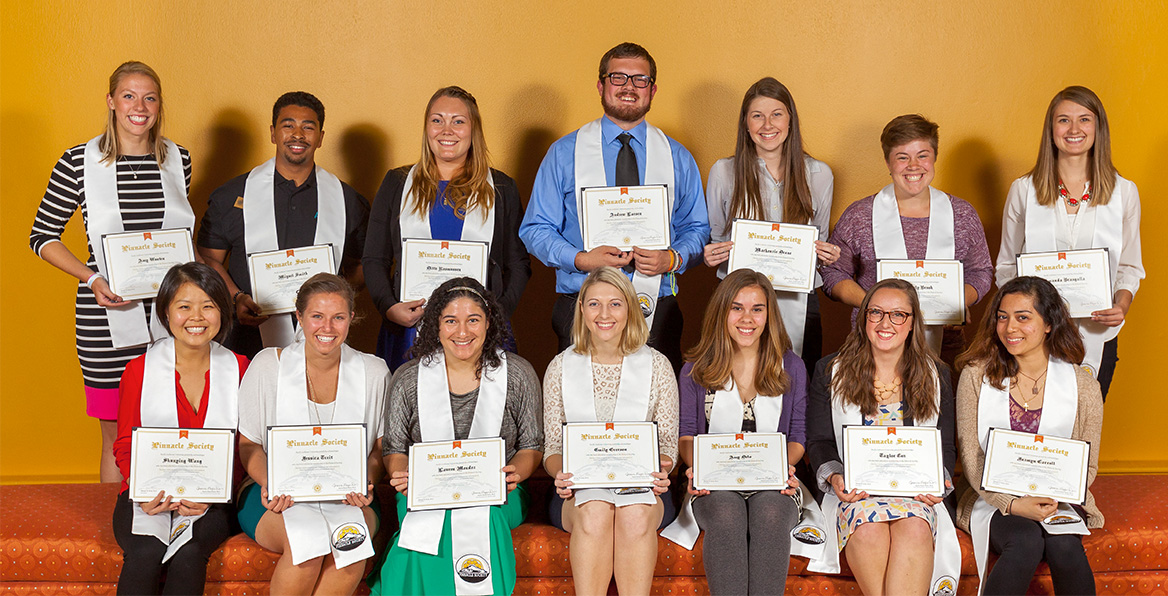 Amanda Brasgalla
Major(s): Communication
Involvement: The Center for Media Studies Promotion Assistant, SOAC MediaLab General Manager, Senior Producer of "Waste Not: Breaking Down the Food Equation," Public Relations Associate for MediaLab, Office of Admission Intern, Study Away in Germany.
Carly Brook
Major(s): Sociology and Global Studies.
Involvement: Community Engagement Coordinator for the Center For Community Engagement and Service, Spanish Wing Resident Assistant, Students of the Left Coordinator, Student Legislative Agenda Task Force Coordinator, Long Range Planning Committee student representative, Study Away in Ecuador, Chile, and Cuba.
Jazmyn Carroll
Major(s): Kinesiology.
Involvement: Diversity Advocate, Elect Her Student Liaison through the Women's Center, Diversity Center Community Advocate.
Taylor Cox
Major(s): Studio Arts.
Involvement: SOAC Student Advisory Board member, MediaLab , Student Circulation Desk Assistant, Study Away in Indonesia, United Arab Emirates.
Mackenzie Deane
Major(s): Biology.
Involvement: Center for Community Engagement and Service Volunteer Coordinator, Relay For Life Event Coordinator, Biology Tutor, Resident Assistant, Admission Ambassador, Unicycle Club President, Study Away in Ecuador.
Amy Delo
Major(s): Political Science and Global Studies.
Involvement: Resident Assistant, Relay For Life Publicity Chair, Community Review Board Member for Student Rights and Responsibilities, ASPLU LollaPLUza Business Outreach Committee, Chair of Panel on Genocide Research for the Wang Center Symposium, Study Away in Greece, Norway, South Africa and Namibia.
Emily Everson
Major(s): Mathematics and Economics.
Involvement: Admissions Ambassador, Resident Assistant, Economics Tutor, Study Away in Washington D.C., England and France.
Andrew Larson
Major(s): Anthropology and Religion.
Involvement: Peace Scholar, ASPLU Programs Director, Montana Club President, Wild Hope Fellow, Campus Ministry Steward, Office Of Admission Leadership Board, Study Away in Italy, Bosnia and Kosovo.
Lauren Mendez
Major(s): Psychology and Anthropology.
Involvement: Hong Resident Assistant with Additional Duties, Diversity Advocate for International Programs, Kandel Oleksak Scholarship Recipient, Study Away in India.
Ditte Rasmussen
Major(s): Business Administration.
Involvement: International Student Services Programming Intern, International Peer Advisor, Founder of the PLU Team Handball Group.
Miguel Smith
Major(s): Human Resources & Management.
Involvement: ASPLU Diversity Director, VP of Programs & Interim President for the Society for Human Resource Management, Act Six Scholar.
Riley Swanson
Major(s): Geoscience and Environmental Studies.
Involvement: Outdoor Recreation Director of Finance and Operations, Bike Co-op Manager, Geosciences Teacher's Assistant, Study Away in Greece and Bolivia.
Jess Tveit
Major(s): Sociology.
Involvement: Club Keithley Coordinator, Voice of PLU Student Supervisor, New Student Orientation Coordinator, Mortar Board Honor Society Member, Study Away in India.
Shunying Wang
Major(s): Communication.
Involvement: Admissions Intern, Marketing and Communications Student Writer, Student Employment Assistant.
Amy Wooten
Major(s): Communication.
Involvement: President of Student-Athlete Advisory Committee, Athletic Department Marketing & Promotions Intern, Word-Up Rieke Scholar, PLU Volleyball Team Captain, Study Away in Italy and Indonesia.